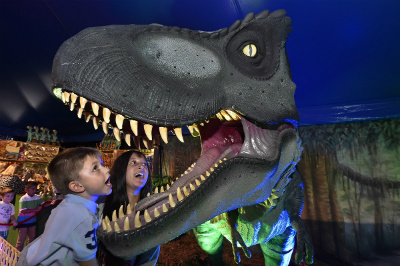 To celebrate the release of Jurassic Creatures at Crown Pyramid we are giving away a family pass for the session on Sunday 2 April 2017 at 1:00pm, along with an exciting goodie bag!
Jurassic Creatures, featuring Prehistoric Creatures of the Ice, is an interactive walk- through event that will captivate young and old alike. Explore an ancient world full of animatronic dinosaurs and prehistoric ice-age creatures.
Marvel at the story of their 165 million year domination of life on earth. Watch them move. Hear them roar! Get up close with the most distinctive prehistoric animals including colossal Woolly Mammoths, fearsome Saber-Toothed Tigers, the Stegosaurus, the Pachycephalosaurus, a giant polar bear and everyone's favourite, the Tyrannosaurus Rex.
To win, simply colour in the picture of Triceratops (download here) and email it through to littlelegends@rac.com.au.
Competition ends Sunday, 26 March 2017. Get colouring!
Find out more about Jurassic Creatures at Crown Pyramid from 31 March to 30 April.
Terms and conditions apply (PDF 218KB)