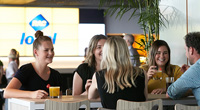 Show your card
To enter the RAC Local Lounge
The location
Situated on the Ground floor of RAC Arena, across the road from the Four Points Hotel on Wellington Street, RAC members can show their card to enter the RAC Local Lounge before main doors open.
Once you're inside the RAC Local Lounge, you're inside RAC Arena so you can sit back, relax and enjoy a drink on the terrace or even try something from the delicious menu before you make your way to your seats.
Lounge opening times are different for each event so check out the RAC Arena website for times.
The menu
Sit down and enjoy the made to order menu in the RAC Local Lounge.
From Harvey beef sliders to pulled pork pizza, the delicious food and beverage selection is exclusive to the RAC Local Lounge and showcases some of WA's best produce.
What's on
The RAC Local Lounge will regularly host special experiences and provide exclusive offers for RAC members. Check out what we have planned for your upcoming event.
Date
Event
What's on
Check back in later to see what's coming up in the RAC Local Lounge
Get in touch with RAC Arena
Can't find what you were looking for? Find out more here