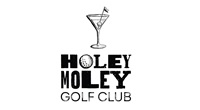 Pre purchase
Savings on Holey Moley Minigolf eVouchers
What do I get?
Save on eVouchers to one of Australia's best mini golf courses.
Holey Moley Golf Club is a mini golf course and bar that turns traditional putt putt into a multi-sensory labyrinth of unique holes that'll keep you on your toes across the craziest round of golf you've ever played.
Locations: Carousel & Northbridge
How do I redeem?
Pre-purchase your eVouchers via the RAC Online Shop.
Due to capacity restrictions, guests are required to pre-book online on the website to guarantee entry
To book simply visit www.holeymoley.com.au and proceed to make a booking.
When you get to the payment page, before inputting your credit card details, type in your unique code in the "add promo code/coupon" tab.
This will amend the cost of your booking and you can continue to booking confirmation.
You can use multiple codes, one for each player, only for single games.
Lost your RAC membership card? Order one now
Not a member? Find out how you can join RAC today!
Terms and Conditions
When using vouchers purchased from the RAC to book online via supplier websites, booking fees may apply.
View product information for more details on Online Shop.
Terms and conditions apply see Holey Moley Mingolf for full details.