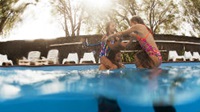 Save on RAC products and services
Enter your RAC member number when booking online
What do I get?
- Free late checkout*
- Exclusive access to events and promotion
How do I redeem?
Contact RAC Parks & Resorts quoting your RAC membership or book online, using your RAC member number to redeem your member discount or simply call 1800 871 570
Where do I get the offer?
RAC Parks & Resorts are located at the following:
RAC Cervantes Holiday Park is located in Cervantes WA
RAC Busselton Holiday Park is located in Busselton WA
RAC Exmouth Holiday Park is located in Exmouth WA
RAC Monkey Mia Dolphin Resort is located in Monkey Mia WA
Ningaloo Reef Resort is located in Coral Bay WA
RAC Karri Valley Resort
RAC Margaret River Nature Park
Not a member? Find out how you can join RAC today!
Terms and Conditions
Terms and conditions apply. Please speak to your RAC Travel Consultant for more details.