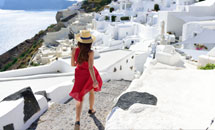 Save on RAC products and services
Book with RAC
What do I get?
Save 15% off travel insurance with RAC Travel.
How do I redeem?
Book online and enter in your membership number, call our us on 1300 655 179 or pop into your local RAC branch showing your RAC membership card.
Where do I get the offer?
Visit your nearest RAC Travel branch, book online or call RAC on 1300 655 179
Not a member? Find out how you can join RAC today!
Terms and Conditions
This is general advice only. We do not provide any advice based on any consideration of your objectives, financial situation or needs. Please refer to the Combined Financial Services Guide and Product Disclosure Statement before making a decision about this insurance. This insurance is issued by Tokio Marine & Nichido Fire Insurance Co., Ltd (Tokio Marine & Nichido) ABN 80 000 438 291, AFSL 246548. Its managing agent, Tokio Marine Management (Australasia) Pty. Ltd. ABN 69 004 488 455 (TMMA) is authorised to act on behalf of Tokio Marine & Nichido to issue its policies and handle and settle claims in relation to those policies, subject to the terms of the authority. Limits, exclusions and conditions apply.