Got questions about the RAC Automated Vehicle Program? We've got answers
What were you looking for today?
About the RAC Automated Vehicle Program
Automated vehicles and society
Are AVs safe?
In the longer-term AVs are expected to be safer than conventional vehicles. Human error is the cause of the vast majority of road deaths and injuries, so if we can automate the driving task and reduce the risk of human error, we can improve the safety of our roads.
However, increasing automation does also raise many considerations which need to be explored and managed to safely transition to more widespread operation of AVs on our roads.
When will we see AVs on the road?
Many new cars on the market today feature some degree of automation (e.g. adaptive cruise control; lane keeping assist). Many car manufacturers estimate the first high to fully automated vehicles will hit the market between 2020 and 2030.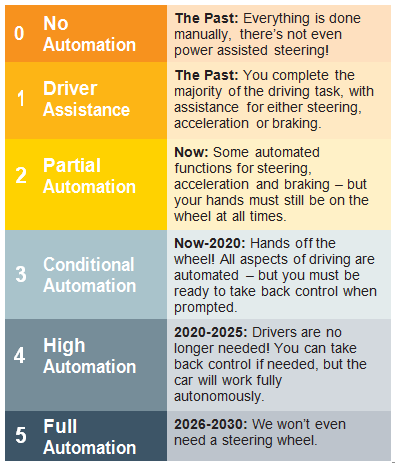 Image Source: The Society of Automotive Engineers (SAE) levels of automation.
Should a crash occur with an AV, who is liable?
Responsibility in the event of a crash involving an AV may be difficult to determine. For all but fully automated vehicles, insurers, law enforcement agencies and individuals will need access to vehicle data to determine whether the human or AV was performing the critical driving tasks (e.g. steering, accelerating, braking) at the time of the crash.
Liability for AV crashes will be complex and there may be times when responsibility overlaps, such as where multiple manufacturers are associated with one vehicle.
RAC's AV Program aims to improve understanding of AV technology while it remains in the early stages of development and in a position to better advocate for AVs.