Since 2015, RAC has been working to test and evaluate a fully automated, electric shuttle bus and on the 31st August 2016, with the support from the WA State Government and the City of South Perth, we launched our Intellibus® Trial on public roads.
As of June 2019, more than 18,489 people had registered to ride and 12,247 had experienced the Intellibus, with many more stopping to observe and take a photo. The RAC Intellibus® has travelled more than 20,244 km in autonomous mode and completed more than 5,784 thirty minute rides.
The RAC Intellibus® will be in Busselton from 8 May to 30 June 2019, giving locals and visitors the opportunity to take a ride and learn about driverless vehicle technology and its benefits.
Where are we doing this?
The 3.5 km journey starts at the RAC Intellibus® Hub travelling along the South Perth Esplanade and heads west to the Old Mill. The South Perth foreshore is an iconic tourist destination with views of the City's skyline across the Swan River. The Old Mill is one of Perth's oldest landmarks built in 1835 and is open to the public for guided tours.
The site was chosen after an assessment of over 20 sites across the Perth Metropolitan area. The South Perth site is divided into three phases with each phase involving increasing levels of interaction with road users and traffic conditions.
Trial stages
The trial involves a number of stages, with each stage designed to test and evaluate automated vehicle technology in a variety of settings and scenes. Each stage involved increasing levels of complexity, then finally interactions with road users.
Stage 1: Closed stage
In the first stage of our trial, vehicle commissioning and testing were undertaken in April 2016 on a private track. With no pre-existing guidelines in place, RAC worked hands-on with local specialist technicians and Navya to develop an extensive test plan. We were able to use this stage to observe and record the shuttle's behaviour in autonomous mode.
A comprehensive course was established with merge lanes, a roundabout, a number of obstacles, a give way and controlled stops. The tests were conducted in different conditions, situations and scenarios - either naturally occurring or simulated.
Stage 2: Closed stage on public roads
During this stage, the shuttle was taken on public roads to commission and verify the selected route.
Operating RAC Intellibus® on public roads was a complicated process, involving a number of critical steps such as selecting a route, gaining Special Permit approvals, risk assessments, road safety audits and in-operation reviews, identifying traffic management arrangements and delivery of a community communications campaign.
Stage 3: On public roads
The third and public stage in South Perth officially began on 1st September 2016. The route comprises three phases of where each phase includes increasingly complex traffic conditions. This includes increasing levels of interaction with different types of road users, traffic signs, traffic lights, right turn manoeuvres and traffic flows.

Stage three enables members of the public to visit the RAC Intellibus® Hub and experience a 30 minute ride on the shuttle along the South Perth foreshore.
Participant feedback
RAC invites participants to share their feedback on their experience in pre and post- ride surveys. We love to hear what the participants think of the Intellibus® and their opinions on the future of transport.
"The gradual adoption of various components of the total system is already happening: GPS, lane corrections, distance to vehicle in front etc. I believe it will gradually come in so that the final step to no steering wheel or accelerator will be a small step."
<
The continued success of RAC's Intellibus Trial is attributed to the commitment of a great team.
"The RAC team was completely committed and the same can be said for (project partners) the State Government and the City of South Perth, who really jumped on board with us." says Anne Still, RAC General Manager of Public Policy who leads the trial.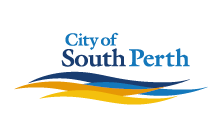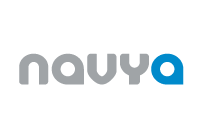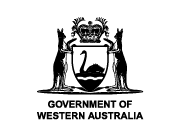 This project received funding from the Australian Government.
Where are we doing this?
The RAC Intellibus® experience starts out the front of the Busselton Visitor Centre, located on the beautiful Busselton foreshore next to the iconic Busselton Jetty. The Busselton Jetty is 1.84km and the longest timber Jetty in the Southern Hemisphere.

The RAC Intellibus® will head east from Foreshore Parade and along Geographe Bay Road to the Busselton Volunteer Marine Rescue Centre taking in the view of the stunning Geographe Bay.
How can I take part
Book online today or at the RAC Intellibus Hub from 8 May 9.00am - 5.00pm, located at the Busselton Visitor Centre.
The RAC Intellibus® operates Monday to Sunday with rides every 30 minutes between 9.30am and 11.30am and 1.00pm to 2.30pm.

When booking online you will be able to book up to 6 guests and select your preferred date and time. If booking for multipe guests, pre-ride registration links will need to be sent to the group.

Each ride will take 30 minutes in total and accommodate up to six people per ride. The RAC Driverless Vehicle Chaperone will provide an overview of the program's aim and the technology at work before going on the 20 minute journey.

This project received funding from the Australian Government.
Intellibus & its technologies
The RAC Intellibus uses a number of different sensors and telecommunications systems. It uses these sensors to localise, that is, to know where it is, and to detect obstacles so that it can react and interact within a dynamic road environment.
The RAC Intellibus is a Level 4 (High Automation) vehicle which means that all aspects of the driving task are automated in certain environments.
Learn more about the different levels of vehicle automation here.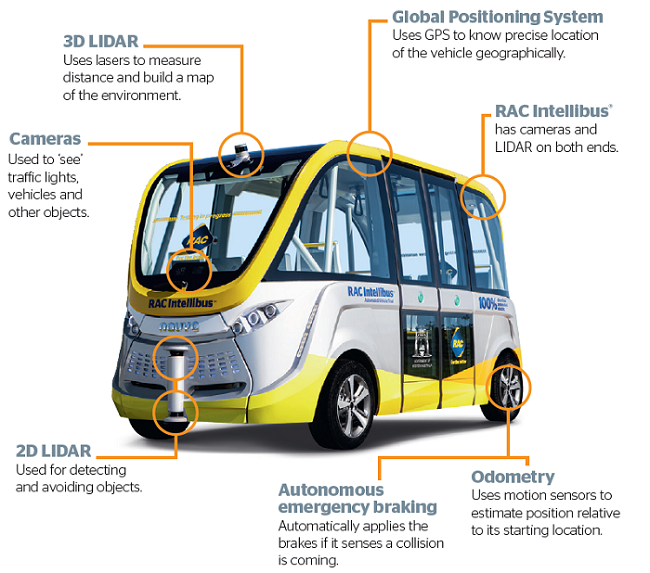 Technical Specifications
| Power and drive-train | Localisation and Detection | Safety | Dimensions (M) |
| --- | --- | --- | --- |
| 2X2 steering | GPS with real time kinematic corrections | Emergency stop button | Length: 4.08 |
| 80 volt lithium Iron phosphate battery | Odometry | SOS intercom | Width: 2.05 |
| Wireless induction charging | 3D LiDAR | Emergency braking | height:2.6 |
| | Real-time Kinematic GPS technology | Power shortage brake | |
| | Stereovision cameras | Seatbelts | |
| | 3D and 2D LiDAR | | |
For further information download: