On 31 August 2016, we launched Australia's first public trial of driverless technology on the South Perth foreshore. Five years later, the RAC Intellibus® continues to pave the way for the future of transport in WA, providing the opportunity for thousands of people to experience the technology and learn about the potential road safety and transport benefits it could bring.

To celebrate the long-running partnership and the success of the RAC Intellibus® trial, the RAC and the City of South Perth have jointly commissioned a new artwork titled R/evolve.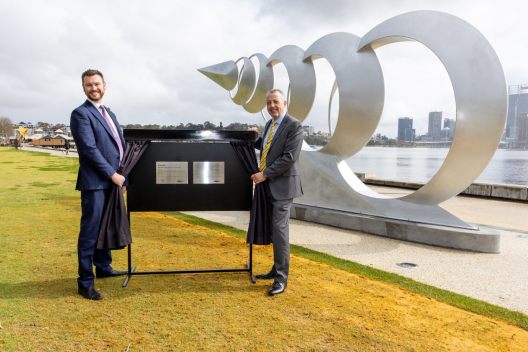 City of South Perth Mayor Greg Milner and RAC Group CEO Robert Slocombe unveiling the new sculpture on the South Perth foreshore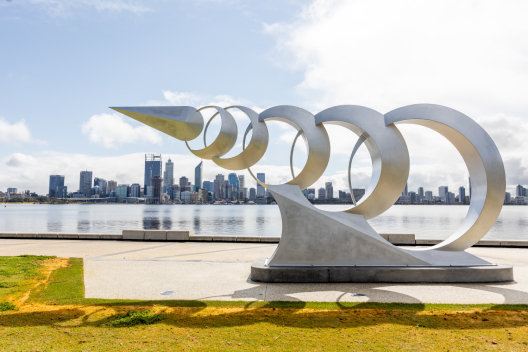 R/evolve was unveiled on Tuesday 31 August 2021 to celebrate the fifth birthday of the RAC Intellibus®

On the South Perth foreshore, R/evolve marks the location as one of the very first places in the world where a driverless vehicle became a part of everyday experience. Standing at three metres tall, the sculpture conveys a sense of rapid movement and progress, symbolising the changing nature of transport in our growing city. The shapes and spaces also provide different angles and frames of the Perth skyline.

The concept, by Tony Jones Art Projects, was inspired by futuristic designs, popular science fiction and automotive design. The project team includes artists Tony Jones, Ben Jones and Angela McHarrie, who have created a number of iconic public artworks in Perth including Eliza at the Crawley Baths near Mounts Bay Road and the Horse and Rider sculpture that remembers C.Y. O'Connor at North Coogee.
Book your free ride on the RAC Intellibus® in South Perth here: