About the vehicle
The RAC Intellibus uses a number of different sensors and telecommunications systems. It uses these sensors to localise, that is, to know where it is, and to detect obstacles so that it can react and interact within a dynamic road environment.
The RAC Intellibus is a Level 4 (High Automation) vehicle which means that all aspects of the driving task are automated in certain environments.
Learn more about the different levels of vehicle automation here.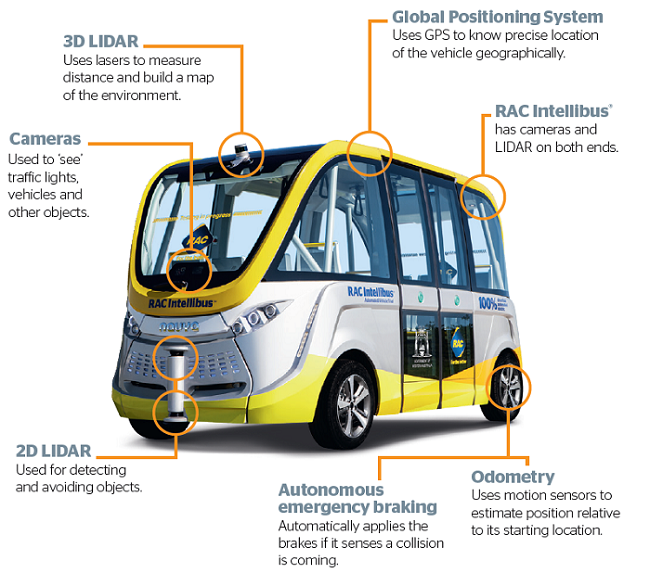 Technical specifications
| Power and drive-train | Localisation and Detection | Safety | Dimensions (M) |
| --- | --- | --- | --- |
| 2X2 steering | GPS with real time kinematic corrections | Emergency stop button | Length: 4.08 |
| 80 volt lithium Iron phosphate battery | Odometry | SOS intercom | Width: 2.05 |
| Wireless induction charging | 3D LiDAR | Emergency braking | height:2.6 |
| | Real-time Kinematic GPS technology | Power shortage brake | |
| | Stereovision cameras | Seatbelts | |
| | 3D and 2D LiDAR | | |
For further information download:
RAC Intellibus Technical Specifications Information Sheet (1.02MB)