15 October, 2018 By Wendy Caccetta
Nomophobia is the fear of being without mobile phone contact, but what do you do if you can't leave it alone in your car? Technology is finding solutions to itself.
With robots now able to make take-away pizzas, cars able to fly and smart fridges which link up to your mobile phone, technology has permeated every aspect of our lives — and when it comes to drivers using mobile phones or other devices, its creating a deadly problem.
WA's Road Safety Commission is currently compiling data on West Australians' mobile phone use behind the wheel, to be released soon. But elsewhere, WA Acting Road Safety Commissioner Iain Cameron says the estimates are that around 10 per cent of motorists illegally use their mobile phones.
The twist is that technology is being used to combat technology, with everything from simple apps to more sophisticated systems being developed to save drivers from themselves and keep their eyes on the road and off their mobile phones.
Technology shouldn't replace driver responsibility, says Cameron, but he agrees it helps, with the Road Safety Commission last year even producing a video to show people how to use some of the driving mode features in their phones.
"Some of the larger providers have functions on their operating systems that people can choose to enable on their phones," says Cameron.
"The phone will send a message to the person who is texting or ringing you to say 'Sorry I am driving at the moment and I can't respond to your call immediately. I will as soon as I can safely do so."
So what's around?
From phone manufacturers to car manufacturers, there are quite a few that are leading the charge to help us be less distracted when behind the wheel.
Apple introduced its Do Not Disturb While Driving mode last year with its iOS11 mobile operating system. When activated, your iPhone can tell when you are driving from your vehicle's movement or Bluetooth connections and automatically silence notifications to keep the screen dark.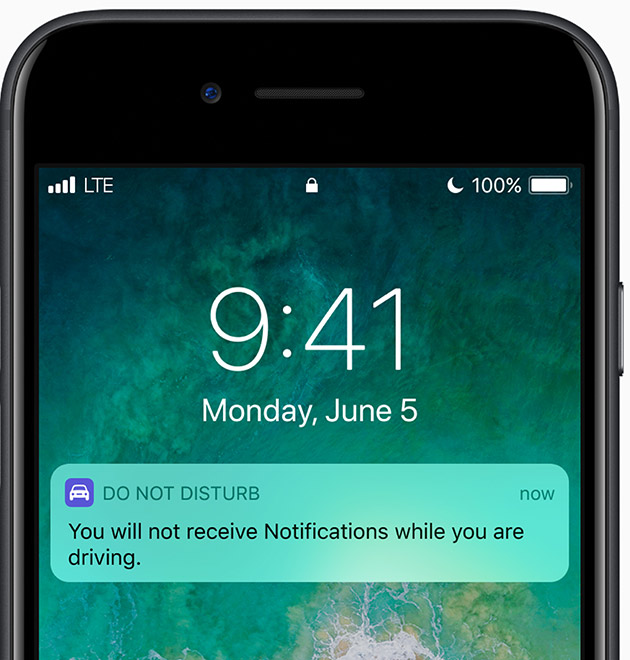 Samsung has an In-Traffic Reply app which you can download and sends automatic responses to calls and messages while you are on the road.
Meanwhile in the UK, car company Nissan has been looking at using an invention that dates back to 1836 to help solve a modern problem. The Faraday cage, which blocks electromagnetic fields, has been used to line a compartment in a vehicle's armrest, creating a silent zone for mobile phones — though technology experts say it could run into problems with Australian laws that outlaw phone jamming.
"It's something that we're evaluating for possible use in future production vehicles," a Nissan spokesman says. "It remains at that stage for now and is not currently fitted to any production vehicle."
Fleet options
Closer to home, Perth-based Textstopper is selling a US-developed technology that has been adapted to the Australian market and is being used by corporate giants such as Coca Cola and Red Bull in their fleet cars, as well as families.
The system includes an app for your phone, an identification device which fits to the windscreen and a website where you choose your settings.
The system hides incoming texts, Facebook and non-hands-free calls when you are driving and blocks all but non-hands-free outgoing calls. The app can't be removed without parents or the fleet owner knowing.
Textstopper chief executive officer Steve Metlitzky says he would like to see the technology become mandatory in the same way immobilisers were introduced in all WA vehicles in 1999.
He says demand for the product, which costs several hundred dollars for family use, spikes when mobile-phone related car crashes are in the news.
"Sadly, like gun shootings in the US, there is a huge furore when there is an incident and then it falls away and becomes out of sight out of mind," he says.
There is also a plethora of apps with a mix of features, from silencing text messages to voice control commands and locking the phone while you are driving, that range in cost from free upwards. But road safety experts say, although legal, those that transfer functions to voice alerts and commands may be a distraction in themselves.
What next?
At the moment, it's up to the driver or fleet operators to choose to use the do not disturb, install an app or other software.
However many different interest groups are watching and welcoming the technology, with conversations starting around how to make the use of the technology more prevalent, or even mandatory.
"If that's what is required to reduce distracted drivers, then we're supportive of that," says Peter Bourke, executive officer of national cycling organisation We Ride Australia.
Dr Omar Khorshid from the Australian Medical Association in WA says "every car owner should have these apps and other technologies installed and make use of them as a matter of course."
Khorshid also suggests it would be worth having a conversation about whether vehicle manufacturers should be required to install technology to stop drivers being distracted by their phones.
Law enforcement is also on board. "I am in no doubt that in the future, technology will play a large part in fixing the problem of people using mobile phones while driving," says WA Police and Road Safety Minister Michelle Roberts.
RAC general manager for public policy Anne Still says that its great that these apps and software give motorists a choice, but if you can't leave your phone alone when behind the wheel, it may be time for tougher action.
"If you absolutely can't stop using your phone, then don't have it in the car or just don't have it near you. When you're in the driver's seat that should be what you're giving your full attention to – driving your car."
Last updated October 2018
Would you consider using technology to turn off your phone while driving?
You're four times more likely to crash if you use a mobile phone while driving.
We're calling on all WA drivers to make the choice to put away their phones and other devices and stay focused on the drive.
Look up, WA.