When a small group of motoring enthusiasts formed a club to support the 'new' motor vehicles in WA in 1905, they could not have guessed how enduring it would be. That group started RAC in order to make things safer on the roads for the club's WA members. More than 110 years later RAC continues to be the voice of over 1 million members for a better WA.
In the beginning
Back in 1905, automobiles were new to WA. In fact, only three years earlier, a self-taught automotive engineer named Claude Williams Deane sold the first petrol-driven car in Perth.

Claude was part of a group of Perth motoring enthusiasts, which also included importer/exporter Harry Dyer, who was bringing in the latest cars from England, and Richard Strelitz, another keen motorist and Fremantle entrepreneur.

These three were central figures in creating what is now known as RAC, in January 1905.

Cars might have been on the roads, but there was little in the way of garages or petrol pumps, or even people who knew much about repairing or changing tyres. The new club's members and motoring enthusiasts wanted to change that, supporting others that shared their passion for the automobile and making the roads safer for their new members, and others in WA.
The RAC badge: A status symbol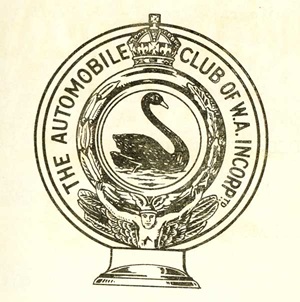 Mounted onto members' cars from the early days, the RAC badges became something of a status symbol, particularly because at the time, automobiles were mostly owned by wealthier Western Australians. The distinctive badge was also the only way an RAC member could be identified.

The first badge, featuring WA's black swan, was produced in 1910 and became an instant hit with members. The swan remained even after the badge was changed in 1915 when RAC became affiliated with the Royal Automobile Club of England, much to the delight of members.

Given the status of the badges, leaving it on a vehicle when selling it often made the car more attractive to the buyer. In 1916 the club cracked down on rogue RAC badge-toting cars driving Perth streets.

Keen to show off its royal affiliations, the badge design was changed in 1950 to a chrome diamond shape incorporating the King's crown on top, the letters RAC in the centre, and an anodised blue backing plate. This style of badge remained in use until as late as 1990 when the last RAC badge, a small barrel-shaped type, was introduced and designed for bolting onto vehicle registration plates.

Metallic RAC badges are no longer made, mainly due to the changes in car design, which no longer have 'badge bars' included for club badges.