Britain & Ireland Discovery
with Insight Vacations
21 nights from
$11,156
per person, twin share*
Immersive tour of Britain and Ireland is brought to life by local experts
Multiple MAKE TRAVEL MATTER Experiences that connect you with people, the planet and wildlife
Gain special access to iconic sites and enjoy fun activities with Unique Insight Experiences
10% Early Bird Discount included^
Embark on a unique journey through Britain and Ireland. Explore the ancient Roman city of Bath, perfect your pint-pouring skills at the Guinness Storehouse in Dublin in a private masterclass, and marvel at the grandeur of Holyroodhouse Palace in Edinburgh.
Guided by local experts, this tour is enriched with immersive encounters. Prehistoric Stonehenge towers over England's Salisbury Plains, where a tour unlocks some of the secrets held by these 5000-year-old monoliths, while the Viking city of York charms all with its maze of narrow streets and close quarter homes.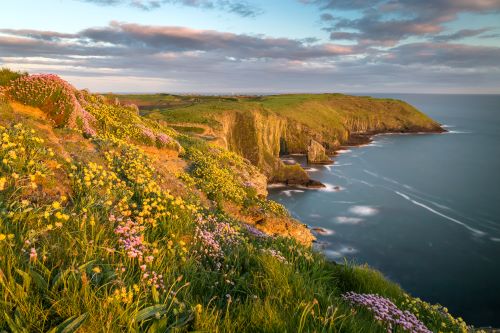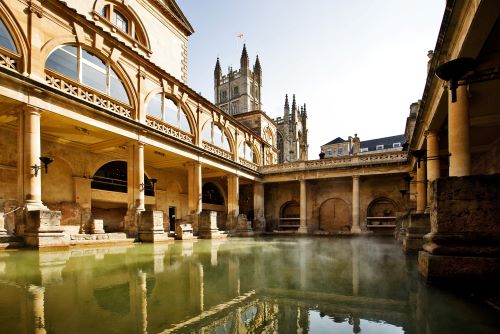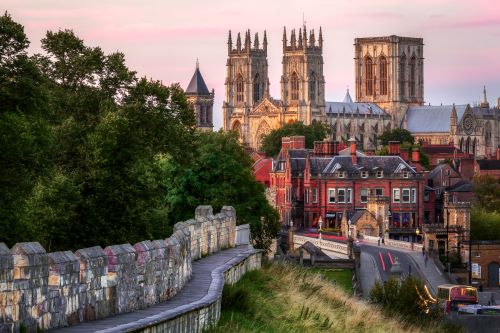 MAKE TRAVEL MATTER Experiences:
Visit the legendary Giant's Causeway, site of wonders. At the visitor centre, learn about the efforts to protect biodiversity and ecosystems, participating in habitat restoration.
Meet passionate restaurant owners John and Freda at their beautiful guesthouse in Killarney, where you'll hear more about their farm-to-table concept, while enjoying a delicious meal made from fresh ingredients sourced within a five-mile radius.
Visit the incredibly well-preserved Roman Baths. Discover 2000 years of history and learn how this hub of culture is pioneering new educational investments to benefit the community.
UNIQUE INSIGHT Experiences:
Cruise to the windswept Orkney Islands on a full day guided journey.
Visit Kilkenny Castle with a Local Expert. On a guided tour, learn the history of this magnificent castle.
Learn about the history of stone circles and indigenous traditions from your knowledgeable local expert and enjoy a scenic exploration across the rolling valleys of Dartmoor National Park.
Highlights:
Visit Giant's Causeway — MAKE TRAVEL MATTER Experience
Locally Sourced Farm-to-Table Meal at 19th Green Killarney — MAKE TRAVEL MATTER Experience
Visit the Roman Baths — MAKE TRAVEL MATTER Experience
Discover Orkney Isles with a Local
Londonderry City Tour
Visit the Majestic Kilkenny Castle
Dartmoor National Park Walk
Visit Shakespeare's Birthplace in Stratford-upon-Avon
Loch Ness Cruise
Visit Blarney Castle
Inclusions:
22 days itinerary trip around Britain and Ireland
Visiting 5 countries and 42 cities.
21 nights accommodation at highly rated hotels in desirable locations offering superb service, superior rooms with comfy beds to rest in.
21 Breakfasts, 11 Dinners with Wine
The itinerary includes an expert Travel Director and professional Driver and all the must-see sightseeing and surprise extras.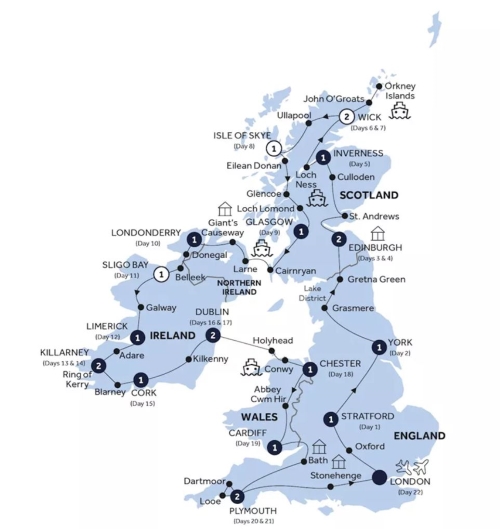 Day 1: London to Stratford-upon-Avon
At 08:00, meet your Travel Director at the hotel in London. After a warm welcome, settle into your luxury coach and head westward through the green Chiltern Hills. Stop in Oxford, where your Travel Director will introduce you to the City of Dreaming Spires, home to the world's most famous university. With time at leisure, why not enjoy a visit to the renowned Ashmolean Museum or browse through the local indoor market? Continue via pretty Cotswolds villages to Stratford-upon-Avon. Visit the half-timbered house where William Shakespeare was born, now a museum full of memorabilia relating to his life. Later, join your Travel Director and fellow travellers at a local restaurant for a warm and friendly Welcome Dinner with drinks.
Stay: Swan's Nest Hotel
Meals: Dinner with wine
Day 2: Medieval York
A leisurely drive brings you to the historic city of York; its story going back to the time of the Romans and the Vikings. Inside the ancient city walls, see the York Minster, the largest medieval church in northern Europe. Explore the maze of narrow streets to the topsy-turvy Shambles, where warped, overhanging timber framed houses lean so far that they almost touch! Spend the rest of the day at leisure.
Stay: Hilton York
Meals: Breakfast & dinner with wine
Day 3: By the Lakes to Edinburgh
Travel across the Yorkshire Dales and wild Pennines to the picturesque Lake District. A scenic wonderland awaits, with rugged mountains and tranquil waters that inspired a host of English poets, including Wordsworth, Coleridge, Tennyson and Shelley. After a visit to Wordsworth's grave in the village of Grasmere, cross into Scotland and stop briefly at Gretna Green. This is the famous spot where runaway lovers were married over the anvil at the blacksmith's shop. Then it's on to the majestic Scottish capital.
Stay: 2 nights Apex City of Edinburgh Hotel
Meals: Breakfast
Day 4: Scotland's City of Culture
Join a Local Expert for a trip along Princes Street to see the ornate Victorian Gothic monument to Sir Walter Scott and the elegant 18th century New Town with its classical Adam facades. Over in the Old Town, see the Palace of Holyroodhouse - the official Scottish residence of His Majesty, The King and visit the castle, home of Mons Meg, the Stone of Destiny and the Honours of Scotland - Scotland's glittering Crown Jewels. The rest of the day is at leisure. Perhaps research your family tartan in the Tartan Centre or visit the art treasures in the National Gallery? In the evening, select departures will attend the spectacular Royal Edinburgh Military Tattoo - a colourful mix of pipes and drums, dance and display, set against the floodlit backdrop of Edinburgh Castle.
Meals: Breakfast
Day 5: The Highland Capital of Inverness
Cross the Firth of Forth into Fife. Make your way to St. Andrews, home to the Old Course and birthplace of golf. Enjoy free time to explore. Perhaps stroll to West Sands Beach where the famous 'Chariots of Fire' scene was filmed? Alternately, wander to St. Andrews University where the love story of Kate Middleton meeting her Prince Charming began. Cross the Tay and journey to Blair Atholl and pass the Grampian Mountains on the way to the sparkling Spey Valley. Stop at Culloden Moor, where Bonnie Prince Charlie's Jacobite army was finally crushed in 1746 and visit the Culloden Visitor Centre. Travel to Inverness, where your centrally located hotel is set on the banks of the River Ness and looks up to Inverness Castle.
Stay: Columba Hotel or AC Hotel Inverness by Marriott (dependent on your departure date)
Meals: Breakfast & dinner with wine
Day 6: Loch Ness to Wick
Start the day with a journey of discovery on a Loch Ness cruise. Soak up the scenery, historic monuments and intriguing tales of Nessie in the heart of Scotland's great glen. Your travels then follow the rugged coast north to the fishing port of Wick. Visit a whisky distillery to taste a wee dram and learn about the production of the national drink. Don't blink as you drive on to your hotel - you pass Ebenezer Place, which at 2.06 m, is the world's shortest street!
Stay: 2 nights at The Norseman Hotel
Meals: Breakfast & dinner with wine
Day 7: Orkney Islands Experience
Visit the most northern community on the British mainland, John O'Groats. Board the ferry to the beautiful Orkney Islands, where the hardy locals live 'below the wind and above the water.' Your Local Expert takes you to the 5000-year-old village of Skara Brae, the mysterious Ring of Brodgar, the town of Kirkwall and the small chapel built by Italian prisoners of war during World War II.
Meals: Breakfast & dinner with wine
Day 8: Over the Sea to Skye
Relax and enjoy the stunning landscapes of lochs and mountains on your way to the fishing town of Ullapool. Continue alongside Loch Carron and through Glen Carron, before crossing to the magical Isle of Skye - the largest and most beautiful island of the Inner Hebrides. Hear the story of the song 'Over the Sea to Skye,' which tells of young Flora MacDonald and how she helped to rescue Bonnie Prince Charlie, who fled in disguise after his defeat at Culloden. Admire the scenic splendour on the way to your hotel in Broadford.
Stay: The Dunollie Hotel
Meals: Breakfast & dinner with wine
Day 9: Loch Lomond to Glasgow
Return to the mainland to see the remote Eilean Donan Castle, which under a clear sky offers a perfect reflection in its loch. Move on to the WWII Commando Memorial for a chance to view Ben Nevis, Britain's highest mountain. Continue on to the Valley of Glencoe, its dramatic peaks still echoing with the ghastly cries of massacred clansmen. Stop on the Bonnie Banks of Loch Lomond, known as the 'Queen of Scottish Lakes' according to Sir Walter Scott, before arriving in Glasgow.
Stay: Radisson Blu Hotel
Meals: Breakfast
Day 10: Walk in the Giant's Steps on the way to Londonderry
Cross the Irish Sea, enjoying views of the Island of Arran along the way. Once you arrive in Northern Ireland, prepare yourself for miles of breathtaking beauty! The road clings to the coastline at the mouth of the famous Nine Glens of Antrim, alongside sandy beaches beneath towering basalt cliffs. Journey to the iconic Giant's Causeway, a MAKE TRAVEL MATTER Experience. Learn how the National Trust is enabling farming and biodiversity to work together, supporting both wildlife and quality food production. This geological masterpiece was created by the cooling of lava which burst through the earth's crust millions of years ago. Continue to the ancient walled city of 'Derry'.
Stay: Da Vinci's Hotel Derry
Meals: Breakfast & dinner with wine
Day 11: Belleek and Sligo Bay
In the morning, meet Ronan, one of the nation's great storytellers, as he takes you inside Londonderry's well-preserved walls, still topped with cannons. Walk down steep Shipquay Street, with its elegant Georgian houses, to the Gothic Guildhall, and cross the border to see O'Donnell's Castle in Donegal. Journey south to the Belleek Pottery & Visitor Centre, nestled on the banks of the River Erne. Meet some of the specialist craftspeople and see artisan techniques in action during your visit. Then it's on to your country retreat, set on the scenic shores of Sligo Bay.
Stay: Clayton Gotel Sligo
Meals: Breakfast & dinner with wine
Day 12: Galway and Limerick
Experience the beautiful rugged landscape of Connemara, a wonderland of rivers, lakes and silent hills. Continue to Galway, where your Travel Director will show you St. Nicholas Cathedral, the Spanish Arch and Eyre Square, dedicated to the late US President John F. Kennedy. Move onto your hotel in Limerick, famous for rhymes, lace and Georgian houses.
Stay: The George Hotel Limerick
Meals: Breakfast
Day 13: Adare to Killarney
Start the day with an exploration of Limerick where you will see King John's Castle, St. Mary's Cathedral and the Treaty Stone. Continue your journey through the land of song and legend via the picturesque thatched village of Adare, into County Kerry and onto your Killarney hot
Stay: 2 nights at Killarney Plaza Hotel and Spa
Meals: Breakfast
Day 14: Ring of Kerry Experience
In the morning, enjoy a trip around the Ring of Kerry, one of the world's most scenic journeys. See towering cliffs, lush lakelands, remote villages, Ireland's highest mountain range and the three peaceful Lakes of Killarney. With time at leisure, perhaps hire a bicycle and take advantage of the many cycle trails that Killarney has to offer around the lake or through the National Park? At night your Dine-Around Evening offers you authentic and intimate dining as you choose from a hand-picked selection of local restaurants, ranging in style and ambiance.
Meals: Breakfast & dinner with wine
Day 15: Blarney Castle and Cork
Cross the rugged Derrynasaggart Mountains this morning and head for Blarney. Visit the ruined 15th century castle that is home to the famous Stone of Eloquence. It is said that those whose lips caress the Stone of Eloquence are bestowed with the power to persuade, flatter and coax. Continue on to Cork, Ireland's second most populous city, built on the River Lee. Enjoy a city tour before checking into your hotel.
Stay: Maldron Hotel South Mall Cork City
Meals: Breakfast
Day 16: Kilkenny and Dublin
Travel to the medieval city of Kilkenny to visit Kilkenny Castle. Learn how the castle was built in 1195 after the Norman Conquest of Ireland and admire its beautifully restored Victorian era rooms. Continue to Ireland's lively capital, Dublin, and spend a leisurely evening relaxing, exploring or perhaps taking in a famous Irish cabaret?
Stay: 2 nights at Trinity City Hotel
Meals: Breakfast
Day 17: In Dublin's Fair City
Experience Ireland's national, world-famous drink with a visit to the Guinness Storehouse. Gain a fascinating insight into the history and traditions behind its production. Then meet your Local Expert who will show you the sights of the city, including Dublin's elegant Georgian squares, O'Connell Street and the Custom House. The afternoon is at leisure.
Meals: Breakfast
Day 18: Across the Irish Sea to Chester
Bid farewell to Ireland as you board the ferry to Wales. Cross the Isle of Anglesey, via the village bearing Britain's longest name, and continue over the Menai Straits for a stop in the walled market town of Conwy to see the castle. Travel along the north coast of Wales and cross the English border to arrive at Chester. This fine town still boasts relics of its history as a Roman fortress, as well as the unique black and white shopping arcades, known as the Rows. An exploration with your Travel Director will show you the well preserved city walls, Jubilee Clock and impressive cathedral.
Stay: The Queen at Chester, BW Premier Collection by Best Western
Meals: Breakfast & dinner with wine
Day 19: The Welsh Marches to Cardiff
Continue through the countryside to the Welsh capital and see the Principality Stadium and Cardiff Castle.
Stay: Clayton Hotel
Meals: Breakfast
Day 20: Bath and Somerset
Cross the soaring Severn Bridge to reach the elegant Georgian city of Bath, a UNESCO World Heritage Site built in amphitheatre style on the surrounding hills. An orientation of the city will show you the impressive Pulteney Bridge and gothic Bath Abbey, famous for the sculpture of angels climbing Jacob's Ladder. Visit the well-preserved Roman Baths, a MAKE TRAVEL MATTER Experience, pioneering new educational investments to benefit the community. Journey on to Somerset, see Wells Cathedral as you make your way to Plymouth for the night.
Stay: 2 nights at Crowne Plaza Plymouth or Copthorne Hotel Plymouth (dependent on your departure date)
Meals: Breakfast
Day 21: Discover Dartmoor and the Cornish Coast
Explore Dartmoor with Insight Choice. Choose to join a scenic exploration of Dartmoor National Park. Alternatively, cruise the scenic Plymouth harbour, where 400 years ago the Mayflower set sail for America. Visit a picturesque Cornish fishing village, where contraband was once smuggled in the dead of night. Back in Plymouth, enjoy a glass of wine and a delectable Celebration Dinner with your newfound friends as you toast to an inspiring journey.
Meals: Breakfast & dinner with wine
Day 22: Ancient Stonehenge to London
Travel across Salisbury Plain to visit the prehistoric and mysterious Stonehenge, where the strange and awe-inspiring monoliths are reputed to be up to 5,000 years old. Your discovery of Britain and Ireland concludes upon your return to the hotel in London.
Meals: Breakfast
Prices
Standard
Price per person, twin share
Early Bird
Price per person, twin share
From $12,395
From $11,156
Dates
2024 departures
10 April, 24 April, 28 April
05 May, 08 May, 12 May, 26 May
02 June, 09 June, 12 June, 19 June, 23 June, 30 June
03 July, 10 July, 14 July, 21 July, 28 July, 31 July
04 August, 11 August, 14 August, 18 August, 21 August, 25 August, 28 August
01 September, 11 September
*Advertised price is based on twin share, includes all savings and is based on 10 April 2024 departure. Other travel dates available at seasonal surcharge. Savings apply to selected departure dates only, please enquire with your RAC travel consultant for eligible departure dates.
*Advertised price is based on 10 April 2024 departure and includes Early Bird savings. Savings apply to selected departure dates only, please enquire with your RAC travel consultant for eligible departure dates. Other departure dates available at seasonal surcharge.
2024 Early Bird Travel Sale: Save 10% on select departures. New bookings only made with deposit between 09 October 2023 and 14 December 2023. Full payment due 120 days prior to departure or at time of booking if booked within 120 days of departure; whichever comes first. Prices are in AUD, are per person, land only, based on double occupancy and are subject to availability. If guests change to another tour or date not on sale, they are responsible to pay the difference and adhere to different payment conditions. Savings are subject to availability and may be withdrawn at any time without notice. May be combined with 5% Global Tour Rewards savings only, not combinable with group discounts, Future Travel Credit carry forward discount or any other discount or promotion. Other conditions may apply, please check with your RAC travel consultant at time of booking.
General RAC Travel terms and conditions apply.