You're driving. Your phone dings with a message. You want so very much to know what it is. But constantly taking the bait and checking your phone can prime your brain for a behavioural addiction that can be hard to break.
With driver distraction from mobile phones increasing your crash risk by up to four times, it's a habit you should put some effort into kicking.
Technology can help - many phones have 'do not disturb' and 'driving mode' capabilities that keeps your phone silent when you're behind the wheel.
Here's how to set up your phone up so you can focus on the road.
Apple
You can set your iPhone to automatically detect when you're driving, using the Do Not Disturb While Driving feature.
It starts working as soon your phone connects to the car via Bluetooth or when your car senses driving motion.
When the Do Not Disturb feature is turned on, the screen stays dark and anyone who sends you a message will receive an automatic reply that you're driving.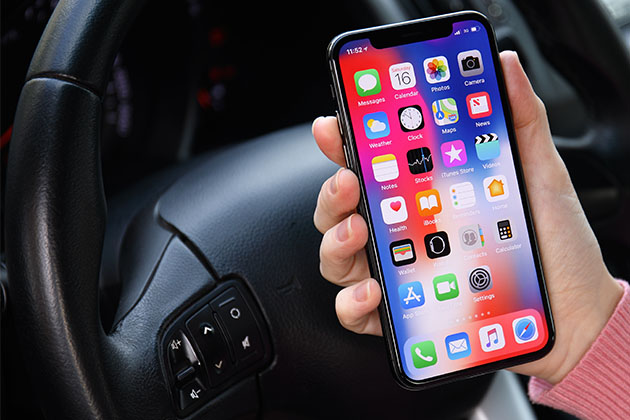 You can allow calls from people in your 'favourites' list but only answer through the car's Bluetooth system for hands-free communication. If you use maps for navigation, the phone will lock and you will receive audible driving instructions instead.
With the iPhone's iOS 11 and later, the very first time your phone senses you are driving, it will send you a notification to turn on the Do Not Disturb While Driving feature, which you confirm with a quick tap.
Otherwise, there are two ways to manually activate it. Settings > Do Not Disturb > Activate>When Connected to Car Bluetooth. Or, Settings > Control Centre and tap Customise Controls > Do Not Disturb While Driving.
You can find out more from Apple.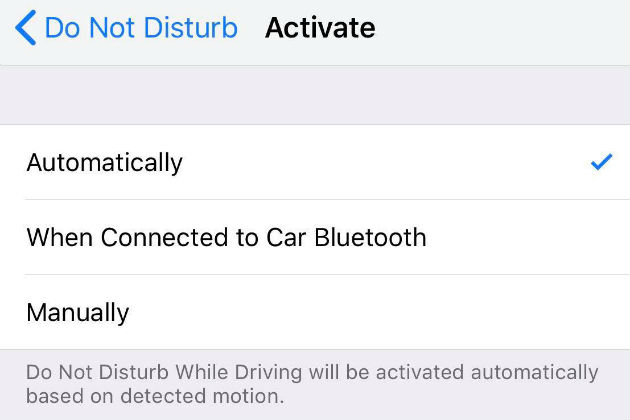 Android
The process on an Android is a little more manual - most don't have a dedicated tool for silencing the phone when driving.
However, like all phones, you can activate the Do Not Disturb feature before you get in the car - go to the settings - which mutes all calls, alerts, and media sounds.
You can customise exceptions to Do Not Disturb such as allowing calls and messages from specific contacts. You can also set it to turn on at a scheduled time, so if you know you're driving between 8am and 9am on weekdays you won't hear a peep out of your phone until the feature is turned off.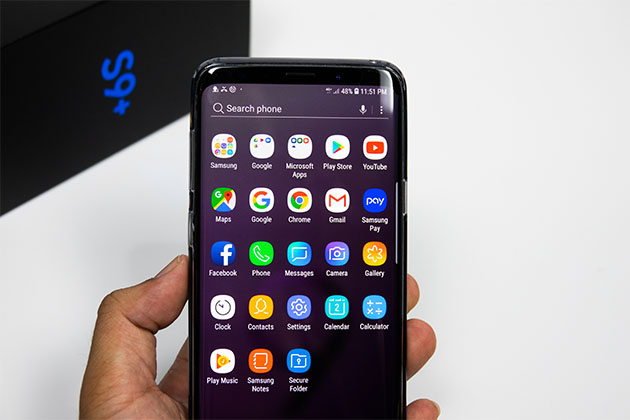 Alternatively, you can download an app. The free app Driving Detective works by measuring your speed and automatically turns Do Not Disturb on while you're driving.
One Android phone that does have a driving mode is the Google Pixel 2. Open the Settings, then tap Sound > Do Not Disturb > Turn on automatically. Then tap Add rule > Driving. This will block notifications when you connect it to the car's Bluetooth or it detects it's in a moving vehicle.
Remember – set your phone's settings before you turn on your vehicle's ignition.
Images supplied to RAC by Shutterstock
Last updated October 2018
You're four times more likely to crash if you use a mobile phone while driving.
We're calling on all WA drivers to make the choice to put away their phones and other devices and stay focused on the drive.
Turn on your phone's Do Not Disturb feature and keep your eyes on the road. Look up, WA.