RAC is expanding its driverless bus demonstration in Geraldton by adding more free public rides, providing the opportunity for more Western Australians to experience the ground-breaking technology.

In partnership with the City of Greater Geraldton, public rides on the RAC Intellibus®, which were due to finish on 8 November, will now be available until 10 December 2020.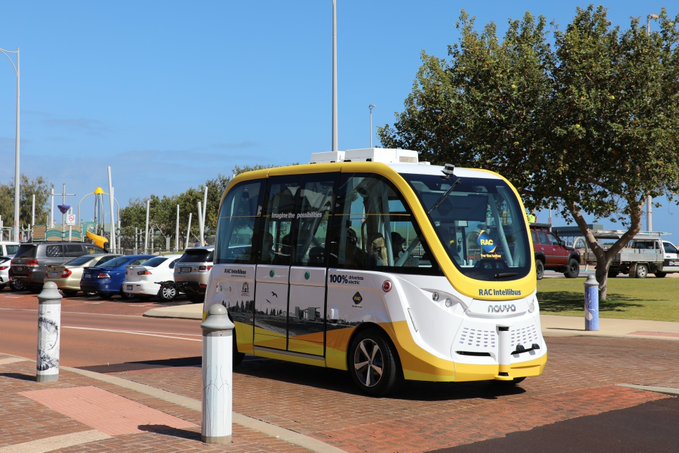 RAC General Manager Public Policy and Mobility Anne Still said it's been fantastic to see the experience so popular amongst the local community.
"We're very excited to be able to offer additional rides on our RAC Intellibus® in response to the overwhelming number of bookings we've received since we launched in Geraldton in September.
"Since then, nearly 800 passengers have been onboard and we've completed more than 200 trips along the Geraldton foreshore — including a significant milestone in navigating more than 2,000 roundabouts.
"By increasing the number of rides in Geraldton, we hope more Western Australians will hop onboard and experience the technology first-hand, for a glimpse into the future of safer, more sustainable and connected transport."
City of Greater Geraldton Mayor Shane Van Styn said he was delighted about the program's expansion.
"You just need to jump on the EventBrite link and speak to people in town to see how popular the RAC Intellibus® is," Mr Van Styn said.
"It's been booked out weeks in advance, which demonstrates how eager and excited people are to experience the future right here in the Midwest."
Free public rides on the RAC Intellibus® will be available on Saturdays and outside the hours of our school excursion program, the RAC Imagine Program™, which will launch in Geraldton on Tuesday, 17 November.
For more information or to book your spot onboard, please visit our website.

- ENDS -
About the RAC Intellibus®
Since 2015, RAC has been working to help prepare a roadmap for how Western Australia can prepare for and transition to driverless vehicles. On 31 August 2016, with support from the WA Government, the City of South Perth, and vehicle manufacturer NAVYA, Australia's first public trial of a driverless vehicle was launched. As of September 2020, more than 17,670 passengers have experienced the Intellibus®, which has travelled more than 26,306 kms in autonomous mode.
Media contact: Caitlin Barr, 0401 703 719 or media@rac.com.au