The RAC Intellibus® has arrived in Geraldton, bringing ground-breaking driverless technology to WA's Midwest for the first time.
RAC has partnered with the City of Greater Geraldton to bring the RAC Intellibus® to the region from today until 8 November, providing the local community and visitors an opportunity to experience the technology first-hand.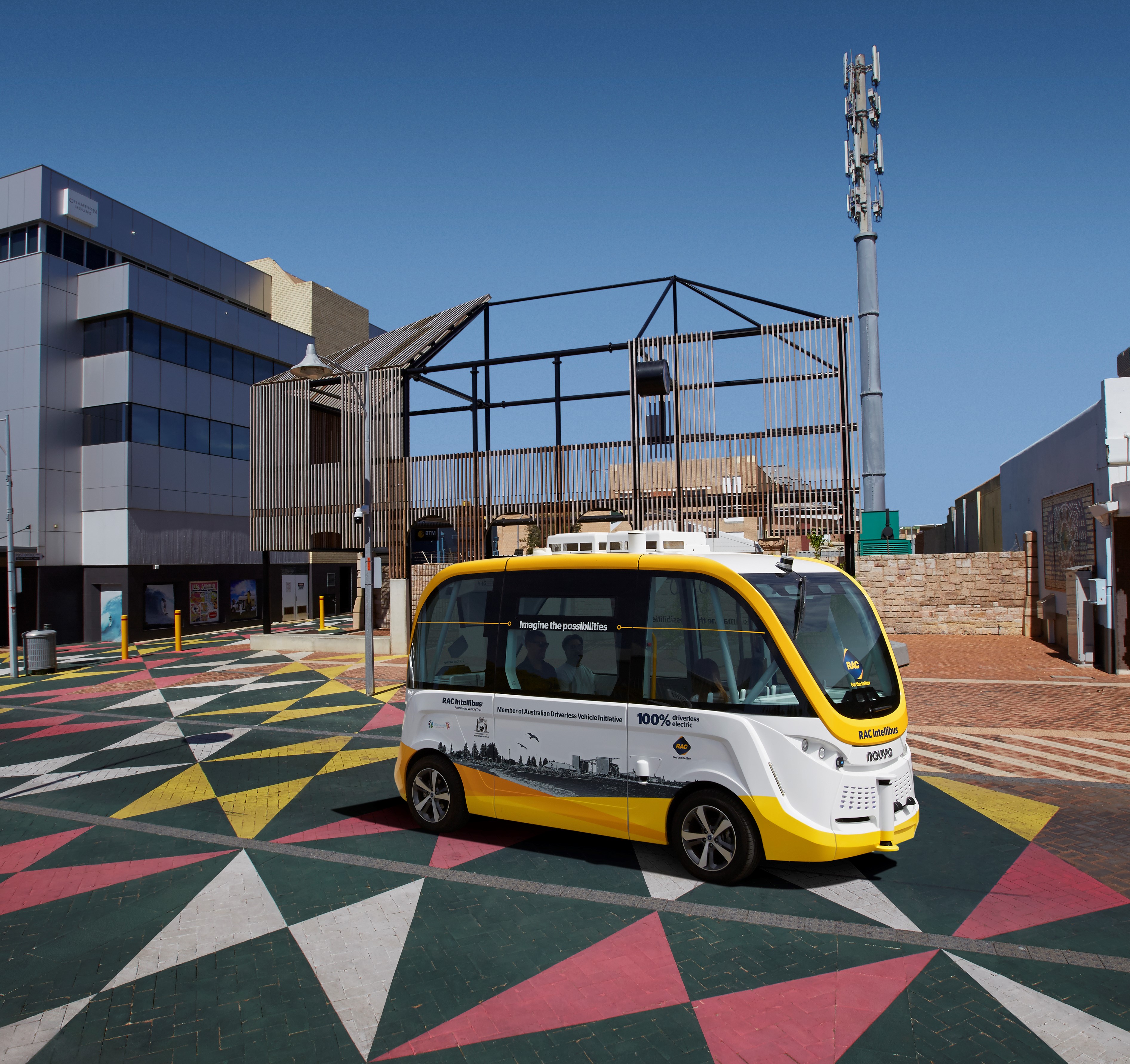 The RAC Intellibus® on the Geraldton Foreshore
RAC General Manager Public Policy and Mobility Anne Still said the demonstration will give Geraldton residents and visitors a glimpse into the future of safer, more sustainable and better connected transport.
"We're excited to bring the RAC Intellibus® to this part of Western Australia and provide an opportunity for more members of our community to see and experience driverless vehicle technology for themselves," Ms Still said.
"This is a significant milestone, as we explore how driverless technology could help us address the unique road safety and transport challenges we face in regional WA.
"Human error is the cause of the vast majority of road deaths and if we can help WA safely transition to driverless vehicles sooner, countless lives could be saved and thousands of serious injuries prevented.
"After a hugely successful demonstration in Busselton last year, we're looking forward to seeing the RAC Intellibus® in another regional setting — which will be critical in helping to prepare Australia for a more connected and driverless future."
The free 30-minute RAC Intellibus® journey will begin on Marine Terrace, travel along the Geraldton Foreshore and stop at the Museum of Geraldton, where passengers can hop-off or stay onboard for a return trip.
City of Greater Geraldton Mayor Shane Van Styn said he was looking forward to going for a ride in the RAC Intellibus®.
"It's not every day that you can go for a ride in a driverless bus but for the next few months you will be able to," Mr Van Styn said.
"The future will be right here in the Midwest and at a perfect time with the September School Holidays and many wandering around the state in search of adventure and new experiences.
"We hope that the increased activity from the RAC Intellibus in the Geraldton CBD will have flow on effects to our business community with passengers journeying to our great café and shopping scene after the ride."
Participants must pre-register for a ride on the RAC Intellibus®. To book a spot, or for further information, please visit our website, our RAC Intellibus® Hub on Marine Terrace or our Member Service Centre at Stirlings Central Shopping Centre.
RAC's free school excursion, the RAC Imagine Program™, will also be heading to Geraldton for a month in November 2020, providing students an opportunity to ride the RAC Intellibus® and learn about the changing nature of transport, mobility and road safety.
The Geraldton experience is the second demonstration of driverless technology on public roads in regional WA. Last year, the RAC Intellibus® travelled to Busselton for eight weeks.
<ends>
About the RAC Intellibus®
Since 2015, RAC has been working to help prepare a roadmap for how Western Australia can prepare for and transition to driverless vehicles. On 31 August 2016, with support from the WA Government, the City of South Perth, and vehicle manufacturer NAVYA, Australia's first public trial of a driverless vehicle was launched. As of September 2020, more than 16,600 passengers have experienced the Intellibus®, which has travelled more than 25,550 kms in autonomous mode.
RAC Media Contact: Caitlin Barr, 0401 703 719 or media@rac.com.au