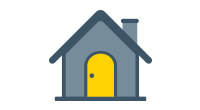 Save on RAC products and services
Get a quote online or call 13 17 03
What do I get?
Home is where the heart is, so protect yours and everything in it. Choose from combined home and contents or standalone buildings and contents. You'll get a local claims team ready to help seven days a week, plus RAC member benefits for savings everyday.
If you are a Bronze, Silver, Gold, or Gold Life member you can save on your Home, Contents and Building Insurance.
• Bronze members save 5%
• Silver members save 7.5%
• Gold and Gold Life members save 10%
How do I redeem?
Enter your membership number when you quote online, give us your details over the phone or show your card in a branch.
Where do I get the offer?
Get a quote online, call 13 17 03, or go into a branch for an insurance quote.
Lost your RAC membership card? Order one now
Terms and Conditions
These products are issued by RAC Insurance Pty Ltd. Benefits are subject to policy conditions and
PED Guide

.
Before you make a decision, please check the
PDS
to see if the policy is right for you.