The impact of speed is a major contributor to deaths and serious injuries on WA roads, which is why speed management, including safe speed limits should be a priority of our road network.
Did you know...
Increasing your speed - even by just a few kilometres an hour - increases your breaking distance and can significantly increase your risk of a crash, serious injury and death. For example, on a 10km journey in a 60km/h zone, you save just 46 seconds by increasing your speed to 65km/h but double your chance of being killed or seriously injured in a crash.
Speed affects your reaction time and braking distance
With less time for drivers to react to hazards, driving at higher speeds increases both the likelihood and severity of a crash.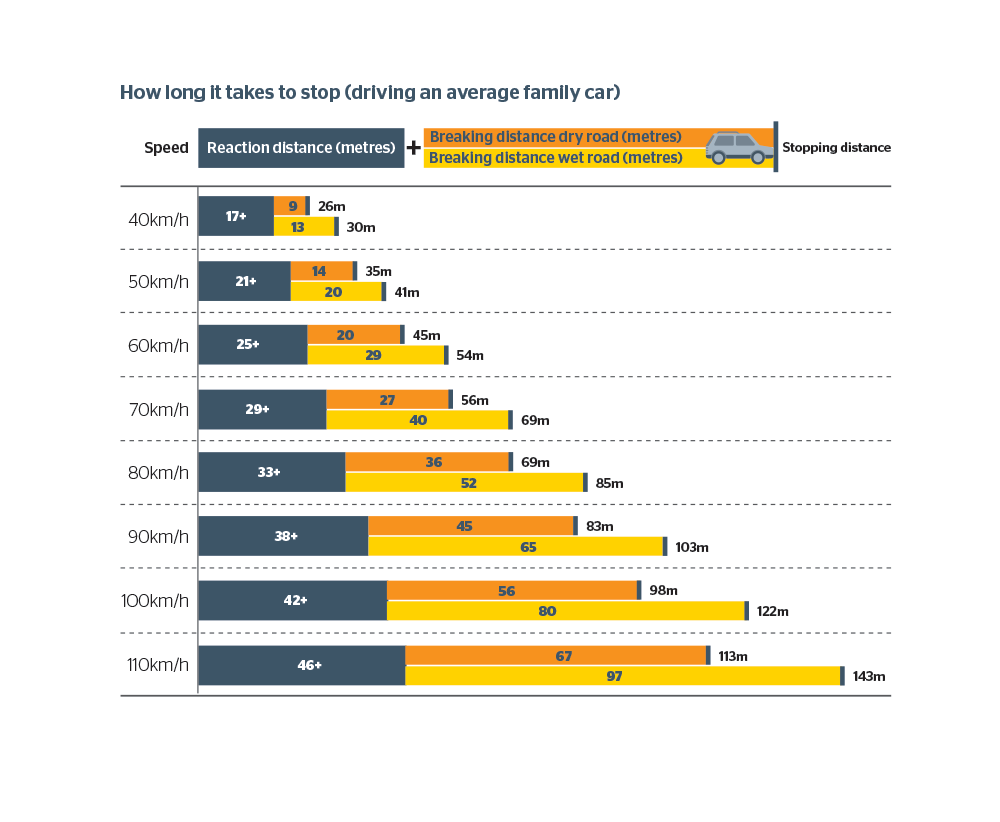 The impacts of speed on our fragile bodies
When a crash occurs, kinetic energy (the energy of motion) is transferred from one object to another. The greater the speed, the greater the kinetic energy. Our bodies are fragile and can only tolerate the force of a limited amount of energy (our biomechanical tolerance). In a crash the speed of colliding objects (e.g. cars, buses, bicycles and people) significantly influences whether those involved are killed or seriously injured.
Vulnerable road users, such as pedestrians, cyclists and motorcycle riders, have little protection, so their chances of survival rapidly decrease at speeds greater than 30km/h. In fact, a pedestrian is twice as likely to be killed by a car travelling at 50km/h than one travelling at 40km/h, and five times as great as one travelling at 30km/h.
Motor vehicles provide a level of protection to their occupants in a crash as their frames absorb some of the kinetic energy releases (vehicles with a 5-Star ANCAP safety rating / used car safety rating provide the greatest level of protection). For motor vehicle side-impact and head-on crashes, the chances of survival rapidly decrease at speeds greater than 50km/h and 70km/h respectively.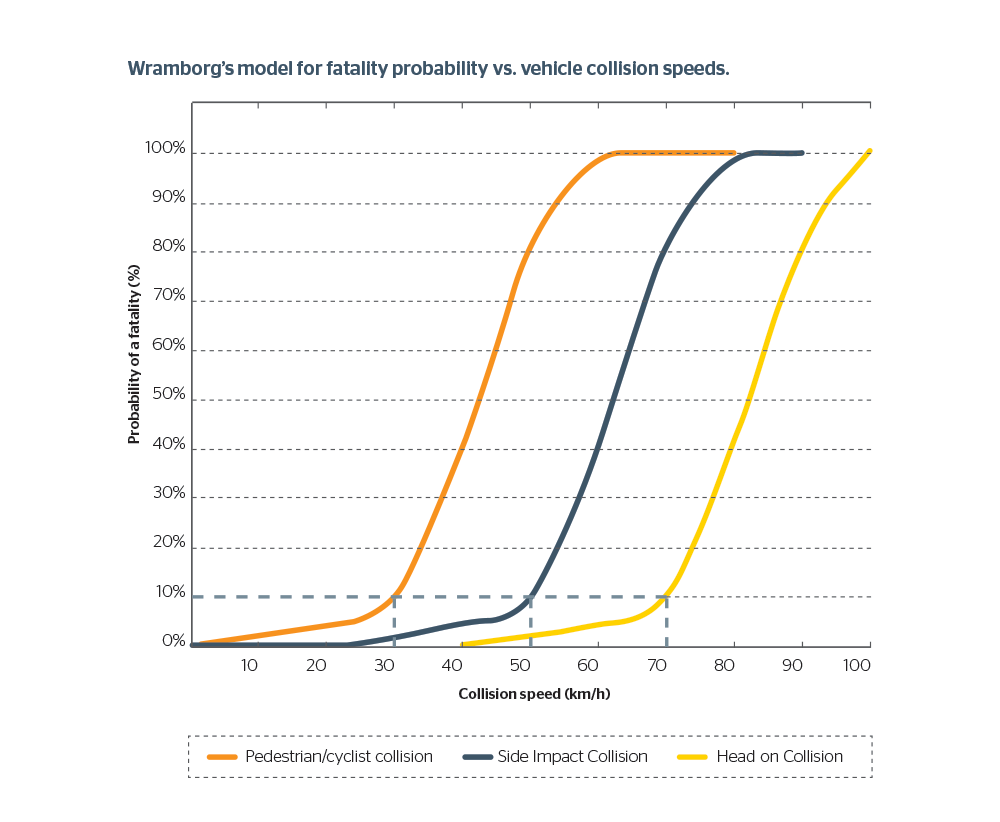 RAC's position on safer speeds
RAC Supports:
Speed limit setting which takes into account the threshold of physical resistance of the human body to the energy released during a crash, in line with the Safe System approach. Safety elements and performance should be prioritised above network efficiency;
Regular reviews of speed limits across WA's road network, including the targeted reduction of speed limits in area with a history of road trauma;
Targeted reductions of speed limits for urban areas of high pedestrian/bicycle activity, residential streets or for roads with a known road safety problem;
Actions to ensure road users can understand why speeds have been set for different road types and situations to help them drive appropriately to the conditions. This includes speed zones being clearly signed and consistent, and the design of roads and streets to be self-explaining and self-enforcing, promoting appropriate traffic speeds and more consistent road user behaviours;
Parallel engagement of relevant local government councils / road authorities in the setting of speed limits; and
Speed enforcement through a range of strategies including both over and covert measures, red light camera and point-to-point technology, as well as increased police presence, to ensure safer speeds on our roads.
RAC calls on the State Government to:
Investigate a reduction of the speed limit from 110 km/h to 100 km/h to target the unacceptably high number of fatalities and serious injuries that occur regional roads;
Trial innovative approaches in designing, or re-designing, intersections, particularly on local roads and in relation to better speed management, to enhance safety and amenity for vulnerable road users;
Fund a trial of well designed, self-explaining / self-enforcing 30 km/h speed zones in appropriate areas;
Continue to fund the expansion of the red light, speed and point-to-point camera programs;
Establish and continue to fund the Regional Enforcement Unit of WA Police to target factors contributing to the disproportionate regional road toll; and
Fund regular high-profile community awareness campaigns and school programs on road safety.