Unfortunately for your neighbours, most dogs are born to bark.
Dogs normally bark for a few reasons: boredom, out of habit, protecting property or to communicate. Different breeds of dogs are more prone to barking than others, but there are ways you can amend this behaviour.
Exercise your dog regularly
As well as keeping your dog socially stimulated, make sure your dog is getting sufficient physical exercise every day - because after all, a tired dog is less likely to bark out of boredom.
Depending on its breed and age, your dog may require several long walks and some active play to be tuckered out.
Keep your dog social
If your dog is bored, consider ways that you can keep their mind active and their days more social.
If your working arrangements are flexible, consider working days at home and spending time with your dog. If this is not an option for you, ask someone to visit your dog during the day, or even consider getting another dog to keep yours company.
Enjoying this article? Check out:
Top dog-friendly campgrounds in WA »
How to care for your puppy while you're at work »
7 of Perth's best dog beaches »
Use sight barriers
Territorial barking often occurs when dogs see or hear something nearby that captures their attention - so the quickest way to prevent this is by managing your home environment to block your dog's view of potential triggers.
Use privacy fencing to cut off views of neighbouring gardens or the street, or give your dog access to only one part of your yard if you're away from home. Whilst in these quieter areas, provide your dog with plenty of toys to keep them distracted and disinterested with noises surrounding them.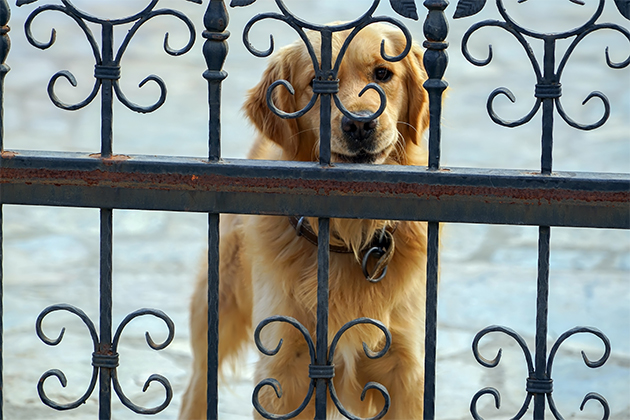 Have treats at the ready
A treat system is a great way to encourage your dog to stop barking - and be rewarded for dong so. While your dog is barking, wait for them to stop. When they do stop, pause for a few seconds and then give them a treat. If they continue to bark, gradually increase the time you pause before rewarding them.
Consistency is key with this strategy, so stay focused and patient and eventually your hard work will end up rewarding you in turn.
Is your fur baby protected?
Our trusted pet insurance covers up to 80%* of eligible vet bills. Plus, buy online and you can save $50** in the first year.
Last updated: December 2019
Disclaimer:
*Illness and injury cover – covers up to 80% of eligible vet bills up to $12,000 annually. Conditions, limits & exclusions apply. RAC Insurance Pty Limited is authorised by RACQ Insurance Limited (ABN 50 009 704 152, AFSL 233 082) as an agent to issue RAC Pet Insurance. This information does not take your personal objectives, circumstances or needs into account. Read the PDS and SPDS (where applicable) and TMD before making any decision. **Discount applies to the first year of insurance only.