It takes just four minutes for an unconscious road crash victim with no serious injuries to die from a blocked airway, but simply lifting their chin to open the airway could save their life.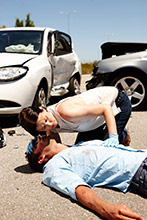 Simple first aid could mean the difference between a crash victim surviving or losing their life at the scene. That's the message from St John Ambulance Western Australia who recently launched their free 30 minute first aid course.
The clicktosave course was developed by St John Ambulance WA and can be completed online.
The course is designed to teach the skills needed to deliver basic first aid at a crash scene before the arrival of an ambulance.
It teaches two key techniques: how to unblock an airway and how to stop bleeding.
Both require only simple actions that can be safely applied to crash victims.
St John Ambulance and the RAC are encouraging motorists to complete the free online course in time for the Christmas break when many Western Australians will be heading away on driving holidays.
Take just 30 minutes out of your day and complete the
clicktosave
course now.