26 June, 2018 By: Wendy Caccetta
Every work day Shane, a four month old puppy with blonde good looks and a winning personality, rises at 3am to go to work with Australia Post mail sorter Leanne Rogers.
While Leanne works her 4am shift, Shane catches up on his sleep in his mail room bed.
At knock off time the pair go out to explore the world.
Shane, a Labrador-Golden Retriever cross, is destined to be Western Australia's next guide dog.
Leanne, a 56 year old mother of two teenagers, is his puppy raiser.
For the first year or so of Shane's life the pair will be inseparable, never spending more than three hours apart. It is Leanne's job to make sure her charge grows up to become an unflappable, dog-of-the-world.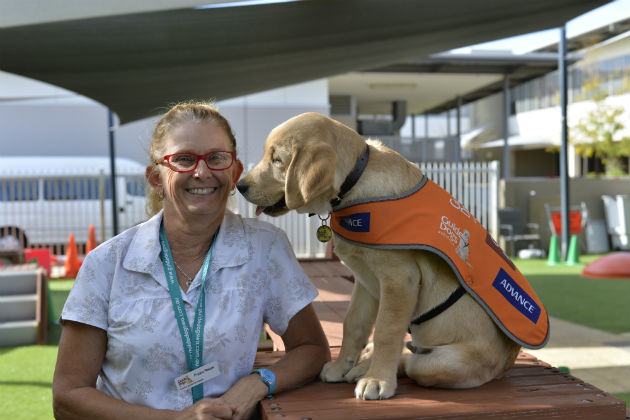 "It's like having a toddler," she says.
"Toddlers get scared and so do these guys. They look at you when they are not sure and they are looking for some reassurance and help."
Like a new mum, Leanne travels with a puppy version of the nappy bag.
"You've got toys and wipes and soak up pads in case he has an accident, you've got poo bags," she says.
Part of the family
Shane was welcomed into Leanne's two hectares home in the Perth Hills a month ago.
It is Leanne's third time as a puppy raiser, a volunteer role she applied for four years ago.
"I met a young blind girl at a Mandurah theatre when we were at a concert and I got talking to her about it and I was absolutely inspired by this young girl getting out and about with the help of her dog and I thought to myself 'yeah, I reckon I could give back to the community a little bit'," she says.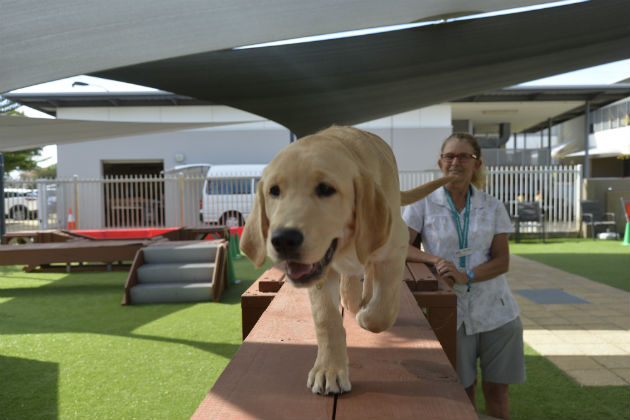 Leanne's first puppy was a golden Labrador named Wattle.
A large part of the job for puppy raisers is socialising the dogs with sounds and situations.
"Wattle and I did endless train journeys — one end of the metropolitan area to the other," says Leanne. "We rode all the different colour CAT buses in the city. We just went around and around.
"We saw lots of movies which was really good….Restaurants, swimming pools, because there's lots of noise and activity, sporting matches, you name it we did it."
"We were in a cinema with Wattle and there were some actual dogs on the screen barking and she sat up and thought she'd better have a bit of a chat to them as well," she says.
Wattle is now a fully-fledged guide dog. Leanne was then entrusted with a male golden Labrador puppy named Cheezel, who is currently in formal guide dog training, and now Shane.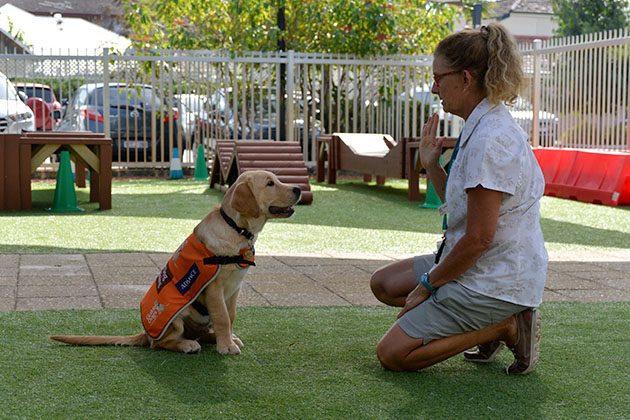 ---
Enjoying this article?
Sign up to our monthly enews
---
Raising the raisers
As Guide Dogs WA puppy raising coordinator, Josh Crawford has the enviable job of spending his life surrounded by adorable puppies — and their raisers.
He says puppy raisers need time for the pups, secure homes free of hazards, and be within 30 minutes of the city.
Labradors and Labrador-Golden Retreivers crosses, which come from specialist guide dog breeding programs over east and NZ, are favoured.
"Those breeds are generally a nice, happy well-rounded dog and they are very socially accepted as a breed as well," says Josh.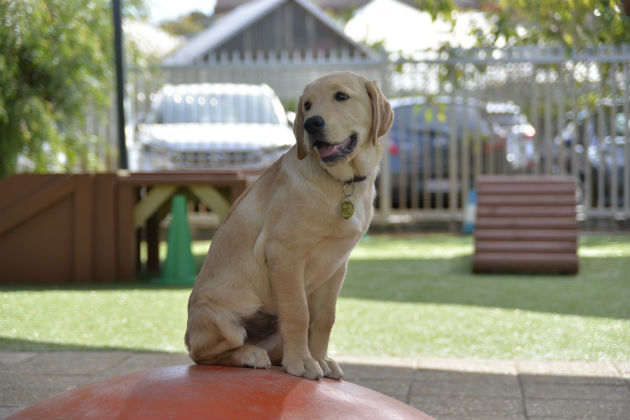 The puppies are put through their paces at seven weeks. If they pass, they go to live with a puppy raiser but regularly visit the Guide Dogs WA headquarters in Victoria Park.
When ready, they enter formal training for up to a year. It costs around $35,000 to fully train and prepare a dog.
About 60 percent graduate as guide dogs. Others become therapy dogs or companion dogs for children or adults with conditions like autism.
Confidence, initiative and the ability to make decisions are winning traits.
"A normal pet dog, you want a lot of compliance," says Josh. "You want them to do exactly what you tell them to do when you tell them to do it.
"Whereas our guys have a bit more leeway. We want them to think."
"That's why our raising and training through puppy hood is quite different to a normal pet dog."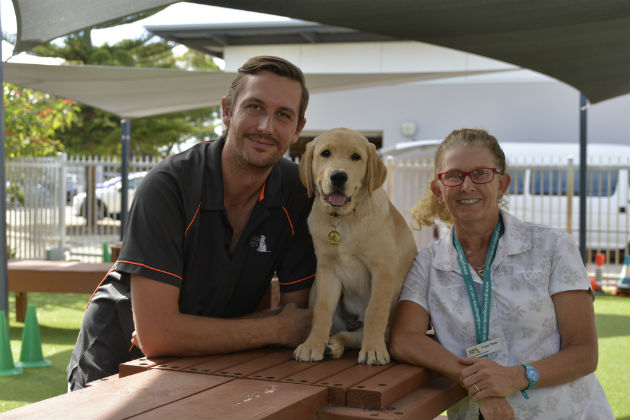 Life changing
Retired federal police officer Michael Pullinger and his seven-year-old black Labrador Ida recently returned from Melbourne where he picked up several medals representing WA in the national blind lawn bowling championships.
Michael, who has degenerative retinitis pigmentosa, says their bond was instantaneous and over the past four and half years, Ida has given him more freedom and enriched his life.
He says Ida takes everything in her stride.
"She's a proper guide dog when she's in harness and doesn't worry about sounds.
"When the Giants puppets were here a couple of years ago we were in Langley Park and there were over 3000 people and she was not fazed at all," says Michael.

"We've gone to the football, we've been to Optus Stadium together, we've been to the MCG together, and we fly together."
Out of harness and off duty, Michael says Ida is a different dog.
"She is quite frisky. I think it's good for her to have moments when she can be like a normal dog," he says.
Ida's vocabulary of more than 30 words or phrases keeps increasing.
"If I say 'I want to go to the (lawn bowls) club' Ida knows exactly which way to go and which entrance to come," he says.
"When we go through, if I say 'let's go to the door', she'll come to the door. If I say 'let's go and see Michael', who is our green keeper, she'll go towards him."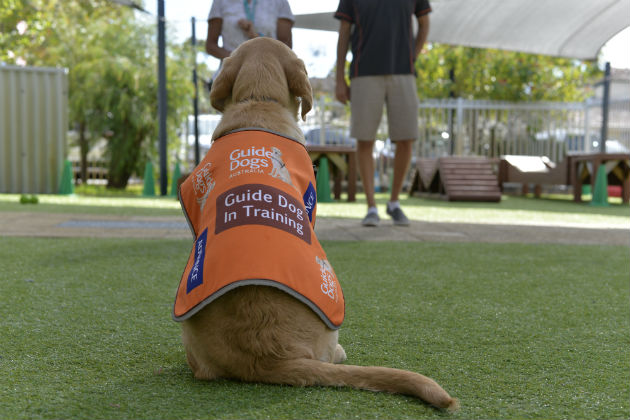 Giving up the pups
Michael appreciates the role of the puppy raisers and says it must be difficult to give up the dogs.
Leanne agrees it's the hardest part of the job.
"Each one of them has a special part in your heart," she says.
"It is traumatic but you know they're going to make a difference to someone's life.
"It's being a bit selfish when you don't want to give your dog up. And when you see them out and about you go 'wow, I had a hand in producing this dog'."
There are currently 51 working guide dogs in WA, with 13 in training and 19 puppy recruits.
Enjoy this story? Get more of the same delivered to your inbox. Sign up to For the Better eNews.
Want to bring your furry friend on your next WA holiday?
We've got you covered with our range of pet-friendly Parks & Resorts. Plus, members can save up to 20% on accommodation.