18 April, 2017 By: Jessica Zoiti
Perth's start-up scene is experiencing a renaissance, partly thanks to Brodie McColloch's own start-up, Spacecubed.
S
even years ago, returning to Perth with visions of establishing a social enterprise, Brodie McColloch found himself constantly frustrated by the lack of support in WA for start-ups.
"The networks just weren't here – it was hard to find the right people," Brodie recalls. "I thought, it shouldn't be this tough. There's got to be a better way to support entrepreneurs."
So he came up with a solution - a co-working space that would make it easier for entreprenuers to collaborate: Spacecubed.
The Spacecubed concept
Now five years old, and with Spacecubed the by-word in WA for start-ups, it's fair to say that Brodie has succeeded in providing WA entrepreneurs with the tools he could not find.
Spacecubed is now an 800-plus active network of entrepreneurs, start-ups, small business, non-profits and large corporates, including Microsoft, Woodside, RAC, Water Corp and Vocus.
The strong member base makes it easier for innovators and entrepreneurs to find mentors, funding, network and share ideas.
They can also find somewhere affordable to sit, with Spacecubed's funky and collaborative shared CBD office space.
"We saw a gap for supporting people with new ideas and to tackle the social, environmental and economic challenges they face," Brodie explains. "And so we went for it."
Early challenges
Bringing the concept to life in Perth required a leap of faith for Brodie and many of the early Spacecubed partners.
Property developer Stockland was one of the first to step in, leasing the Spacecubed space in their building.
"When we opened, the space wasn't fitted out, so it was literally a big empty white box with some Ikea chairs sitting in the middle"
"We did a deal with Stockland at the time as part of their social responsibility program," Brodie says. "We agreed they'd stagger up the rent over a couple of years, which gave us the opportunity to test and see if the model would work.
"When we opened, the space wasn't fitted out, so it was literally a big empty white box with some Ikea chairs sitting in the middle. It took us about eight months to get the space fitted out and that's when we started to really grow our membership."
Spacecubed takes in the corporates
The growing member numbers not only showed the hunger in WA for entrepreneurial working areas, but meant Spacecubed quickly outgrew its premises.
Last year, Spacecubed opened a second co-working space called Flux, an innovative three-level enterprise that turns the traditional office on its head. It combines part- and full-time co-working spaces with resident offices, meeting rooms, a technology centre and event spaces where sundowners, workshops and accelerators drive collaboration between members.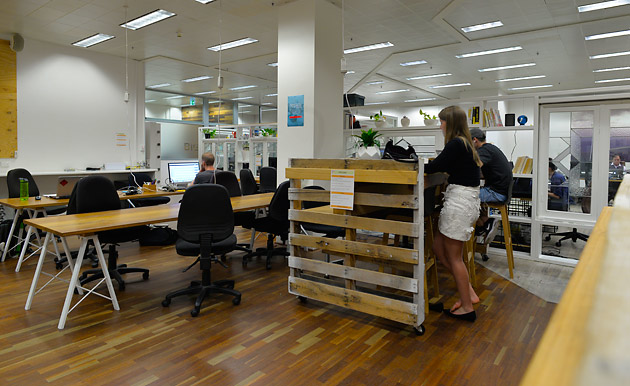 The space has been designed for businesses that have moved past the start-up stage. Other corporates, including Microsoft and Westrac, are checking into Flux as a chance to take a look at how they too can innovate their business.
"Companies are worried about getting 'Ubered'," Brodie explains. "Established companies use Flux to house cross-department teams where they can collaborate and innovate. It also puts them in direct contact with entrepreneurs that might bring new ideas into their business."
Best in class - alumni

Success stories are common at Spacecubed and run across many industries:

Virtual Gaming World
Owned by two gamers who met in the Spacecubed kitchen a couple of years ago, their business has grown so fast they've moved from Spacecubed to Flux and now into their own space (although still in the Flux building). With 130 employees around the globe, the company is scheduled to list on the ASX.

Scancam
Another technology company, Scancam has developed technology that prevents fuel theft from petrol stations. The idea has not only won a swathe of rewards, they've also raised the capital to take their idea to market.

Newton Labs
Every time a rock gets caught in a crusher on a mining site, it costs hundreds of thousands of dollars to stop work and fix it. Seriously. Newton Labs detects rocks that are too large before they cause any trouble.
The next frontier
With Spacecubed and Flux both flourishing, Brodie McColloch is setting his sights on creating more 'hubs' across the metro area, with a particular focus on industry specific co-working spaces, particularly health, education and agriculture.
The plan by numbers is to be supporting 20,000 entrepreneurs in WA by 2025.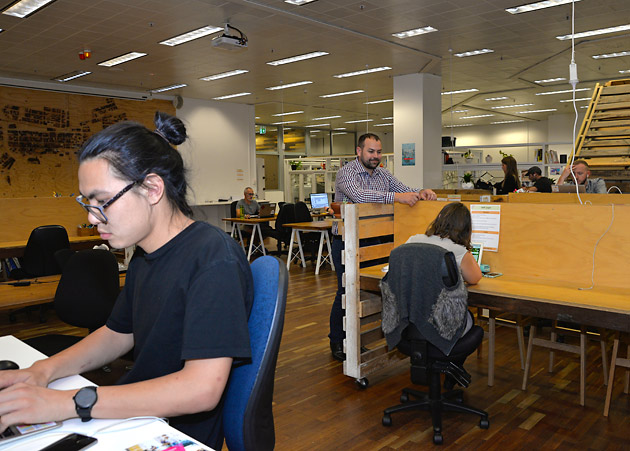 "Co-working and collaboration is part of the bigger trend around how people are working," he says. "What we have really been doing is responding to that demand. And as long as we keep responding to what is wanted, we will get it right."
Image credits: Clayton Jauncey.
We've got history - RAC & Spacecubed
Since its inception in 2012, RAC has been a proud supporter of Spacecubed.
In 2014, we partnered with Spacecubed to run RAC SeedSpark, the first corporate sponsored accelerator program for WA start-ups.
RAC gives back to WA by supporting initiatives, people and programs like Spacecubed that work for the better of WA.
Enjoy this story? Get more of the same delivered to your inbox. Sign up to For the Better eNews.