7 December, 2018 By: Fleur Bainger
Upcycling is the process of creatively reusing things we would otherwise throw out and it's growing in popularity. As well being better for the environment, the groups prolonging the life of 'things' – by fixing, sharing and educating – are building closer communities.
Agrowing number of community groups are throwing themselves into recycling and repairing everyday items, from shoes to computers, clocks to bikes and lawn mowers. As well as saving things from landfill, this movement is also about connecting with your neighbours, and it doesn't cost a cent. Meet the WA community groups turning consumerism on its head in the best possible way.
Buy nothing, gain everything
The Buy Nothing movement began only five years ago in 2013, when two friends in the US experimented with by-passing the cash economy in lieu of a gifting system. It's snowballed. Buy Nothing local communities can be found across 30 countries, with plenty of WA neighbourhoods setting up their own gifting exchange.
Using Facebook, the idea is to offer things you no longer use or want, lending or giving them away to those who can repurpose them. No money changes hands, no favours are offered; the benefit for all involved is that the item stays out of landfill and gets re-loved. A happy by-product is often a neighbourly connection or new friendship, or the simple pleasure of giving and receiving 'thanks'.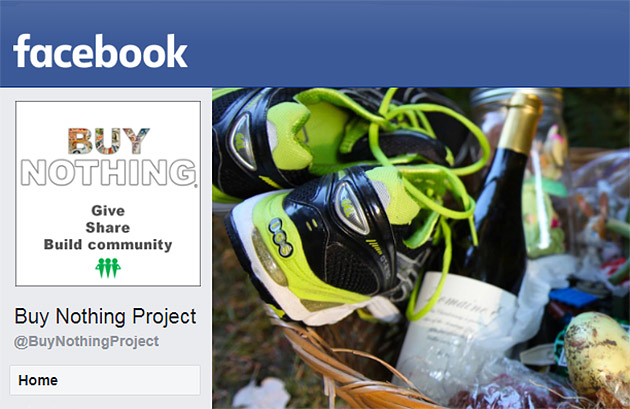 Within Perth, the Tuart Hill/Yokine Buy Nothing group is the largest and it's grown quick. Back in 2017, when local Kirsty Cowie took over as group administrator, it had an already healthy total of 500 members. It now has more than 1470 members, although there are plans to split it soon, creating smaller, hyper-local groups.
Cowie has seen all manner of things posted to the Facebook page. "Offcuts of fabric, kitchen roll tubes, random bits of craft paper, all the way to a TV, people asking for help with a wedding; all sorts," she says. "Some groups use things as a lending library concept, for example with kids' costumes."
Cowie says Buy Nothing spreads happiness.
"We've got a travelling bag of kindness. You take a couple things and pass it on. It might not be stuff you need, but it's something someone else might need, and will brighten someone's day."
"Our group also does regular gratitude posts," she says, "showing where the new vase sits in their house, or saying how it's brightened their day."
Turning rubbish into play
How do you connect communities using industry waste? That's the unique challenge that Remida WA take on.
Established in 2004 by Bold Park Community School, the non-profit works with industry to repurpose clean and unused materials, as well as the schooling sector to educate the younger generation on the value of recycling.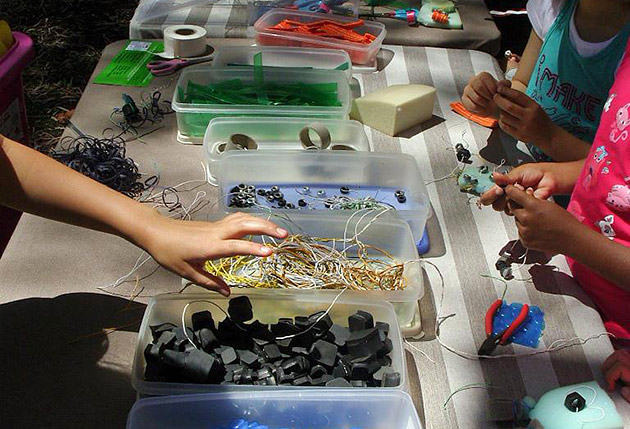 In 2017 alone, Remida WA saved 1348 wheelie bins-worth of heavy industry waste from landfill. Put another way, that's 337 cubic metres of salvage. It salvages everything from haberdashery, such as curtain manufacturing stock, to heavy industry materials like industrial rubber matting.
"Our volunteers do the weekly collecting, the sorting into colours and sizes and put items in the materials rooms," says team member, Dougie Scott. "Our members, who are mainly day care centres and primary schools, then have access to the materials to bring our workshops into their classrooms."
---
Enjoying this article?
Sign up to our monthly enews
---
The curriculum-based workshops see the children use the industrial materials to create new forms, from musical instruments to toys and artworks. More than 4500 children took part in a workshop last year, and Scott says participants are encouraged to think creatively and problem solve on their own, with guidance from the workshop leaders.
"We don't use glue or sticky tape. They get to use hammers, nails, screws and pliers to twist wires," he says. "They've got to rethink how to put things together. And things need to be able to be disassembled for future, correct recycling."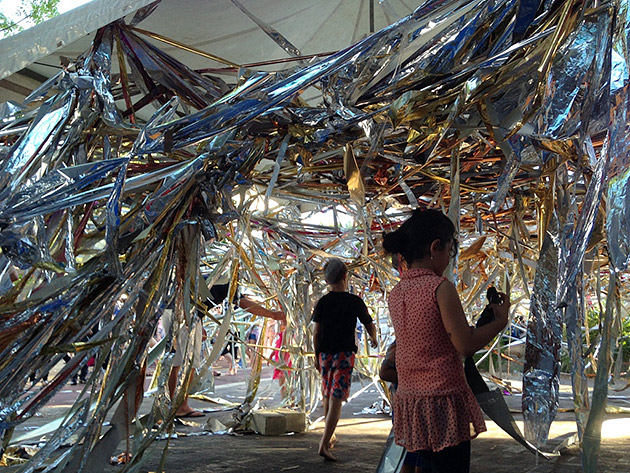 Bypassing the bin
An actor who does furniture repairs. A photographer who's an electrical whiz. An IT consultant who is brilliant at textile repairs. All of these people volunteer to fix other people's broken, yet cherished and useable things for an organisation called Repair Café Perth. In all, there are about 24 volunteers at Repair Cafe aged from 18 to 83 - with just as many ready and waiting to help in reserve.
The WA non-profit started up in November 2017 after its founder, engineer Angie Kings-Lynne, saw the War on Waste program on ABC television and heard about the Sydney Repair Cafe.
"I looked up the international repair café map online – it was barren on the west side," she says. "At the time I'd been doing repairs for the Mt Hawthorn toy library. I kept seeing notes on toys saying 'this doesn't work', or 'needs new batteries', or 'should be discarded'. And I'd open them up and it would just be one wire that was easily fixed."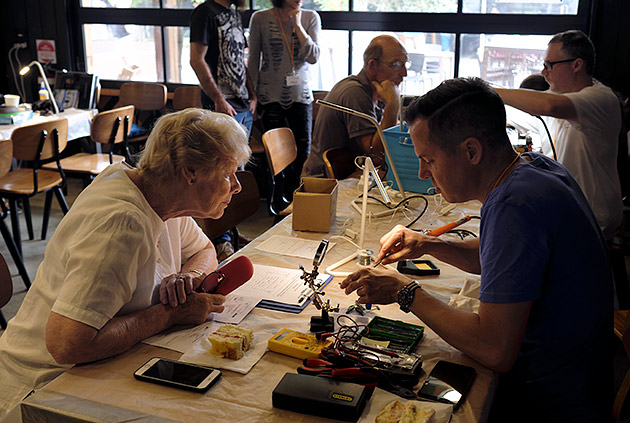 So Kings-Lynne, who makes furniture on the side, created Repair Café Perth. The group runs free, two-hour workshops once a month, using the skills of locals to fix things for others. So far, 490 items have been fixed, and many more repurposed. A key element to the exchange is education: volunteers teach people how to fix things for next time.
"People just don't know where to bring their broken stuff, so they chuck it in landfill," she says. "We work through it with them, look inside for loose wires or work it out to find the source of the problem,"
With her partner in crime, Elle Gonzales-Skuja, they have now got repair cafés started in Fremantle, West Stirling, Bassendean and Belmont. Further afield, Pinjarra, Yanchep, Mandurah, Narrogin and Albany are also on the way to joining the fixing movement.
Want to join them? Repair sessions are held on the third Saturday of each month, from 10:30am to 12:30pm.
Protect your precious treasures
Like to take your jewellery, mobile phone or other valuables with you outside the home? RAC personal valuables insurance will cover you for accidental loss or damage, anywhere in Australia.
This product is issued by RAC Insurance Pty Ltd. Benefits are subject to policy conditions and PED Guide. Before you make a decision, please check the PDS to see if the policy is right for you. Limits and exclusions apply.