Apart from not providing in-flight meals and entertainment, budget carriers often have a lower baggage allowance and may not provide overnight accommodation for passengers on cancelled flights.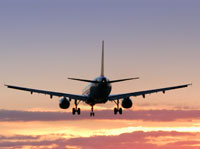 Many low-cost carriers also use less convenient fringe airports such as Avalon in Victoria and Stanstead in London.
As fringe airports are often located further from cities, travellers must then make their own way to their final destination, adding to the overall cost of their travel.
RAC Travel Spokesperson Kingsley Dawes said that when travelling on low cost airlines you get what you pay for.
"If your ticket is cheap it's cheap for a reason. The best approach is to pay for as much as possible before leaving for your holiday.

"If your full-service airfare includes things you won't have to pay for along the way then your holiday spending money will go a lot further."
Consumer Protection recommends checking all travel conditions before a booking is made.
Travellers needing to board connecting flights should also check what arrangements are in place in the event that their initial flight is delayed.
Connecting passengers generally will not have their baggage checked on to the next flight. Having to collect and have baggage checked in again can cause further delays.
To save on airfares Consumer Protection recommends booking as early as possible to take advantage of fare specials and being flexible with travel times.
Travellers who do choose budget carriers should ask for a full explanation of all terms and conditions on their ticket.Travellers considering budget airlines should carefully check the conditions of travel before booking, the Western Australian Department of Commerce has warned.