Classic Italy &
Dalmatian Coast
with Windstar Cruises
8 nights from
$5159
per person, twin share*
Boutique cruising with fewer than 350 guests
Expertly designed itineraries and unexpected shore excursions
Explore the Mediterranean's most charming and historic destinations
Explore the shores of Italy, Croatia and Montenegro, discovering the charm of Venice, the magnificence of Rome, and the vast beauty of the Dalmatian Coast. Wander down the ancient cobblestone streets of Taormina, travel up the sparking fjord to Kotor and bask in the allure of small ship cruising as your small ship anchors in the heart of Old Town Dubrovnik while larger ships only pass by.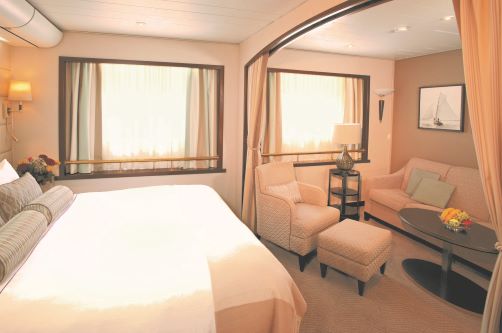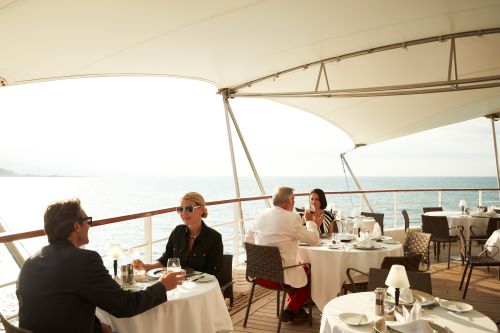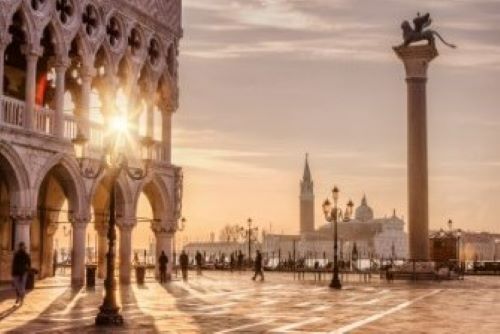 From remarkable small ports such as Rovinj to timeless cities like Venice and Rome, discover the Mediterranean's most charming and historic destinations in one incomparable voyage.
Windsurf
On any day, our 342-guest flagship, Wind Surf, the world's largest sailing ship, draws admiring glances as she glides majestically into port with her tall sails billowing. And her beauty is far more than skin deep. During their cruise, you will find the perfect setting for 'making an entrance' in the beautiful reception area – and, appropriately, that's only the beginning.
When you return to your stateroom, the luxury gets personal. Windstar's signature bowls of flowers and fresh fruit will still be waiting for you, along with rich tufted headboards, soft seascape colours, beautiful new upholstery, and fine count Egyptian cotton linens welcome you to an oasis of relaxing indulgence.
Wind Surf underwent a significant renovation of public spaces and suites, including an expanded lounge with new lights and sound for upcoming stage performances. Relax into the destinations you're visiting at the new World Spa by Windstar, which will offer regional spa treatments, including massage styles like Swedish, Japanese Shiatsu and Hawaiian Lomi Lomi. An Officer's Suite, which might be the only one of its kind, provides you with the chance to stay in the heart of the officer quarters tucked right behind the Bridge.
Everything about Wind Surf speaks of welcome. Come aboard and see it for yourself!
Yacht facts
Capacity: 342 Guests
Staterooms: 150 deluxe ocean view staterooms
Suites: 18 deluxe ocean view suites
Bridge Deck Suites: 2 deluxe ocean view bridge suites
Officer's Suite: 1, located in the officer's quarters
Decks: 6 decks
Crew: 210 international staff
All accommodations feature
Queen Size Bed with Luxurious Linens
Waffle Weave Robe and Slippers
TV with DVD Player
Fully Stocked Mini Bar/Refrigerator
Safe
L'Occitane Bath Amenities
Fresh Fruit
Hair Dryers and 110/220 outlets
Wi-Fi (internet cards can be purchased at reception)
Bathroom with granite countertop and shower
Granite vanity with magnifying mirror
Highlights
Don't miss out on the delicious Windstar Signature Onboard Barbecue
Enjoy a late night in Dubrovnik with time to tour the Old City and medieval walls, fascinating UNESCO sites
See the beauty of the narrow UNESCO site fjord to Kotor
Visit the Archaeological Museum in Split, the oldest in Croatia
Stroll the charming ancient cobblestone streets of Taormina, past Palazzo Corvaja, St. Augustine's Church and Torre dell'Orologio Clock Tower
Discover the magic of Venice's St. Mark's Square and the majestic Cathedral
Inclusions
Champagne welcome reception - toast to a bon voyage!
Locally inspired dishes - you didn't come all this way for just a burger
Meals in our venues - Try it all! Coursed meals in Amphora, buffet and a la carte in Veranda, and even reservations only restaurants
Signature Onboard Barbeque -It's more than just a barbecue, it's a feast, complete with carving stations, dessert bar, and line dancing with the crew
Specialty tea and coffee - wake up with a cappuccino or English breakfast tea
Sodas and bottled water - a little fizz and bottle for your travel
Complimentary movies on demand - Romance? Action? Drama? Documentary? So many choices!
Navigation lessons - come by the open bridge and say 'hi'! We're excited to meet you!
Nightly port talks - learn more about the adventures you'll have tomorrow
In-room robes and slippers snuggle up for extra comfort
Cooking demonstrations - take recipes and dished as a souvenir of your journey
Spa amenities - complimentary use of the sauna and steam room
The best water sports platform - complimentary kayaks. stand-up paddle boards and floating islands
Complimentary yoga classes - stretch and set your intentions for the day
Engaging entertainment - trivia nights, themed shows, and so much fun!
Live music - listen to the band in our lounges
All the essentials - complimentary safe, in room refrigerator, hair dryer
In-room filtered water - stay hydrated!
Complimentary gym use - keep up with your fitness routine
24-hour room service - stay in tonight and even order from the main Amphora dining menu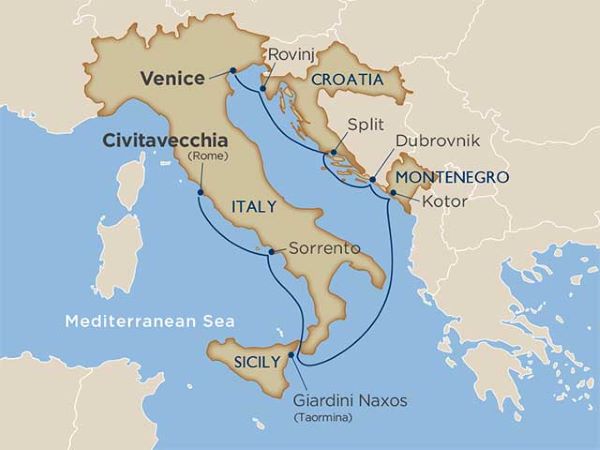 Please note, below itinerary is available in Venice to Rome and vice versa direction. Please enquire with your RAC travel consultant for itinerary, availability and pricing.
Day 1: Depart Venice at 6pm
No other sea approach in the Adriatic raises goose bumps like Venice, a small ship exclusive where the entire city and its lagoon are a UNESCO World Heritage Site. On your luxurious home-away-from home, you arrive already equipped with a sense of what it's like to live in the city that's neither land nor water. Add your own sigh to the Bridge of Sighs, sip a spritz al bitter as you plot your agenda, and let the water taxis do your navigating unless you don't mind getting lost. Not such a bad prospect, with serendipitous discoveries around every corner.
Day 2: Rovinj
The lovely fishing port of Rovinj on the west coast of the Istrian peninsula bordered on three sides by the Adriatic Sea. You can tour the maze of cobblestone streets that lead to the hilltop St. Euphemia Cathedral with its towering steeple dominating the skyline. Old Town Rovinj is a delightful tangle of medieval streets and twisting stairways. Seek out the Bronze Age ruins of Monkodonja, the hidden beaches or the breathtaking natural beauty of the 6-mile-long Lim Fjord.
Day 3: Split
Split welcomes you with open arms, Mediterranean style, and a bustling harbor lined with busy cafés. Beyond, looms stately Diocletian's Palace a UNESCO World Heritage Site in the center of town. Within the palace walls, a majestic cathedral soars, surrounded by polished marble streets lined with every type of tempting shop. If you're longing for a quiet respite, head for the western end of town for an easy stroll through a verdant mountain park. Or take an optional tour to Trogir, another UNESCO site.
Day 4: Dubrovnik
While larger ships must pass by, we anchor right beyond the famous walled city so you can admire its beauty with every glance. Tender ashore and step right into Old Town, a UNESCO site where no cars are allowed, just eons of history. Capture the exhilarating views on your camera — and in your memory. End your day at the Buza Café (if you can find it) watching bold divers leap off the cliffs into the crystalline sea.
Day 5: Kotor
This is one of Montenegro's most beautiful bays, and the approach offers one breathtaking fjord-like view after another. Just when you've reached your fill of blues and greens, the bright red rooftops of the medieval Old Town come into view. The entire area has been proclaimed a UNESCO World Heritage Site. The charming streets of Old Town remain car free, filled with 12th century Baroque palaces and Romanesque churches. For a fresh perspective, climb to the fortress on the hill for a breathtaking vista.
Day 6: At Sea
Enjoy life onboard! A day on board your Windstar ship is a day of choices, all of them good. Perhaps you'll begin with a relaxing massage in World Spa by Windstar. Or maybe an invigorating workout in the Fitness Center. Even better, why not both? Sun yourself on deck, take a dip in the whirlpool, then catch up on email or order a cheese plate for your stateroom or suite. After dinner, dance to live music in the Lounge. This is your yacht, so of course you're welcome on the Bridge, where the captain and officers are delighted to share charts, routes, and vistas with you.
Day 7: Giardini Naxos
Today you'll discover one of Sicily's jewels, the charming village of Giardini Naxos, nestled in one of the world's most beautiful bays. An optional excursion to the popular hillside town of Taormina will be a highlight of your voyage — from the stunning setting of the iconic Greek Theater to the sparkling beaches along the Ionian Sea. Take a more adventurous tack and explore the UNESCO site of Mount Etna, Europe's most active volcano.
Day 8: Sorrento
UNESCO World Heritage Sites abound in Sorrento. Optional tours will take you to the archaeological areas of Pompeii and Torre Annunziata, or the 4th century B.C. city of Herculaneum. Perhaps your choice will be a boat ride to Positano, the legendary home of the Sirens. Perched on a terrace on the spectacular Amalfi Coast, Sorrento offers exceptional views of the Bay of Naples and Mount Vesuvius.
Day 9: Arrive Rome at 7am
In this enchanting city the past and present intersect in perfect harmony. Casually intermingled among ancient ruins and majestic cathedrals are the trappings of a modern metropolis: Skyscrapers,cafes, boutiques selling designer footwear. But of course what you seek first in the heart of Rome is its breathtaking history. A good place to begin is the Vatican, with its Sistine Chapel and St. Peter's Basilica. Works by Bernini, Michelangelo, Caravaggio, and Raphael are just a few of those on display, any one of which is worth hours of contemplation. Then the ancient ruins—Colosseum, Forum, Circus Maximus. And of course the Trevi Fountain for the obligatory coins promising your return to the Eternal City.
Rome to Venice and vice versa departures
2024: 28 April, 06 May, 07 June, 03 July, 20 August, 13 September, 01 October, 09 October
2025: 27 April, 05 May, 06 June, 02 July. 19 August, 14 September, 10 October, 26 October
Cabin
All-inclusive
price per person
Category B
From $5159
Category BX Deluxe
From $5477
Category A
From $5752
Category AX Deluxe
From $6006
Category TX Deluxe
From $6260
Suite
Call for availability & pricing
Officer's Suite
Call for availability & pricing
Bridge Suite
Call for availability & pricing
All-inclusive fares offer the ultimate in convenience include Wi-Fi, unlimited beer, wine, and cocktails, and gratuities.
Prices are a guide only, based on 06 May 2024 departure in Venice to Rome direction, are starting prices and subject to availability and change. Please check with your RAC travel consultant for itinerary, availability and pricing.
*Prices are a guide only and based on 06 May 2024 departure in Venice to Rome direction. All rates shown are per person based on double occupancy, are starting prices, capacity controlled and therefore subject to availability and change. All itineraries, schedules, and ports are correct at time of publication but are subject to change without notice. Prices are inclusive of all discounts, taxes & fees, subject to availability, currency fluctuations and seasonal surcharges. Windstar reserves the right to reinstate fuel supplement at any time and can be charged after final payment. All-inclusive fares: Beverages include selected beer, wine or sparkling wine by the glass, plus other selected cordials, liqueurs, aperitifs, cocktails, and mini-bar items. Cocktails are based on the house and select brands, and guests may choose from more a selection of spirits. Wi-Fi access is possible in most public areas, staterooms, and suites depending on ship location. Service Charges: All hotel and beverage service fees are included. If you purchased beverages a la carte, there is an 18% (subject to change) gratuity added to purchases. Cruise itineraries are not guaranteed and can be changed or cancelled at any time by Windstar Cruises. Please contact your RAC travel consultant for full terms and conditions.
General RAC Travel terms and conditions apply.