Mazda CX-8 Sport
Once for people movers only, this category was previously expanded to include larger SUVs, which these days seem to have been added to the shopping lists of many families seeking style and versatility. This year has been a great result for Mazda's front-wheel-drive SUVs, taking out the top spot with its CX-8 and also third place in this category with the CX-9.
The volume-selling people mover models tend to be those with higher specifications as buyers prefer to shell out more dollars for vehicles with all the bells and whistles. Meanwhile, those opting for an SUV-type solution are going for the lower specification models. This situation hits hard in the value for money stakes, with the initial cash outlay and depreciation for the second placed Kia Carnival Platinum hurting its pricing and depreciation scores. This leads to the CX-8 leap to first place as it has a $17,000 advantage over the Carnival.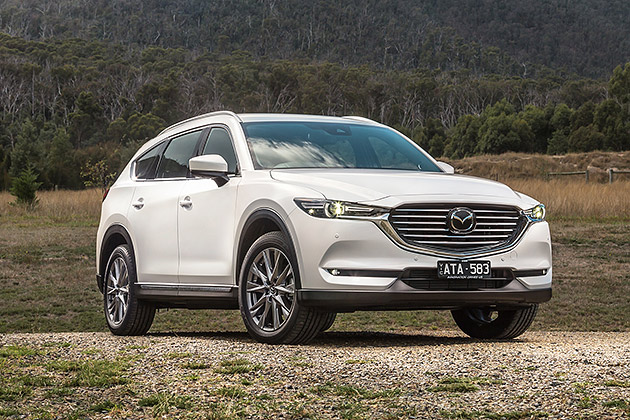 In design and function, the Kia Carnival, as a pure people mover example, fights back. The judges paid particular attention to this, in particular seating comfort, ease of access and convenience features. The Carnival will carry eight occupants and a reasonable amount of luggage, has sliding doors on both sides, a clever folding second row, and second- and third-row air conditioning vents.
The two Mazdas are a compromise in the third row of seats, with the CX-9 just marginally larger than its sibling. The third row will accommodate children with little fuss and there's room for carting any extras to the sports field on the weekend, but young adults will be less happy with the space on those longer family trips. Additionally, with the third row in play, you might need to find someone else to carry the cricket kit bags as luggage space is limited in both Mazdas.
On-road the gap narrows between our podium finishers. The CX-8 and Carnival use the same capacity 2.2-litre diesel engine, with a six-speed auto in the Mazda and eight-speed in the Carnival. The CX-9 uses a 2.5-litre petrol turbo and leads them in terms of performance. Being large vehicles, none will be at home on a race track, but the CX-9 does have a surprisingly dynamic ability for its size.
When the dust settles, the CX-8 wins by a narrow margin, however kudos must go to the Carnival, which will move more people and luggage more comfortably than anything else on the market.
Mazda CX-8 Sport specifications

| | |
| --- | --- |
| Indicative drive-away: | $48,369 |
| Body type: | Wagon |
| Fuel economy/fuel type: | 5.7L/100km, diesel |
| Engine/transmission: | 2.2T/dsl, six-speed automatic |
| ANCAP: | 5 stars |
Have you chosen your own best car?
RAC Finance car loans can help you bring your favourite new car home. With competitive rates and an easy application process, we take the stress out of car shopping.
And make sure it's insured before you drive it home. With RAC Insurance, you can save $100 off your first year of comprehensive car insurance when you buy online*.
*Discount is subject to minimum premium. Check the PDS to see if this policy is right for you.