Hyundai i30 N Performance
Despite the category undergoing a major reshuffle this year, Hyundai's hot hatch was able to fend off the competition for a repeat win – a respectable feat when you look at the quality of the finalists. The i30 N Performance might be a relative newcomer to the hot hatch scene here but much of the development work was carried out in Europe, arguably the home of the hot hatch, and it's no coincidence that's where Hyundai's N Performance development division operates.
Hyundai Australia also knows that our unique road conditions don't suit Euro-developed suspension set-ups, and they have spent countless hours fine-tuning and recalibrating settings, particularly focussing on providing a more forgiving ride feel. This has payed dividends and the i30 N rates highly compared to some of its hard-riding Euro rivals in the category. The compliant ride doesn't compromise the i30 N's handling attributes, where it remains one of the best, and its rack-mounted electric steering, multi-adjust suspension, electronic limited slip differential and sticky performance tyres work in harmony, delivering a precise, balanced feel through corners, which road irregularities or mid-corner bumps fail to upset.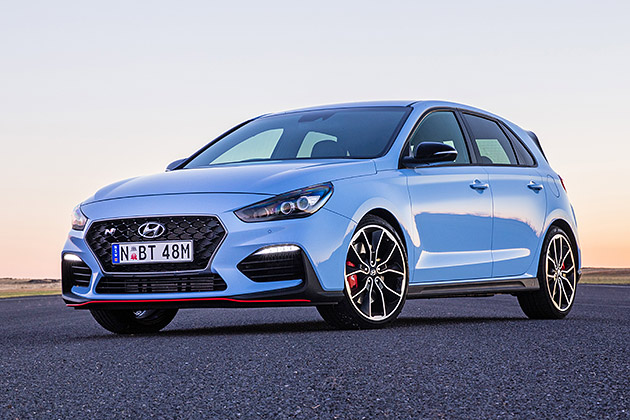 Providing the necessary 'grunt' is a 2.0-litre turbo four-cylinder engine producing 202kW and 353Nm, with an extra 25Nm available with overboost. Maximum torque is made from a low 1450rpm and the engine's power delivery is seamless in building all the way to 5000rpm. The i30 N comes to life when you choose the more aggressive drive mode option and the exhaust delivers the mechanical cacophony enthusiasts love. While many hot hatches are increasingly equipped with dual clutch transmissions and paddle shifts, the i30 N's six-speed manual is a stellar performer. It's quick to shift between gears with the aid of a short throw lever and lightly weighted feel, which the clutch also shares in its operation.
Visually, the i30 N is understated – as all good hot hatches should be – with only a discreet rear spoiler and larger nineteen-inch alloys giving any indication of its performance levels. Inside, seat support doesn't match the body-hugging race seats found in the Honda Civic type R, but the upside is they remain comfortable for everyday driving and, ergonomically, the cabin design and switchgear lead the category in user-friendliness.
For car manufacturers, performance models in their portfolio are just as important today as they were in the 'race on Sunday, sell on Monday' era, and back-to-back wins in this segment re-enforces the i30 N's status as a serious contender and not just a flash-in-the-pan winner. Its overall user-friendliness and on-road balance delivers the goods for enthusiasts, while Hyundai's renowned value for money and warranty further enhance its credentials.
This year's runner up, Honda's Civic Type R, has moved from the Sports car $62K–$125K category, and if ever there was a hot hatch the polar opposite of the i30 N Performance in looks, it's the Type R. A serious body kit, complete with a large rear wing, trio of exhaust outlets and 20-inch ultra-low-profile tyres, provides a presence few in the category offer and performance from the revvy 228kW/400Nm 2.0-litre turbo engine is unbeatable.
Third place getter, Volkswagen's Golf GTI, has reached the heights in this class more often than not, and although there's an all-new model due next year, the current generation has aged gracefully. One of its best attributes is its overall drivability – there are no unwanted traits and it remains just as comfortable and easy to drive around town as it does out on the open road. The 2.0-litre 180kW/350Nm turbo engine doesn't match the Civic and i30 N's more powerful outputs but, in reality, the GTI gives little away in driver pleasure and it still leads the way in areas of build quality and finish.
Hyundai i30 N Performance specifications

| | |
| --- | --- |
| Indicative drive-away: | $44,601 |
| Body type: | Hatch |
| Fuel economy/fuel type: | 8.0L/100km, premium unleaded 95 |
| Engine/transmission: | 2.0T, six-speed manual |
| ANCAP: | 5 stars |
Have you chosen your own best car?
RAC Finance car loans can help you bring your favourite new car home. With competitive rates and an easy application process, we take the stress out of car shopping.
And make sure it's insured before you drive it home. With RAC Insurance, you can save $100 off your first year of comprehensive car insurance when you buy online*.
*Discount is subject to minimum premium. Check the PDS to see if this policy is right for you.