17 September, 2015 By: Alex Forrest
Volkswagen has redeemed itself in a huge way with the updated Polo GTI, taking the under-equipped 2015 version and adding a rear camera and adjustable sports suspension for the 2016 model year.
Both these additions make the MY16 Polo GTI a far more convincing package. Combined with the manual gearbox option re-introduced with for 2015, this is the car the Polo GTI should have been in the first place.
Before we get in to how hysterically fun this car is, you need a little background, because Volkswagen did some funny things with the Polo GTI this year.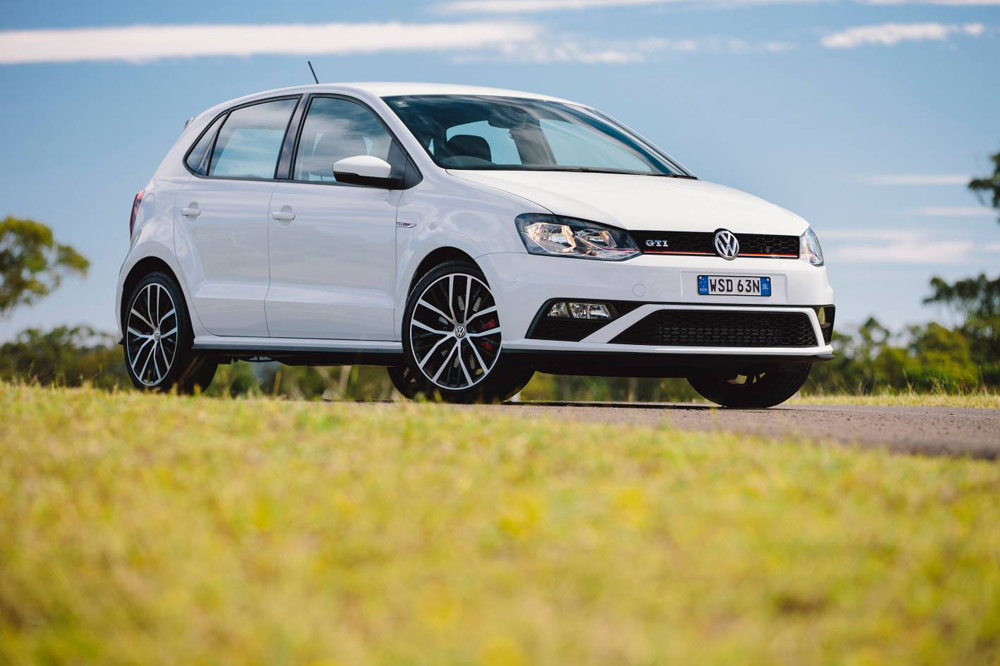 In April, it launched the new Polo GTI, at the same time bringing back the option of a manual transmission. Big tick.
Before that, a manual Polo GTI hadn't been available since 2010. The three-door Polo was also dropped, leaving the five-door only.
Then, in July, Volkswagen released the updated model for the 2016, which as well as the six-speed manual gearbox option, now also comes with a rear view camera and adjustable suspension as standard.
The latter two are impressive and important additions to a car with a retail price starting from $27,490. Drive away, you'll be looking at $31,000 for the six-speed manual and another $2,500 for one with the seven-speed DSG.
Although, the DSG Polo GTI is $450 more than the DSG in the previous generation model.
Overall however, it's been a good year for Polo GTI fans. They have a manual back and they have more fruit for not much more money.
All of which makes us wonder what else might happen with the Polo if we wait a few more months.
The Polo GTI's competitors include the Ford Fiesta ST and the Renault Clio RS200. There's also the Kia Pro cee`d GT, which although a bigger vehicle, is also $29,990 and a cracking drive.
The little Polo fares well among this lot. Under its bonnet is a new engine, being the 1.8-litre turbo petrol, which arrived for the 2015 model year Polo GTIs. It replaced the high-revving but complex twin-charged 1.4, and continues in the 2016 model year cars.
Due to the limited ability of the Polo GTI's DSG to handle larger torque outputs, the engine's torque output in the DSG version has been ratcheted back to 250Nm. In the manual, the engine's allowed to punch out 320Nm. The power outputs of both are 141kW.
We only drove the DSG version, which even with the lower torque output, felt far from hamstrung in regular metropolitan driving. It's very willing to rev and still gutsy, gratifying and glorious fun on the twisties.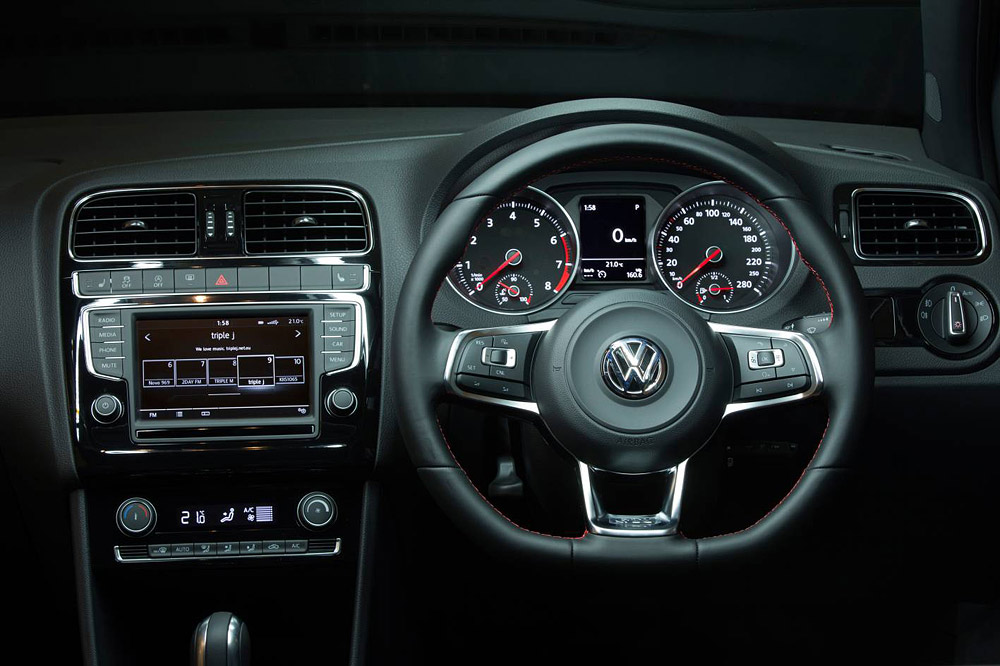 It's a light, athletic little thing which darts about like leopard chasing a gazelle.
Ultimately though, the significantly bigger torque output of the manual would be noticeable, particularly in a car this size and it'd be even more raucously fun on a closed road.
However, as an everyday car, buyers would have to weigh up how much they really wanted that 320Nm against the convenience of a DSG.
The Polo GTI's dry road grip is huge, and while the 1.8 doesn't have quite the same willingness to rev as the 1.4, it also doesn't feel like it's about to break.
We also drove the pre-adjustable suspension version, so this time we were stuck with its very firm ride.
The screwed-down suspension make it huge fun when you're in the mood and there's a smooth, deserted winding road at your disposal, but it does wear thin on bumpy, heavily trafficked roads.
Steering goes from the old hydraulic set up to an electromechanical system, which is lighter but still with reasonable feel and sharpness.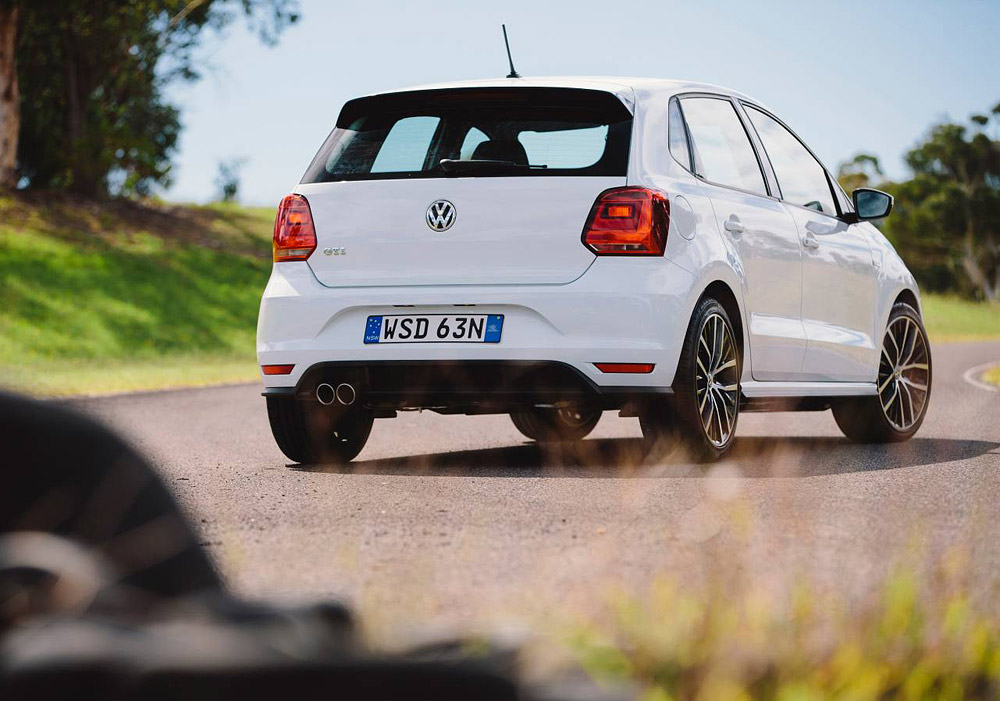 The interior is tight for anyone over six feet tall, but it's a well finished place to sit and as we've come to expect, Volkswagen's audio and Bluetooth interface works seamlessly.
The MY15 Polo GTI was important because it brought back the manual gearbox, but its hard-riding, non-adjustable suspension and lack of a rear camera would have been a deal breaker.
Now, the MY16 model's ability to dial-in some suspension compliance and its standard rear camera could for many be the Polo GTI's deal-maker.
2016 Volkswagen Polo GTI specifications

| | |
| --- | --- |
| Price driveaway (as tested): | $31,000 driveaway |
| Engine: | 1.8-litre petrol |
| Power: | 141kW @ 5400rpm |
| Torque: | 250Nm @ 1250rpm |
| Claimed fuel economy: | 5.7L/100km |
| ANCAP Rating: | 5 stars |
| CO2 Emissions: | 132g/km |
This vehicle qualifies for RAC's
Less Emissions Mission
rewards.