5 June, 2019 By: Conner Stephenson
Searching for a parking space is responsible for at least 40 per cent of traffic congestion, but an exciting new Australian technology is set to get our streets moving again by predicting your parking future.
I
f the recurring nightmare of slowly circling an overflowing carpark or crawling along an inner-city street, hoping desperately to stumble across an empty parking space fills you with dread, then researchers at Charles Sturt University might have just the answer for you. And for all of us.
They've developed a mobile phone application that can accurately predict when spaces will be free, and thus easing that universal parking pain.
A research team designed the app as part of a broader study into reducing parking congestion, after fitting the spaces at the university's Port Macquarie campus with sensors that captured real-time-usage data, recording exactly when and for how long each space was used each day.
The truly tricky bit, though, came next, when researchers developed a machine-learning algorithm that would process that information, an AI-style solution that, using the gathered historical data, could accurately predict when those spots would next be free.
And we do mean accurate. Researchers say the app can identify whether there would be a free parking space with up to 85 per cent accuracy before a driver even left their home.
"It's really exciting to see how accurate the predictions are when you come back and compare them with real-world observations," says researcher Jonathan Barker.
"What sets it apart from other smart-parking systems is that you can be sure to get that space even when you factor in the driving time to get there."
The parking problem
The bigger question, of course, is why should you care? The short answer is that, parking chaos is one of the biggest single contributors to city congestion.
A recent traffic study by technology firm Siemens found that on a good day, some 40 per cent of inner-city traffic congestion is caused by parking chaos. On special occasions, like the lead up to Christmas or around New Year's Eve, the study found parking delays can be responsible for up to 90 per cent of traffic woes.
So a program with the artificial intelligence to tell you when you should leave for your destination so you can be assured of nabbing a park would take massive strides toward reducing that congestion.
The Charles Sturt study's team leader, Doctor Sabih Rehman, says this application is just the beginning. As the world's reliance on the internet continues to grow, so does our ability to monitor where and when people are moving through a city, so we can plan accordingly.
"The Internet of Things revolution is starting to take hold globally, with billions of sensors and devices all connected via the internet. It has the power to solve so many problems," he says.
"The principles and technology we used in the parking problem can be used anywhere, for almost any purpose, from improving a manufacturing process and monitoring people's health to making our cities more liveable, or something yet to be thought of. It's high-tech problem solving.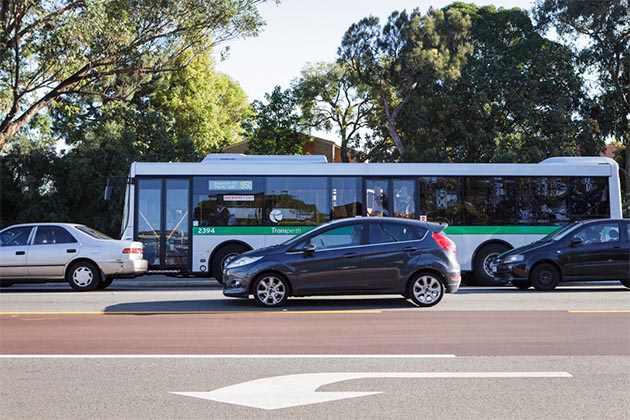 The parking app aims to reduce congestion across the city
---
Enjoying this article?
Sign up to our monthly enews
Congestion, researchers agree, will become a growing problem in every major Australian city - something experts predict could go on to cost the economy between $27.7 and $37.3 billion in lost productivity by 2030.
While local data is difficult to come by, a report by the World Business Council for Sustainable Development found that in New York, drivers spent up to 107 hours every year searching for a parking space - at a cost to productivity of US$20m.
In Britain, drivers can spend 96 hours every year trying to find free spots; a time-time-consuming nightmare that's also responsible for up to 30 per cent of that country's vehicle emissions.
Closer to home, Perth is tipped to become one of Australia's most congested. A report from Infrastructure Australia found that, by 2031, Perth will be home to seven of the 10 most traffic-clogged roads in Australia, including the Mitchell Freeway, Tonkin Highway, Graham Farmer Freeway and the West Coast Highway, costing more than $16 billion.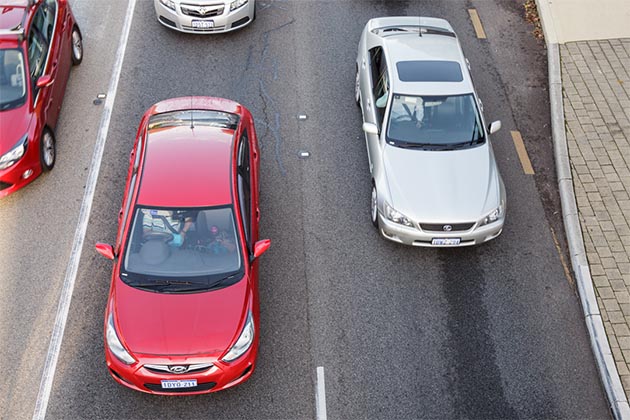 Drivers searching for a car park is a major cause of traffic congestion
Potential solutions
So what can be done? Technology is one answer, with the Charles Sturt University app now one of several in place around the world to ease parking pain.
Smart parking spaces in multi-level carparks that use a simple red or green light system to alert drivers to free spaces is helping drivers go straight to an empty spot rather than circling aimlessly.
Simply reducing the number of available parking spaces in the city centre and improving public transport and pathways in an effort to encourage people to leave their cars at home is another approach.
Parking charges are also key to managing travel demands, and in Perth revenue generated through the Perth Parking Levy (which is applied to all non-residential bays in the city's Parking Management Area) is used to fund active and sustainable transport initiatives in that area, including the free CAT buses.
And in future, automated vehicles may reduce the need for parking in cities and make ride and car sharing, as well as public transport travel more convenient options.
So although congestion isn't going away, there is hope in the new solutions being concocted to combat the rising tide of traffic and help you find a park.
Planning for our future
The way our city and transport networks are planned has a big influence on the way we travel and the amount of time we spend travelling. RAC is advocating for better urban planning and commuting options to improve and maintain Perth's liveability.