25 September, 2019 By: Jane Hammond
Australian households are responsible for close to 20 per cent of the nation's carbon emissions, so cutting back at home, especially on your energy use, can make a real difference.
Nestled into a generous block in the southern Perth suburb of Hamilton Hill sits a retrofitted home that has set a new benchmark for sustainable living in WA.
Known as The Forever Project the wooden cottage has been transformed into a comfortable family home that needs no air conditioning, very little scheme water and produces more electricity than its family of five can use.
Owner of the cottage Chris Ferreira and his family renovated the home 11 years ago after deciding that it was better and cheaper to work with what they had rather than bulldoze the cottage and build a new eco-house.
In doing so they prevented more than 38 tonnes of old cement tiles, bricks, structural timbers and wooden floorboards from going to landfill. They also saved $1000 in tip fees and more than 10 tonnes of carbon dioxide from being released into the atmosphere. The cost of the renovations was around half the cost of building a new home.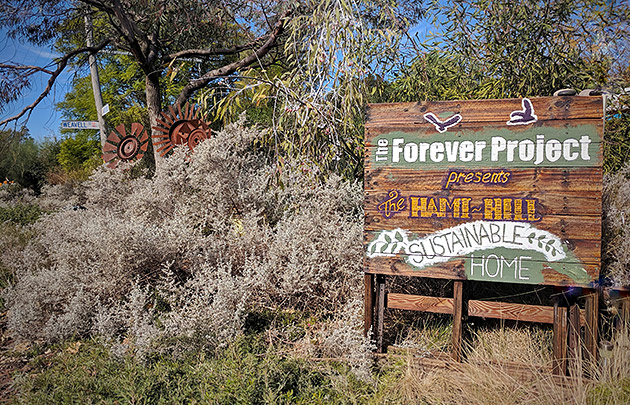 Everything in the home, with the exception of the double-glazed windows is recycled, refurbished, repurposed or upcycled, including the home laptops, clothes and white goods.
For natural cooling and heating, the roof is coated with special white reflective paint and the walls, floors and ceiling are all insulated.
The home is surrounded by deciduous trees that provide shade in summer and allow the winter sun in in the colder months. Blackout curtains cover the large double-glazed windows ensuring heat is not lost in the winter and the sun does not bake the home in the summer.
It also boasts a greywater system, 5000 litre rainwater tank, chickens and a garden with fruit trees, vegetables and herbs.
"Sustainability is about doing better with less. Less water, less energy, less consumption of materials, less waste," Chris Ferreira says.
"When I was born there were 3.5 billion people on the planet and now there are 7.7 billion but there has not been a commensurate increase in the resources available. We're forced now to innovate and do better with less. It's the great challenge of the 21st century."
---
Enjoying this article?
Sign up to our monthly enews
---
Small changes add up
The Forever Project was one of more than 250 sustainable homes across Australia that opened their doors to the public on September 15 as part of Sustainable House Day. The annual event is organised by Renew, a not for profit organisation promoting sustainability.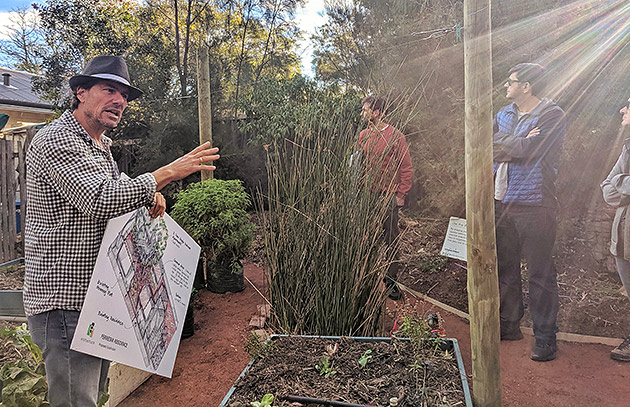 Renew marketing manager, Katy Daily, says that while many of us have already embraced recycling and waste reduction, there are a multitude of other simple ways to cut our carbon footprint at home.
"Improving your energy use at home can save your wallet as well as provide you with more comfort," Daily says.
She says halogen down lights, popular a few years ago, should be avoided and replaced by the longer lasting and more economic LED lights.
"LED lights use about one fifth of the energy of a halogen down light."
The compact florescent lights that replaced the old-fashioned iridescent lights should also be avoided. Compact florescent lights contain mercury which makes them hazardous if broken and a toxic contaminant if they end up in landfill.
Smart power boards are an easy way to cut power use in the home. The boards are relatively cheap to purchase, starting at around $30, and help reduce the number of appliances that are left on standby.
Daily says taking the time to choose energy-efficient appliances also helps bring down power consumption in the home.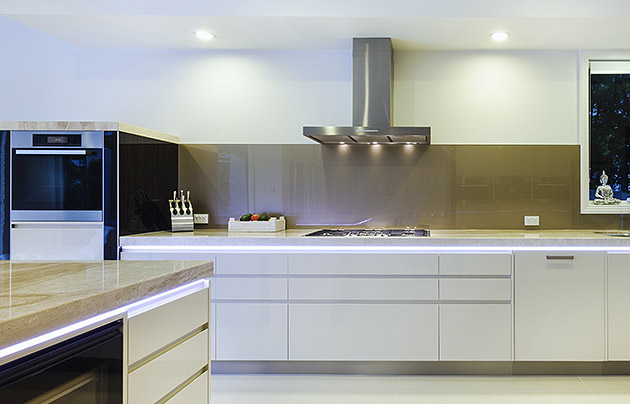 Making a big difference
Ken Higgins from Complete Enviro Solutions says four big ways to make a home sustainable are the addition of a rainwater tank, a greywater irrigation system, solar panels and a heat pumped hot water system.
He says all four elements can be added to a new home build for around $17,000 and while the additional costs seem high, the investments are quickly recovered in reduced power and water costs.
But there are also many ways to refit an existing home to make it more sustainable, solar panels being the most popular example.
"It's usually possible to retrofit existing homes with some sort of greywater system," Higgins says.
"The cost will be dependent on what changes are required to the existing plumbing, but a whole of home system could cost between $6000 and $7000, while a laundry-only system may be around $3500.
"Similarly, a rainwater tank could be plumbed into existing homes to use in showers, clothes washing and flushing toilets for around $5500."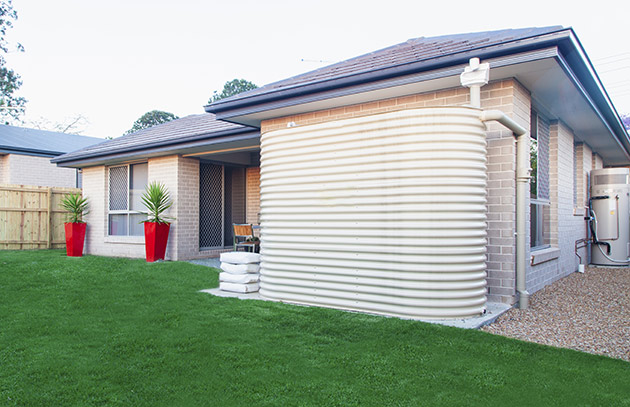 Higgins says using an electric heat pump hot water system is a great way to maximise the use of solar panels on the roof.
Heat pump systems use the free energy from the sun to convert air to heat. This heat is transferred into the water where it is heated and stored for later use.
A heat pump hot water system can be purchased and installed in a new home for as little as $2800 and Higgins says it makes a lot more sense than using gas to heat water or even a rooftop solar hot water system.
"Unfortunately, retrofitting is always more expensive than a new home because the existing plumbing needs to be modified and the cost will depend entirely on what needs to be done. This is why all new homes should be at least plumbed for greywater and rainwater."
Know your options
There are now a growing number of systems and devices on offer for running essential services in our homes more sustainably.
Katy Daily from Renew says it's important that consumers educate themselves about those advances in technology so that when they are faced with an emergency purchase, such as a new hot water system, they're aware of all the options and are well armed to make the right choice.
From small-scale changes, such as smart power boards, to investing in big-ticket items like greywater irrigation systems, being aware of the possibilities and future benefits means households can continue to move towards making their homes more sustainable places to live.