4 June, 2019 By: Ruth Callaghan
Your phone logs your location, your smart watch tracks your steps, now the city you live in wants in on the action, learning when and where you're going, to help make getting around much easier.
U
rban design is Silicon Valley's new frontier for disruption. Whether it is managing congestion by re-timing traffic lights or using foot traffic data to set retail opening hours, it's busy looking at how the digital world can reshape the physical one, creating smart cities.
The most ambitious new smart city project is Quayside in Toronto, the grand plan of Sidewalk Labs, owned by Google's parent Alphabet.
The new neighbourhood will only cover 12 acres, about 2.5 times the size of Optus Stadium oval, but is tipped to cost $US1 billion once complete.
Many of the planned innovations seem simple enough — bike paths, public Wi-Fi, streets where it's easy for everyone to get around and mixed-use precincts — but what makes Quayside a smart city will be its networked spine, where every part of the environment speaks to everything else.
Streets will be curb-less to create shared spaces and provide more pedestrian and cycle-friendly environments; they'll also be designed in readiness for automated vehicles. On-street parking may even change throughout the day to cater for the varying needs of different users, like on-demand transport (ride share and taxis) services and delivery vehicles.
Warming footpaths will melt away Canada's snow and towers will feature building raincoats that reduce exposure to wind, rain and humidity for pedestrians and encourage more time spent outside.

WA's smart creds
While we are yet to see such a smart neighbourhood in Australia, governments across the country are planning for smart cities and have begun introducing infrastructure to enable them, and tackle everyday problems.
The City of Perth was an early recipient of an IBM Smarter Cities Challenge grant, back in 2014.
"Local Government obviously has access to a lot of data from rubbish to economic and property data and one of the recommendations we had was to really value data and the role it can have in decision-making," he says Daniel High, Acting Director of Economic Development at the City of Perth.
---
Enjoying this article?
Sign up to our monthly enews
---
After trialling smart bins in 2017 that do their own compacting and alert the City when they need to be emptied, last year Perth secured $2.6 million for a series of new projects with the Australian Government.
These include using CCTV cameras and sensors to count pedestrians and cyclists and upgrade security, smart lighting around the Matagarup Bridge and the installation of remotely operated irrigation across CBD parks.
Soil sensors can now even detect if grounds needs watering, and the whole system can be operated without standing in the rain.
"Previously when there was a weather event, we would have to send someone out to each park to turn off the irrigation, and that meant time, wear and tear on vehicles," says High. "Now we can do it all remotely."
The City is also sharing its data widely, using what is known as LoRa — the technology connecting internet of things or IoT sensors to the cloud.
Environmental sensors tracking Perth's temperature, humidity and particulates in the air send data to the cloud, where it is shared with primary schools, and the LoRa network is also offering insights to local business.
"We've had sessions showing business how they can use the LoRa network to have a sensor around their counter at their front door so they know when the most people walk past," he says.
"It might mean your café opens early on a Tuesday but not on a Wednesday based on the data."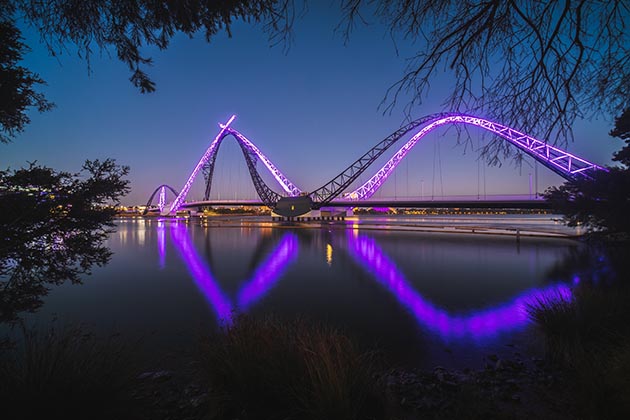 View of Matagarup Bridge from East Perth
The good and bad of smarts
While the insights a smart city offers are appealing, not everyone is won over.
The same problems tech giants face online — privacy breaches, hacking and malicious attacks, data exposure and a sense of losing control — are even more pressing when you are talking about the way we live our lives.
Quayside has provoked protests in Toronto over the amount of public data that could be collected, even though Sidewalk Labs says it will "set a new standard for data and privacy" with an independent trust managing public data and responsible data use guidelines.
The leading Chinese tech firm rolling out 5G internet to drive smart cities is Huawei, the subject of growing security concerns and recent US technology sanctions.
And even San Francisco has moved to ban city use of facial recognition technology developed a few minutes down the road in Silicon Valley, fearing the privacy breach is not worth any technological return.
Ian Martinus is the Director of the WA AustCyber Node based at Edith Cowan University, funded by the Federal and WA State Government and responsible for developing Australia's cyber security sector.
He says the security has to be at the forefront of any smart city infrastructure planning.
"It comes right down to how technology is procured and the processes used to hire human resources or buy technology," he says.
"What role will a technology component play, what visibility will people have over information? You can focus on many components of a smart city, but security has to be part of the risk and governance framework."
But if the right balance is struck between private data and public good, the results can be remarkable.
Planning and Transport Research Centre Director Professor Sharon Biermann says the data collected by smart city tech offers the promise of a smoother commute, a quieter road or a more efficient bus trip.
Rather than painstaking people-counting studies that might be months or years out of date, there's the opportunity for real-time measurement and rapid adjustment to improve the efficiency of transport system.
"[Smart data] is really important for the intelligent transport system and for people who are trying to manage congestion on the roads," says Biermann.
"If you can predict 15 minutes before there's going to be congestion, you can immediately change the traffic lights to try and improve the situation.
"Understanding that people have got highly complicated ways of travelling is actually a big advantage."
WA's very first driverless vehicle trial
In 2016 RAC launched Australia's first public driverless vehicle trial - the RAC Intellibus® The fully autonomous, electric shuttle bus has been trialled on roads in South Perth, and recently in Busselton. Find out more about how it works on real roads with real passengers.