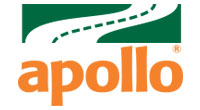 Show your card
Book today!
Why book with Apollo?
Apollo road trip holidays give you the flexibility and freedom to explore Australia and create your own adventure on your own timeline, with no need to unpack when your reach each new destination. Explore the great outdoors and experience a new way to holiday!

Why Road Trip with Apollo?

• Self-contained motorhomes are perfect to get away from crowds
• Safe, fun and affordable way to holiday
• It is time to reconnect with friends and family
• Get back to nature
• Explore in your own backyard
• Experience unique attractions off the beaten track
RAC members get 10% off the daily rental rate OR on top of any current Apollo Specials.
How do I redeem?
Simply book online below, or visit your nearest RAC Travel branch
Lost your RAC membership card? Order one now
Not a member? Find out how you can join RAC today!
Terms and Conditions
*10% off offer available for bookings made through Auto Club Travel channels and above. Offer not valid for bookings made directly with Apollo. Offer is only valid to Auto Club members who present their current membership card at time of purchase. One discount per card. Offer cannot be used in conjunction with any other offer.