The Inglewood on Beaufort Town Team set out to transform two unused paved areas between Ninth and Tenth Avenues on Beaufort Street into a colourful community hub for Inglewood-lovers to enjoy. However, what they achieved was more than just the renovation of an underutilised space.
The Inglenooks spaces have become much-loved meeting places for locals and visitors. The cosy wooden seating and vibrant mural of 'Cupcake the Cow' by Anya Brock make it a delightful setting for coffee catch ups and lunch time hang outs. On Monday nights in Summer, the Inglewood Night Markets bring even more life to the space, with food vendors taking advantage of the space to serve their gourmet goods.
We spoke to Inglewood on Beaufort Town Team member Damien Giudici to find out what he loves most about the Inglenooks.
Q: How would you describe the revitalised space to someone who hasn't seen it?
Three unused and unloved front setbacks of commercial premises were converted into functional spaces with art, landscaping, seating, and shade for people to use whether they want to just sit and watch the world go by, meet friends and family, enjoy local businesses produce alfresco or host an event.
Q: Describe how you typically use the space.
We often walk down to Beaufort Street, weave through the space as it's always between the places we need to go, and we will ponder there before grabbing whatever the children are hankering for at the time. Right now, it's the bubble tea from Tea Vibe, earlier in the year it was ice cream from Pietro's and in between, there's always a milkshake from any one of the cafes.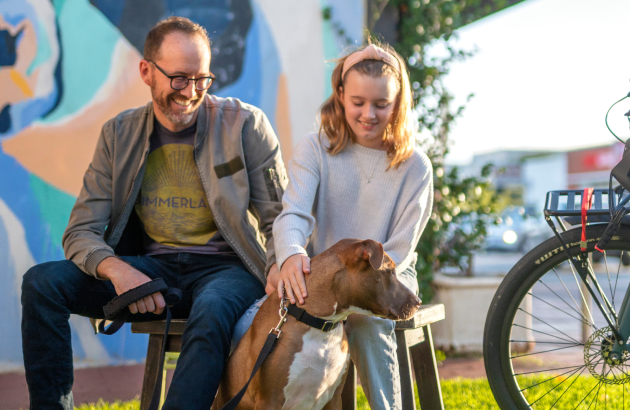 Q: How has the project changed the way you get around your neighbourhood/the area?
For me - as I was part of the creation - it's now a place I always look forward to checking out and seeing who and how it's being used. It makes me super happy to see what an awesome addition it has made to our neighbourhood! But to others I believe they value its convenience to allow a refuge from the street, where you can sit with comfort and safety to relax/ stop for a moment on your journey or for that to be the destination.
Q: What's your favourite thing about the space? How do you think this space helps connect your local community?
There are a few favourite bits, the mural I just love looking at from different angles from afar, I think it's great! I also love the edible garden, and the fruit trees. I've seen others pick straight from the tree and tell their friends about it too. That alone gives me a buzz knowing we nailed that element of the space!
I feel a sense of pride and achievement, as it's the epicentre of Inglewood, with locals crossing paths with neighbours all the time. It's now part of the local custom to grab a coffee and dwell at 'the Inglenooks'. I also believe it's a cherished part of the area.
Through our partnership with Town Team Movement, we work collaboratively with individual Town Teams to deliver projects that breathe new life into our cities, towns, and neighbourhoods. As a result, Western Australians are empowered to feel socially connected and involved in shaping their local areas, and supports our vision of a safer, sustainable, and better-connected state.
To find out more about how we're connecting communities, click the button below.