August, 2017
The midwest of WA is famous for its wildflowers, with the centres of Geraldton and Kalbarri considered the go-to places for wildflower enthusiasts. The region bursts with colour and variety every year. Late rains this year has meant a slow start to the season, but it is now underway. The Geraldton and Kalbarri Visitor Centre have spotted the following blooms so far this year.
Geraldton
With Chapman Regional Park on the doorstep of Geraldton's northern suburbs, wildflowers are easy to access. A range of bush flowers grow along the river and the flowers are starting to appear. In Marine Terrace (same street as the Visitor Centre) several large tubs containing wildflowers have been planted. The everlastings are just starting to flower.
Eneabba to Badgingarra on Brand Highway
There is always a selection of bush flowers along the highway between Eneabba and Badgingarra. Currently the stunning Queen of Sheba orchid (Thelymitra Apiculate) is flowering, as well as Hakea Trifurcate, three species of acacias, parrot bush (Dryandrasessilis) and the Scarlet Feather flower (Verticordia Grandis). Where safe, pull over off the highway and take a walk. You might also see a range of orchids including the Crinkle-leafed bunny orchid, Arrowsmith orchid, Blue-Fairy orchid, Greenhead orchid and Snail orchid.
Western Flora Caravan Park on the Brand Highway
This area is always a bit of a hotspot for orchids which have started to flower, with snail, hooded and donkey orchids now out. Scarlet feather flower (Verticordia Grandis), wattles and the Hakia honey bush are also in flower.
Mt Lesueur National Park
There is always a great diversity of bush flowers in the Park. It's still early in the season but you can now see Banksia, Wattle and Scarlet Feather flowers (Verticordia Grandis). Lesueur National Park is inland between Jurien Bay and Greenhead.
Pindar
It's early days yet but the famous wreath flowers (Lechenaultia Macrantha) have well-formed plants and are just starting to flower. Head 30kms east of Mullewa on the highway until Pindar and then go 10kms north of Pindar on the unsealed Pindar-Beringarra Road. You will find the blooms on both sides of the road.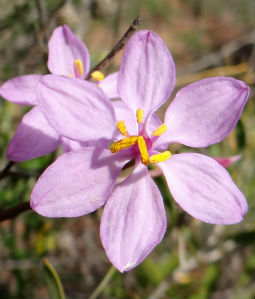 Kalbarri
With rainfall finally reaching Kalbarri, the Kalbarri National Park has just started to awaken. Head to the cliffs for a captivating walk - plenty of whales can be spotted from most high points along the coast.

Coastal gorges and cliffs – Natural Bridge to Red Bluff
There are currently sightings in the area for the following wildflowers:
Large-flowered Guichenotia (Guichenotia macrantha)
Murchison Rose (Diplolaena grandiflora)
Flannel Bush, (Solanum lasiophyllum)
Pink Thryptomene, (Thryptomene Strongylophylla)
Sandhill Grevillea, (Grevillea Commuata)
Large & Mat Cottonheads (Conostylis Robusta & Prolifera)
Tailflower (Anthocercis)
Milk Maids (Burchardia Rosea)
Guinea Flower (Hibbertia Scandens)
Inland Gorges – Hawks Head & Ross Graham
Various Trigger plants are popping up everywhere along with Drosera. The drier start has produced a mass of various Astroloma which aren't as prolific in wetter years. Starflowers and Fan flowers are also brightening the landscape..
The following are blooming within the area:
Flannel Bush, (Solanum lasiophyllum)
Bird Beak Hakea, (Hakea Orthorrhyncha)
Kondrung (Astroloma Serratifolium)
White Candles (Stackhousia Monogyna)
Showy Scholtzia, (Scholtzia Uberiflora)
Claw flower (Calothamus Homalophyllus)
Showy Dryandra (Dryandra Polycephala)
Grass Trees (Xanthorrhoea)
Purple Flag (Patersonia Accidentalis)
Pink Fairy, Snail & Shell orchids, Spiders, Cowslips, Flying Duck & Hybrid orchids have all been sighted, with many more at leaf stage.