10 September, 2015 By: Alex Forrest
There is far more substance to the updated Ford Ranger than just a blunter, snubbier nose.
In fact, think of that new snout as a billboard announcing the raft of changes under the skin that actually make the new Ranger a safer and more user friendly ute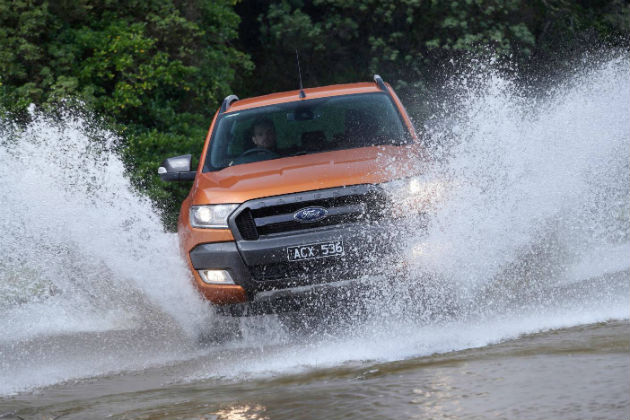 The Mark II Ranger now looks even tougher than its predecessor, which was already a bold design and well suited to the twin-cab ute market sector.
There hasn't been any change to the fundamental cabin architecture, but there have been improvements to noise reduction, ride quality and the Mark II also heralds the introduction of smart infotainment and safety technology.
All this makes the Ranger Mark II an even more appealing work and recreational vehicle.
Private buyers have traditionally favoured the Ranger 4x4 XLT for its combination of go anywhere toughness, cabin refinement and features proving the most appealing package. However, the full list of Ranger models is however extensive, with 37 variants in all.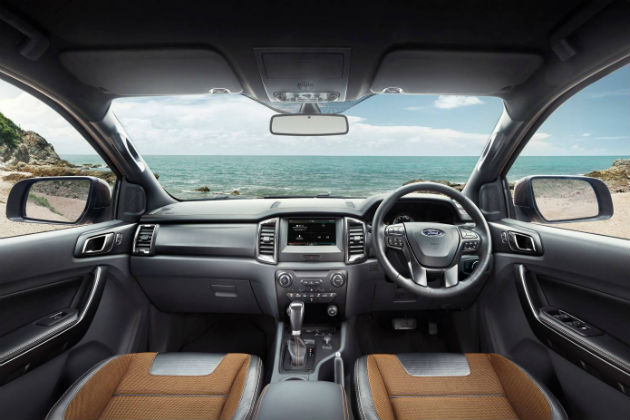 These cover single, super and double cabs with a bare chassis or ute tub, a standard or Hi-Rider suspension setup and with the choice of the 2.2-litre or 3.2-litre diesel engines, two or four wheel drive and manual or auto transmission.
In two-wheel drive form, pricing starts at $27,390 plus on road costs for the 2.2 litre, manual XL single cab chassis, rising to $46,490 for a 3.2 litre Hi-Rider XLT double cab pickup. Autos add $2,200.
The more popular 4x4 models which feature dial selected high or low range start at $38,790 plus on road costs and reach $56,590 for the favoured 3.2 litre, XLT automatic dual cab pickup.
The Wildtrak sits above the XLT at the top of the range (pardon the pun), and retails from $57,890. The Wildtrak gets 18" alloy wheels, chrome sports bars and a roller shutter enclosed tub targeting sports-ute drivers.
Countering the Wildtrak name, the interior is actually quite refined, with heated, leather-trimmed seats and eight-way power adjustability for the driver.
While the 2.2 litre diesel has proven popular for smoothness, refinement and workplace fuel economy, the 3.2L is favoured for its sheer grunt.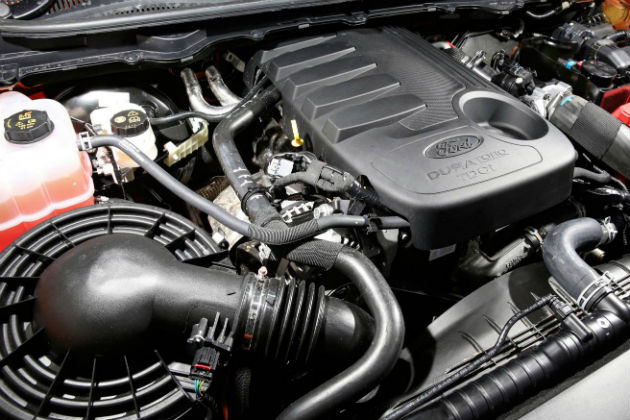 For the Mark II Ranger, it has been the focus of tuning modifications including a smaller, faster reacting turbo, more efficient fuel injectors and for the manual, city stop-start technology.
Adding to efficiency gains, all models are now equipped with electric power assisted steering. In the ADR test, fuel consumption has dropped to 9.0L/100km for the XLT 3.2 dual cab auto, has dropped to.
Features in the Revised XLT cabin presentation include a new instrument cluster with a central speedo flanked by dual colour 4.2-inch multi-channel information screens.
Above the centre console is a massive 8.0-inch high resolution touch screen for the upgraded SYNC2 connectivity, standard navigation and traffic management channel.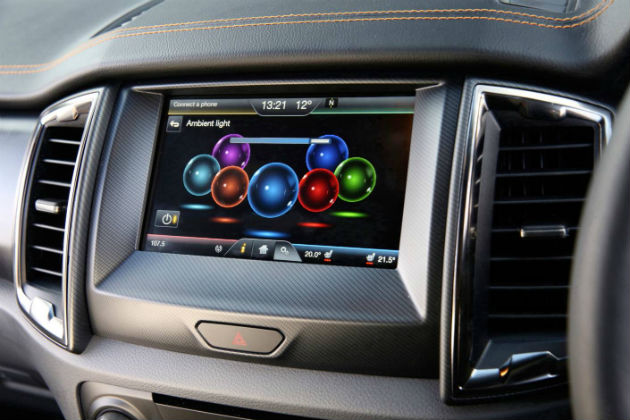 The XLT also features SD card and USB slots, DAB radio and Mobile WiFi Hotspot.
All Ranger models have emergency assist, which automatically links a pared mobile phone to 000 following a crash.
The Ranger's 5-star ANCAP safety rating continues with the Mark II.
Comfort and convenience features include dual zone climate control, a console cooler box, multiple power outlets including a 230 Volt inverter, auto sensing wipers and headlights, tyre pressure monitoring, cruise control and rear parking sensors.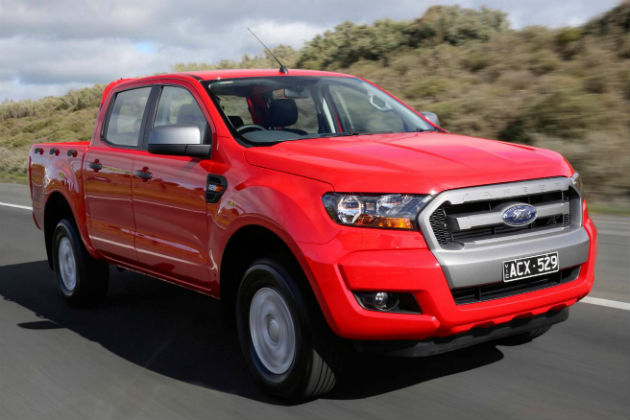 Missing is reach adjustable steering and rear seat ventilation outlets. Unfortunately a rear camera isn't standard, but is part of the $1,100 tech option pack, which also includes adaptive cruise control with forward collision alert, lane departure warning and lane keeping assist, plus driver impairment monitoring.
Thanks to improved ride quality, better cabin insulation and more convenience, the new XLT Ranger is clearly a nicer vehicle to live with every-day or for touring.
The dual cab has good five seater comfort and ride compliance for sustained use on typical corrugated dirt roads, but it's still a chassis mounted light truck. For that reason though, it retains its class leading load and towing capabilities.
Ford's traction based intelligent four wheel drive offers "high range" selectable on the move and for serious situations, low range, a rear differential lock, hill start and decent control.
2015 Ford Ranger Mark II XLT Specifications

| | |
| --- | --- |
| Price driveaway: | from $63,349 drive away |
| Engine: | 3.2-litre turbo diesel |
| Power: | 147kW @ 3,000rpm |
| Torque: | 470Nm @ 1,750rpm |
| Claimed fuel economy: | 9.0L/100km |
| Kerb weight: | 2,229kg |
| Payload: | 970kg |
| Maximum towing capacity | 3,500kg (braked trailer) |
| ANCAP Rating: | 5 star |
| CO2 Emissions: | 236g/km |