20 May, 2019 By: Alex Forrest
Eight hybrid cars that could be your stepping stone into the world of electric vehicles
Quiet to drive as they are, there has been plenty of noise about electric vehicles in recent years and particularly in recent months.
Rightfully, electric vehicles (EVs) have been positioned as the ideal way to reduce tailpipe emissions from our cars. But so far, their cost has proven a major barrier to them being taken up on a large scale – at least in Australia.
While many consumers wait for EV prices to come down, there is one type of low emissions car that offers more choice at a lower cost while generating zero range anxiety: hybrids.
Over the past 20 years, hybrid vehicles have quietly and steadily moved into market segments ranging from tiny city cars through to large seven-seater SUVs and luxury sports cars. They've also become more efficient, safer and more refined.
There are no signs of these advances slowing down either and guess what - you're more likely to be able to buy one that suits your needs and your budget.
Nowadays, 'hybrid' means far more than just 'Toyota Prius'. A range of hybrid SUVs are now available, as are plug-in hybrids you can recharge to go further on electricity alone.
Hybrids can also be far from sedate – the Porsche Panamera Turbo S E-Hybrid is one example, albeit a pricey one at $463,200.
A form of hybrid technology is even used in Formula One racing cars, where it's known as a kinetic energy recovery system.
Here are some hybrids that are frugal, mostly affordable and available right now. Sure, electric cars are coming. But these hybrids could help you save some fuel and some money in the meantime.
Toyota RAV4 Hybrid – from $39,390 (drive away pricing)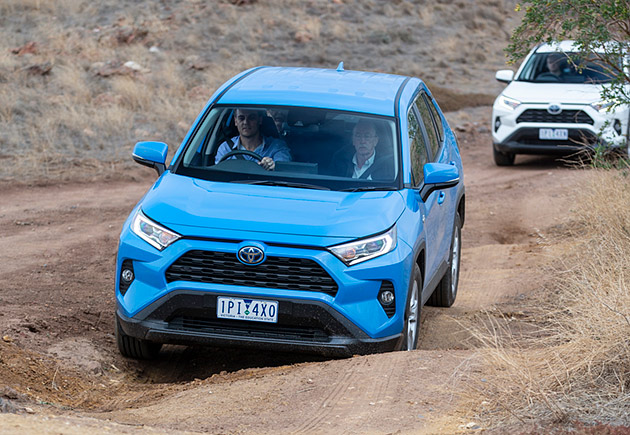 The newest hybrid of this group is the Toyota RAV4 Hybrid, which was launched in Australia in May 2019.
The new RAV's most compelling bits are its price, its smart hybrid system and the good range of safety equipment that comes as standard. Only $2750 separates the hybrid from the petrol-only equivalent, while the rear footwell and boot are bigger than in the previous RAV4.
Also, Toyota will finally be offering the phone-mirroring software Apple Carplay and Android Auto in the RAV4 – a first for any Toyota in Australia. Oh, and there's no diesel available anymore – the hybrid has taken up the slack there.
Toyota Prius - from $40,920 (drive away pricing)
As the name that became synonymous with the term 'hybrid', the Prius continues to offer some of the most affordable low emissions motoring on the market. Today, it's not the cheapest hybrid – its sibling, the Prius C, starts at $24,000 – but it is full of technology and it's even been made somewhat fun to drive. The Prius starts at $36,590, but even the top of the range I-Tech variant ($44,050) costs less than the cheapest pure EV in Australia.
Also check out: Toyota Corolla Hybrid, Hyundai Ioniq Hybrid, Toyota Prius C
Mitsubishi Outlander PHEV - from $49,990 (drive away pricing)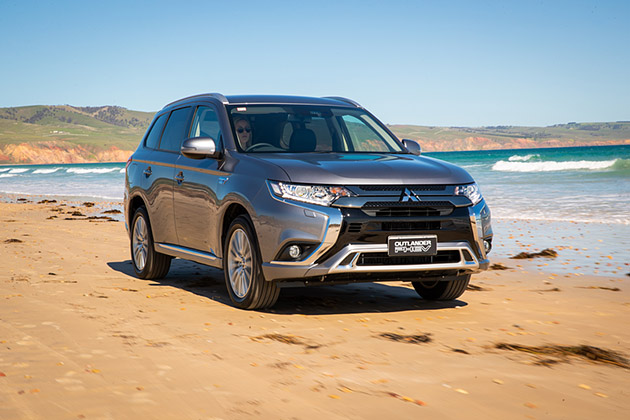 This is a mid-sized SUV you can plug in to a household power point or a fast charger and drive purely on electric power for up to 54km. You don't have to worry if you run out of battery power though, because the on-board petrol engine will kick in to get you home. Starting from $49,990, the Outlander PHEV is also relatively affordable. It has the utility of an SUV combined with the capability to drive it almost exclusively as an EV – providing you charge it regularly.
Also check out: Lexus NX300h, Toyota RAV4 Hybrid
Hyundai Ioniq Hybrid - from $37,700 (drive away pricing)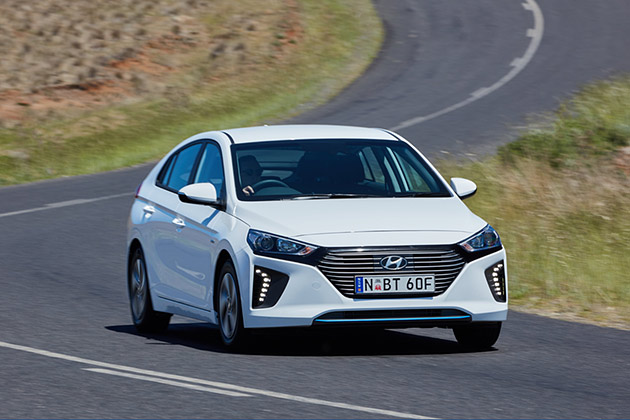 The Ioniq Hybrid is one of three different low emissions Ioniq variants being offered by Hyundai. The other two are a full electric version and a plug-in hybrid which you can charge and then drive for short distances on electric power only. The Ioniq Hybrid is the cheapest of the Ioniq range at $37,700, but it still gets gear such as autonomous emergency braking, rear cross traffic alert and an eight-speaker sound system.
Also check out: Toyota Prius, Lexus CT200h
Nissan Pathfinder Hybrid - from $51,930 (drive away pricing)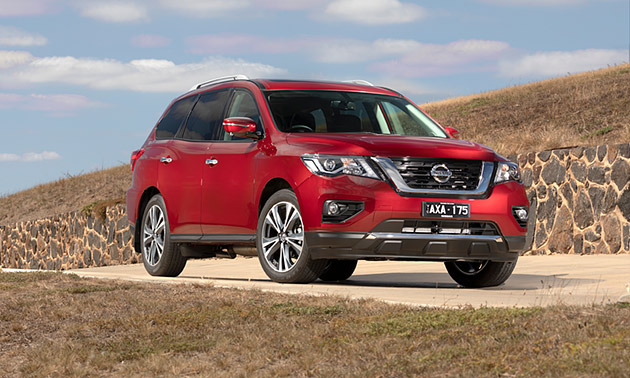 Where most large hybrid SUVs are luxury vehicles costing around $100,000 or more, the Pathfinder Hybrid will cost you just over half that. It uses a high-tech hybrid drive system to move a roomy and practical seven-seat wagon, and it performs well but uses much less fuel than the V6 non-hybrid version. That said, in the regulation test, the Pathfinder Hybrid still uses more fuel than the Mazda CX-9, which has a 2.5 turbo petrol engine only.
Also check out: Lexus RX400h
Lexus ES300h - from $68,760 (drive away pricing)
Hybrid and electric vehicle technologies really come into their own when utilised in large luxury saloons, where smoothness, quietness and effortless progress are all critically important. The Lexus ES300h is big, comfortable and luxurious but also amazingly miserly with its fuel consumption at 5.2L/100km. It's not a sports car mind you, and the infotainment system is fiddly to use. Still, even though large sedans are out of fashion right now, this is a compelling argument to buck the trend.
Also check out: BMW 530e, Mercedes-Benz E350 e
Volvo XC60 T8 R-DESIGN Hybrid - from $104,000 (drive away pricing)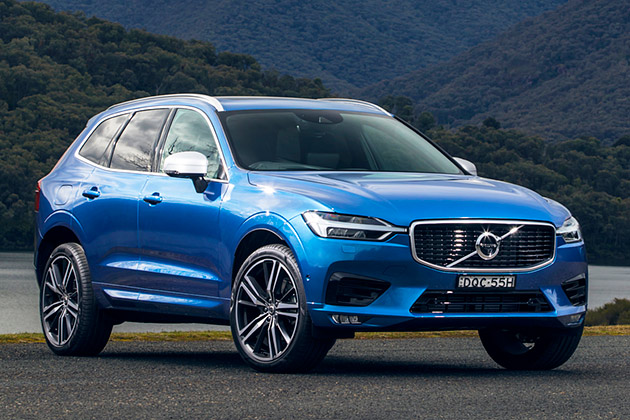 At $104,000, the XC60 R-Design hybrid isn't for every budget. However, that does buy you more than just an advanced plug-in hybrid drive system. It also gets you a luxuriously appointed SUV with an exquisitely sculpted interior that includes a crystal glass gear lever. This integrates with some of the world's most advanced safety features, including the ability to automatically stop drivers turning into oncoming traffic.
Also check out: Audi Q8, Lexus RX400h
Honda NSX - from $460,000 (drive away pricing)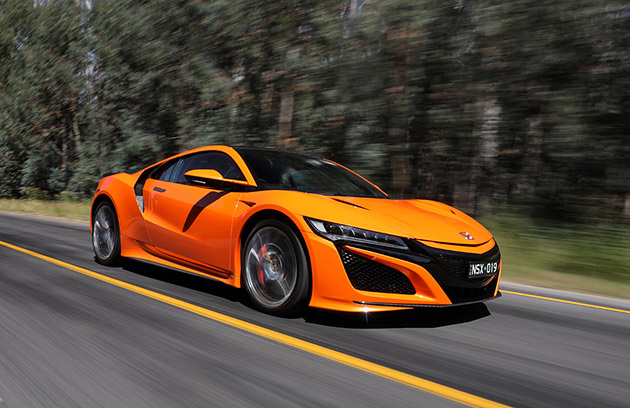 Sports and super cars with hybrid drivetrains are set to transition from novelty to necessity as exhaust emissions regulations tighten and the demand for performance continues. The $460,000 Honda NSX and the $345,000 BMW i8 have hybrid drivetrains. They will soon be joined by hybrid supercars from Lamborghini and Ferrari. Porsche currently has some hybrids in its line-up, but not in the iconic 911 model range…yet.
Also check out: Porsche Panamera Turbo S E-Hybrid, BMW i8
What's still coming in 2019:
Toyota RAV4
Hybrid Subaru Forester
Hybrid Ferrari hybrid supercar
Lamborghini hybrid supercar
What's the difference?
Full hybrids
The best-known example of a full hybrid is the Toyota Prius sold in Australia. Full hybrids have a petrol engine and a battery-powered electric motor. The electric motor provides significant assistance to the petrol engine and allows it to be electrically driven for short distances. The battery is only charged using the petrol engine and through regenerative braking. Full hybrids are usually cheaper than plug-in hybrids.
Plug-in Hybrids
Plug-in hybrids can be charged from an external power source such as a household power socket or dedicated charging point. Their batteries are usually larger than those of regular hybrids, allowing them to be driven purely on electric power (up to 60km, depending on the model). If you need to go further between charges, there's a petrol engine there to get you home and charge the battery in the process.
Mild hybrids
Less common in Australia, mild hybrid vehicles have an electric motor but this only assists the internal combustion engine and does not propel the vehicle solely on electric power. Assistance provided by the electric motor helps reduce fuel consumption, but not as significantly as in other hybrids.
Enjoy this story? Get more of the same delivered to your inbox. Sign up to For the Better eNews.
Low emissions vehicle? Big discounts
Choosing a hybrid for your next car could save you more than just your fuel costs. RAC's Less Emissions Mission program rewards owners of lower emissions vehicles with discounts of up to 25% on comprehensive car insurance, discounted finance rates with RAC Finance and savings on RAC's Auto Services.