15 May, 2018
Dutchman Wiebe Wakker had always been a passionate traveller and was fascinated by the stories of people who travelled the world in unique ways.
So he decided to embark on his own unique adventure.
He would drive 80,000km around the world, with the added challenge of doing it in an environmentally friendly electric car. And on a zero budget.
"I wanted to have a goal for my trip," he says.
"I didn't want to be the typical backpacker who goes from hostel to hostel and only sees the local bars and beaches. And I love driving and the freedom of going wherever you want.
"Electric cars are something new and interesting. They're silent, powerful, and high-tech and also the perfect vehicle for a sustainable road trip."
Along the way around the world, Wakker hoped his 'Plug Me In' project would also show people that sustainability can be fun.
Making plans
Planning for the trip took a year and a half, including sourcing an electric converted 2009 Volkswagen Golf with a 200km range, getting insurance and thinking up a way to keep the wheels turning on his "crazy idea".
"I came up with the idea to ask people to 'plug me in' with a meal, place to sleep, or energy for the car," he says, "which are the only three things I really need during the trip."
The keen photographer and videographer realised he could use his skills to 'pay back' his hosts.
"In return I exchanged energy by sharing stories and using my creative skills," he says.
"I take portraits of my hosts and feature their stories in my blog or video."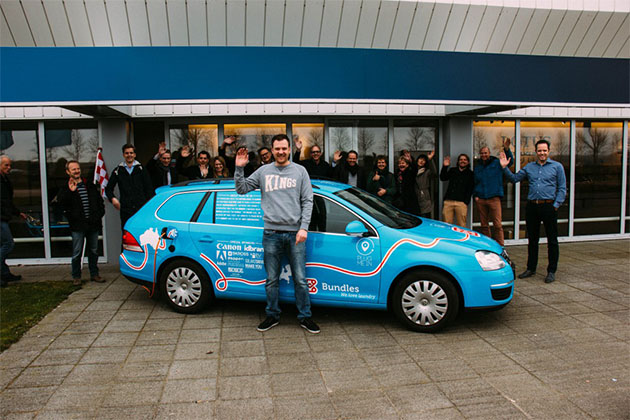 The starting line
Wakker set off just over two years ago and is now the first person to cross Turkey, Iran and India in an EV.
The trip and his route has relied completely on the kindness of strangers to plug him into any available electricity supply, including dedicated EV charging stations to recharge his car and keep him on the road.
Typically Wakker charges the EV at people's homes, which takes up to 12 hours.
"I have received so much help from people and that is really heartwarming."
In some countries with poorer infrastructure, such as India and Indonesia, even finding a reliable electricity supply was tricky.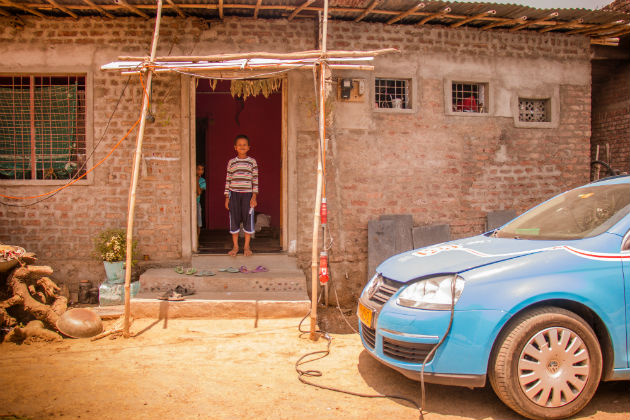 ---
Enjoying this article?
Sign up to our monthly enews
---
In the event that he can't find a place to stay before the battery dies he sleeps in his car.
He's also slept in a tent outside the office of Indonesia's national electricity company as he charged over night.
From the Netherlands he has driven through Europe and countries including Russia, Turkey, Iran, Borneo, Indonesia, and Timor-Leste, with Australia the last stop on the list, at total of 33 countries.
Along the way the sustainable road tripper has converted others to the benefits of EVs, including a sheikh from the United Arab Emirates who bought a Tesla Model X shortly after their meeting.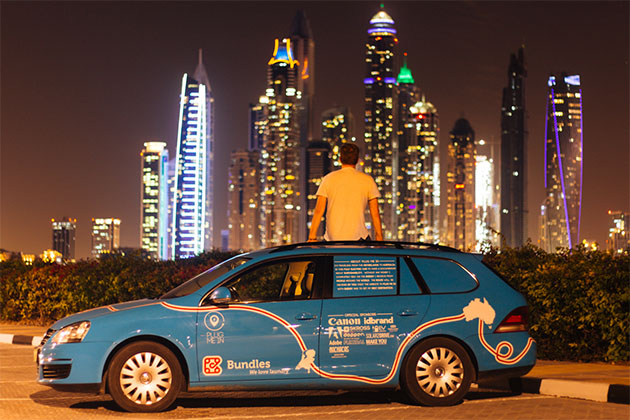 The Blue Bandit
The Blue Bandit, as Wakker calls his EV, is without a back seat to make room for the necessities, like a sleeping bag, a tent, and batteries – even souvenirs from his travels. He relies on the six-CD player in the car for entertainment.
The Blue Bandit survived the deserts of Iran and a truck ride in India after the lower arms in the suspension system wore out.
But in Surabaya things truly ground to a halt when the Golf's charger stopped working, taking seven weeks to repair.
Back on the road again for just an hour, Wakker hit a patch of flooded road.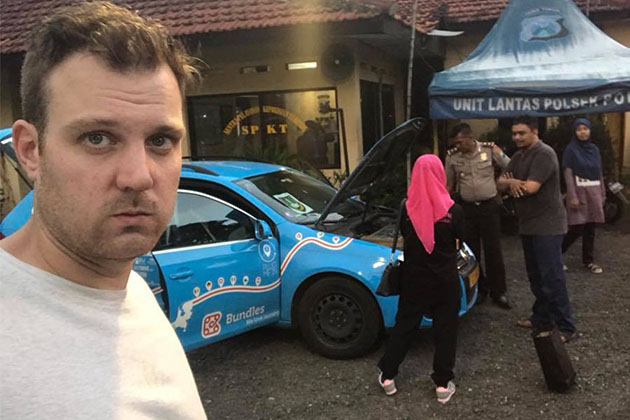 "Because I was behind a truck I couldn't see how deep the water was or how long it would take [to get through]," he says.
"Eventually I drove about 200 metres through the water and the Battery Management System gave warning signals. The car stopped and I quickly realised water had come into the battery pack."
Stuck in Surabaya, Wakker used crowdfunding to cover the cost of flying mechanics in from Holland to carry out specialist repairs on the battery.
During his lengthy stay, he was able to purchase new clothes for the first time in two years with leftover crowdfunding money.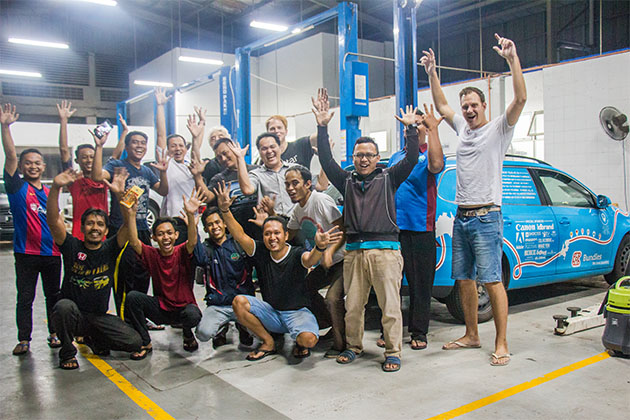 The home stretch
After two and a half months, Wakker is on the road again and heading to Australia.
At the time of writing his car was on a ferry headed for Darwin and he was soon to follow. From there he will make his way to WA, stopping in Perth before driving east to finish in Sydney.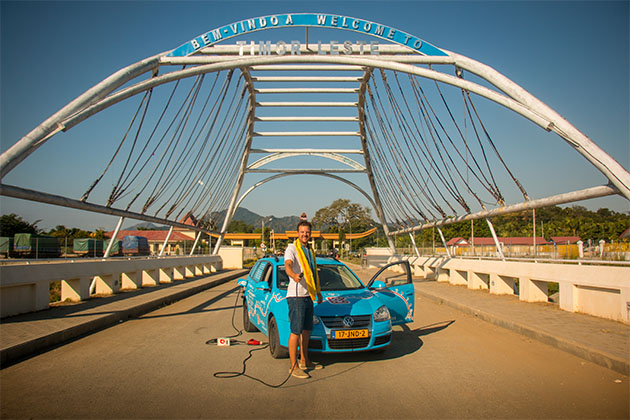 Wakker says the trip proves that it is already possible to drive long distances in an electric vehicle.
"Electricity is everywhere and it's just a matter of upgrading it to higher voltages to make it possible to charge your car in four hours instead of 12," he says.
"In all the countries except for Iran and Myanmar there was already something between a pilot project and decent EV infrastructure.
"But to implement EV's everywhere [in the world], government support is required."
For the globe trotting Wakker, there's no such thing as range anxiety, just "range excitement".
Photos supplied to RAC by Wiebe Wakker
Enjoy this story? Get more of the same delivered to your inbox. Sign up to For the Better eNews.
Do you have your own 'Blue Bandit'?
RAC's Less Emissions Mission program rewards EV owners with discounts of up to 25% on comprehensive car insurance, discounted finance rates with RAC Finance and savings on RAC's Auto Services.