20 November, 2018 By: Alex Forrest
Electric vehicles from more than half a dozen manufacturers are headed to Australian showrooms over the next 12 to 18 months, with longer battery ranges and high tech features designed to tempt even more motorists into making the switch.
The uptake of electric vehicles (EV's) in Australia might have been slower than many advocates hoped, but the march towards an electric transport future continues.
And with new and more affordable models arriving in Australia next year, it's likely even more consumers will be tempted to upgrade to an electric vehicle model.
Are you in the market? If so, here's our pick of seven EVs coming to Australia in 2019 that are likely to put a spark into the eyes of admirers.
Hyundai Kona
The all-electric Kona - a compact front-wheel drive SUV - was announced by Hyundai back in February 2018, and it's set to arrive in Australia almost exactly a year later.
Short and long range versions of the Kona Electric are being produced. The basic version will have a range of 300kms, says Hyundai, with the longer range going up to 470km with a 64kWh battery. Even if that's 400km in the real world, it's a pretty good range for an EV expected to cost less than $60,000.
Drivers will be able to adjust the intensity of the regenerative braking system, meaning they can change how quickly the vehicle slows down when the driver lifts off the accelerator. It's not unique, but it will be a welcome feature. Lithium-ion polymer batteries are in both versions of the Kona.
Like other EVs in the sub-$100,000 bracket, the Kona will have plenty of enticing inclusions like a suite of clever safety gear and an eight-speaker sound system with a 200mm subwoofer.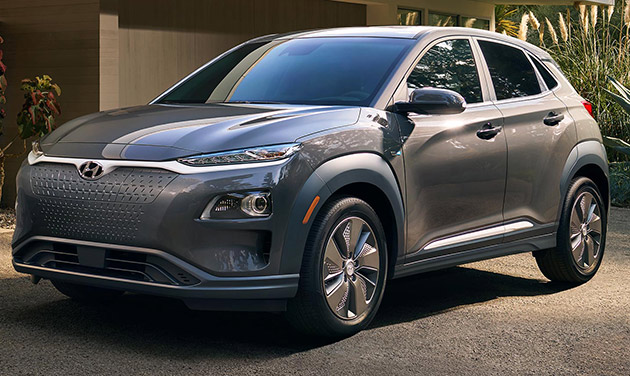 Hyundai Ioniq
In petrol/electric hybrid form, the Hyundai Ioniq has already been in Australia since March 2018.
This version has been here to undergo trials with potential fleet customers. However, what many were waiting for was the release of the all-electric and plug-in hybrid versions. These were launched in November.
The full electric Ioniq will have a range of 280km, which, although significantly less than the Kona Electric, will also cost a lot less. The battery-only Ioniq will be priced at $44,990 making it the lowest cost full EV available in Australia.
It's also well equipped, with active and passive safety features, plus a large touch screen infotainment system, sunroof, and smart 17-inch alloys.
It's been a huge year for Hyundai's low emissions vehicles, with the manufacturer announcing it will make available solar panels for the roofs and bonnets of some of its vehicles post 2019. The panels are designed to utilise solar energy to put power back into the vehicle's batteries.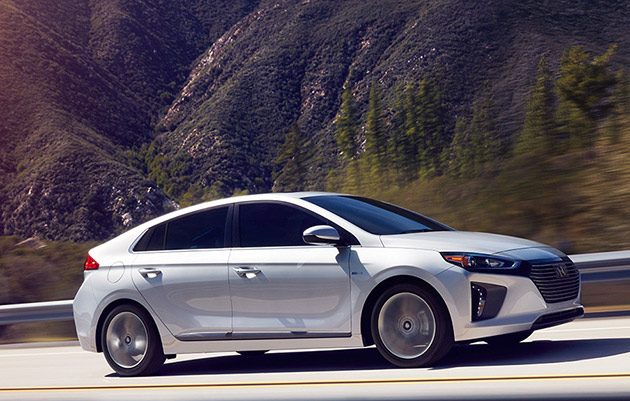 Nissan Leaf
Although launched in October 2018, the new, second generation Leaf won't go on sale in Australia until June 2019, much later than the US or Europe where it is available now.
The new Leaf's e-pedal, which allows drivers to both accelerate and come to a complete stop using one pedal, has been getting much attention, even though there is similar functionality on other EVs.
Like the Kona, the new Leaf is a very well specified vehicle with a suite of advanced safety tech. It also looks much more like a normal car than the old Leaf.
It's claimed range is 270km from a 40kWh battery - ok for its expected price of less than $60,000, although that's still to be confirmed by Nissan. Should it get a less than $50,000 price tag, sales will really get moving.
Plus, every single new Nissan Leaf sold worldwide has a little bit of Australia in it. The specialised, essential parts are made at Nissan's casting plant in Melbourne and include the water jacket for the EV inverter and the inverter casing.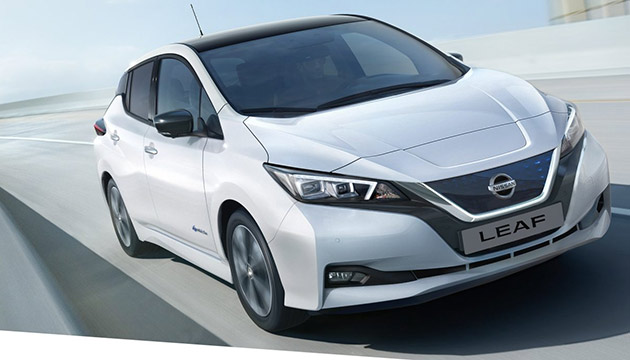 Renault Zoe
After initially only making the Zoe available to fleet customers from late 2017, Renault opened up Zoe sales to private buyers in July 2018 with pricing starting from $47,490 plus on-roads.
It's one of the cheapest purely electric vehicles currently available from a car maker in Australia and is set to become the EV entry point for many buyers.
Although small, its range is good at around 270km. It's not much smaller than a BMW i3, but that costs $68,700 plus on-roads. The i3 also has a shorter range of around 200km. Then again, both are expensive when compared to conventional light vehicles – a petrol-powered Renault Clio is the same size and will cost $16,990.
One cute reference to the past is in the base model Zoe, which has manual wind-up windows. Remember those, anyone? Renault is also offering the electric Kangoo Z.E., which is a small commercial van and as such is a unique offering in the Australian market.
Renault reckons the Kangoo Z.E. has a range of 200km, which for small, inner city jobs would be ideal.
Pricing is $49,490 for the electric Kangoo, where the entry level petrol one costs $23,990. Clearly, there's still some way to go before we get to some semblance of price parity, but we're getting there.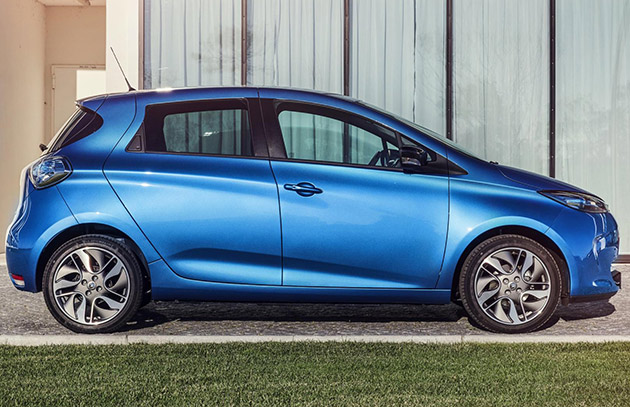 Jaguar I-Pace
The Jaguar I-Pace is set to leap out onto Australian roads in early December 2018.
You'll have guessed it's not the cheapest EV out there – it'll start at $119,000 plus on-roads and the range-topping HSE will be $159,700. But it also has a battery capacity of 90kWh (more than twice the size of the one in the new Nissan Leaf) with a range of 480km. It'll push out up to 294kW.
For comparison's sake, your regular, garden variety Porsche 911 Carrerra 4S makes 309kW. Additionally, the I-Pace's claimed 480km range isn't far off the full-tank range of some liquid-fuelled vehicles.
As a luxury SUV, the I-Pace is in a category where EVs have been quite successful in terms of competing with their conventional luxury rivals. So the I-Pace might be shopped against the likes of the Porsche Macan, BMW X3 M240i or the Audi SQ5.
With two electric motors (one for the front wheels and one for the back wheels), the I-Pace's get-up-and-go is impressive, even next to other modern EVs, which as a broad group have pretty punchy performance.
The I-Pace will also have some very clever safety technology on board, including the capacity to warn occupants not to open a door if there's a vehicle or cyclist approaching from behind. This will also be the only Jaguar with a five-year warranty (the others are three years).
Audi E-Tron
With a name like E-Tron, the upcoming Audi electric SUV further raises the expectation that it'll feature science fiction levels of technology, performance and range.
Well, it doesn't quite have all those – flight and time travel are outside its abilities – but it does have some cool kit.
When the prototype was shown to the world in October, it had the option of virtual mirrors, which is a rear-view system that uses cameras instead of mirrors, with the images displayed on a high-resolution screen inside the door.
The idea is to reduce aerodynamic drag by not having to have conventional external rear view mirrors on the sides of the vehicle, thinking that has been around for some time, but to date hasn't appeared on a production vehicle.
The E-Tron's big 95kWh battery will, according to Audi, give it a range of more than 400km. Output from the two electric motors (one for the front wheels and one for the rears as in the I-Pace) will be up to 300kW.
That battery pack will be able to accept charges from the next generation of high-capacity EV fast chargers, which can output up to 150kW. A typical fast charger has previously meant a capacity of 50kW. Those quick chargers will be able replenish 80 per cent of the E-Tron's 400km range in about 30 minutes, Audi, reckons.
The E-Tron is set to arrive in the second-half of 2019. Exact pricing hasn't been confirmed, but Audi told RAC to expect a tag of around $140,000.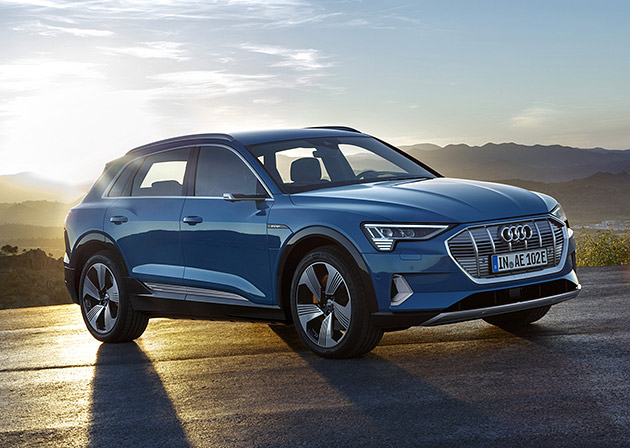 Mercedes-Benz EQC
Releasing a new electric vehicle wasn't enough for Mercedes-Benz - it has also launched a new sub-brand 'EQ', to further differentiate its ion-powered products. The 'C' is the first model to be launched under it.
Like the Audi E-Tron and Jaguar I-Pace, the EQC is also an SUV and it'll make a similar amount of power (300kW) which will be delivered to all four wheels.
Mercedes is touting a range of 450km, but as with all EVs and even regular vehicles, that'll depend heavily on how you use it. The battery capacity will be 80kWh – slightly less than the electric Audi and Jag, although the EQC's torque output bests them both, at 765Nm.
Additions have been made to the Benz's driver assistance technology which will be introduced in the EQC. These include the ability to detect stationary or slow-moving traffic from a distance on a freeway, and automatically reduce the vehicle's speed as a precaution.
Also, before you leave on a journey, you can use a smart phone app connected to the car to tell it to get the cabin to a temperature you like before you get in it. The navigation system will also help you find charging stations, but that's now available in most EVs.
The EQC is not expected to get to Australia until the end of 2019. The manufacturer has told RAC it will start under $150,000.
Enjoy this story? Get more of the same delivered to your inbox. Sign up to For the Better eNews.
EV owners save on insurance and more
Choosing an EV for your next car could save you more than just your fuel costs. RAC's Less Emissions Mission program rewards EV owners with discounts of up to 25% on comprehensive car insurance, discounted finance rates with RAC Finance and savings on RAC's Auto Services.