26 September, 2018 By: Glenn Butler
From flying cars to ultra-compact electric vehicles, the weird and wonderful cars of science fiction are fast becoming reality.
It has taken some time, but today's cars are beginning to morph into the futuristic, self-driving machines science fiction writers were making up stories about not too long ago.
What other possibilities are out there for our future cars?
Take a look at four once-fictional car genres that are on their way to showrooms soon...
Amphibious cars
The Panther amphibious car, from American company WaterCar, looks like a cross between a Jeep Wrangler and a bathtub.
The Panther converts from car to boat in less than 15 seconds, is priced at $139,000 USD and can be ordered in right-hand drive — but you'll need to get it shipped to Australia. Or perhaps you could just drive it the whole way.
The Hydra Spyder is another American amphicar that packs more sporting appeal than the Panther. It looks like a sleek roadster, is powered by a Corvette V8 engine, can top 200km/h on land and 100km/h in the water.
The Hydra Spyder hasn't changed much since it launched at $239,000 in 2006, but with so little competition, maybe it didn't need to.
Solar cars
German company Sono Motors has developed the relatively affordable Sion, a compact hatchback that uses integrated solar cells to charge its batteries.
The company, which has already conducted customer test drives in Europe, says the E16,000 Sion can travel up to 30km per day on sun power alone, and up to 250km if charged through a powerpoint.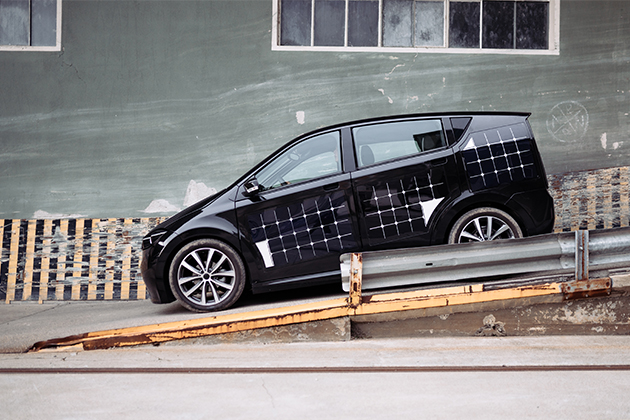 Dutch startup Lightyear is another hoping to harness the sun. It just won a Climate Change Innovator Award for the Lightyear One, "the car that charges itself".
Lightyear says the One, which is due for launch in 2020 carrying a E119,000 price tag, "can drive for months without charging" and has a 400-800km range.
Like the Sion, the One is covered in solar cells, and combines light weight and aerodynamics to maximise energy efficiency.
Flying Cars
Airbus's Vahana full-scale single-seater concept is in the early stages of development, and has only flown once so far, for just 53 seconds.
It's a vertical take-off and landing (VTOL) craft that isn't trying to combine on-road driving with flying. Instead, it seeks to supplant the car by rising above the gridlock. Airbus envisions the Vahana utilising city rooftops for take-off and landings, letting us whiz about our daily business.
Google founder Larry Page has a flying car company called Kitty Hawk, which staged a highly publicised test flight in June — the first in the hands of a civilian, proving you didn't need years of training or a pilot's licence.
The 120kg Flyer's current top speed is 32km/h and it is limited to three metres maximum elevation and a flying time of 20 minutes.
While the Flyer is allowed only to fly above bodies of water right now, a sister model with wheels called Cora is the company's vision for an everyday air taxi to beat the gridlock.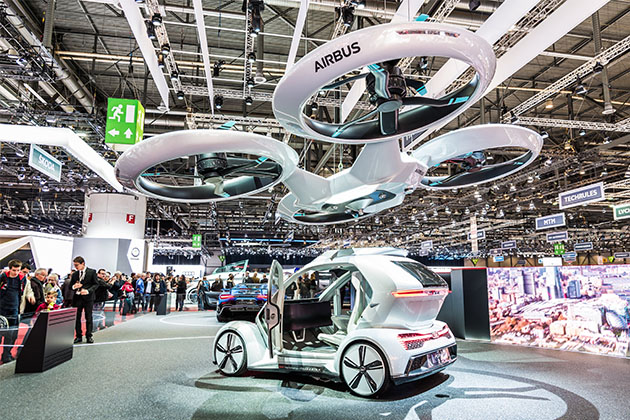 German company Lilium Aviation demonstrated a faster flying future in the skies above Munich in April 2018 with the football-shaped 'Jet' that takes off vertically then travels horizontally at speeds up to 300km/h.
The five-person Jet is scheduled to take its first manned flight in 2019 ahead of a 2025 market launch.
Uber's vision of airborne personal mobility is a long way behind other flying car visionaries — it's still at the 'vision' stage — but claims to be on-track for a 2023 vehicle launch.
Uber's big advantage, however, is that it doesn't actually need to develop its own flying car - it can just use every other companies' cars.
Ultra Compact Electric Cars
Chinese/American company Eli says its first car, the Zero, is the "antithesis of a traditional car. It's a simple product that will fundamentally shift the way we transport from A to B".
The Eli Zero is a Neighbourhood Electric Vehicle (NEV) measuring just 1.38m wide and 2.25m long, and weighs 380kg. Despite its compact dimensions, its enclosed cabin seats two adults side by side, and comes with a 160-litre boot.
The Zero fully electric car has a top speed of 40km/h and a maximum range of 130km. The company claims it uses just seven percent of the energy of a conventional vehicle.
Eli staged a successful fundraising campaign on Indiegogo in April and is aiming to start customer deliveries of the $10,900 Zero in Europe in February 2019.
Uniti One, a one-time Swedish university research project, has quickly become one of the world's electric mobility darlings. Uniti says its mission is "not to make the best cars in the world. We're trying to make the best cars for the world".
In October 2016 the company raised E1.6million in the first 36 hours of a crowdfunding campaign, which resulted in the launch of the Uniti One two-seat electric prototype in December 2017.
Uniti is targeting India and Europe first in 2019 with the One, with a touring range of 150km to 300km, a top speed of 130km/h and price of E14,900.
Uniti says it will eventually offer four and five-seat versions of the Uniti One, but there's no word on whether it will come to Australia.
Enjoy this story? Get more of the same delivered to your inbox. Sign up to For the Better eNews.
RAC's driverless future
Driverless cars, once a fantasy, are also fast becoming a reality for the future of transport.
RAC launched the first automated vehicle trial in Australia with the RAC Intellibus® with support from the WA State Government and the City of South Perth.
Now, Perth is just one of three cities in the world to trial and test driverless passenger vehicles, designed as an on-demand shared mobility service.
The Intellicar™ will be tested in a three stage trial, culminating in participants able to call up a vehicle and travel to a destination within a selected precinct.