16 March, 2021 By: Ruth Callaghan
Melbourne's vibrant inner-city alleyways and its beachside hub in St Kilda, The Rocks in Sydney and even our own port city of Fremantle, all have something in common.
Each is a place that has developed a strong identity, distinguishing itself in a way that makes it recognisable and inviting.
But how can a neighbourhood foster that sense of place and provide greater opportunities for connection, to be somewhere people love to live, visit, work and interact?
That's the goal of two initiatives that are contributing to RAC's vision for a safer, sustainable and more connected future for Western Australians.
"Communities are strongest when people feel physically and socially connected to the people and places that matter to them," says Pat Walker, RAC Group Executive, Social and Community Impact.
"We know from our own surveys that our members who feel connected to their community rate their wellbeing a lot higher than those who don't.
"Through our Connecting Communities Fund and Reconnect WA initiatives we're working with our partners, our members and all Western Australians to help create better connected and more liveable communities across WA."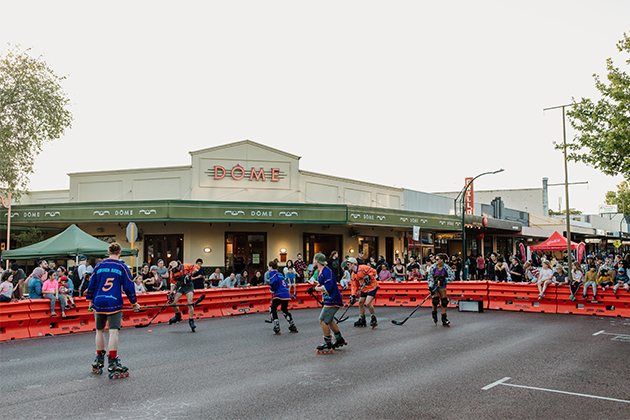 Connecting closer to home
"If you think about the places people love – an afternoon in Fremantle, a sunset in Broome or a weekend in Denmark, there's a common thread that draws them there," says Pat Walker.
"It's that each of those places have a strong sense of identity and culture that they're proud of and that they celebrate. It's what brings them together as a community."
RAC is a principal partner of the Town Team Movement, which was designed from the ground up to help build that community identity.
The movement works to support groups of residents, local businesses and landowners who want to improve a suburb or area, helping them organise and work with local governments to make positive changes happen.
Jimmy Murphy, co-founder of the Town Team Movement, says the group began three years ago after seeing a need to connect people who were working on projects in their local areas, so they could share ideas and build groups that were more effective.
"We just started calling them Town Teams and they were volunteer groups of residents and businesses coming together to do what's called community-led placemaking," he says.
"It's about volunteering to make your town or community better, in whatever way you see fit.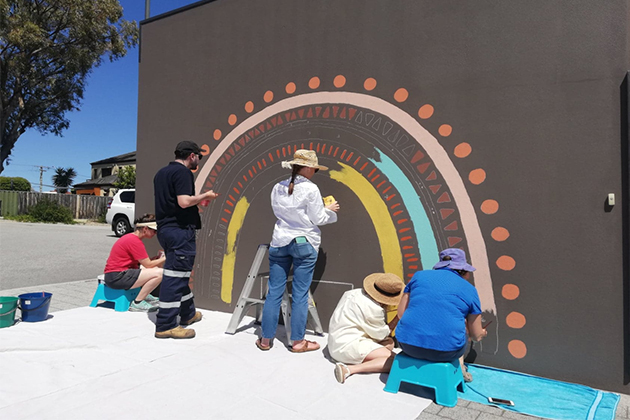 "We now have 55 Town Teams across Australia and New Zealand but most of them are in WA, both in the city but also across the state. There's a really robust community now where we help facilitate social events and workshops and learning experiences for them to impart their knowledge to each other."
Murphy says the appeal of hyperlocal community projects is their ability to bring people together which can be a challenge when loneliness and isolation are growing problems for health and mental wellbeing.
"Fundamentally, people are social beings," he says.
"Getting people together and putting on a giant street festival, or a market, or even just a little neighbourhood gathering connects people and has huge social and mental health benefits."
RAC has been working with Town Teams to fund initiatives that fit the goals of local communities, giving them a financial boost to make their areas more vibrant, active, engaged or sustainable.
Through RAC's Connecting Communities Fund, more than $100,000 has been awarded to Town Teams across the State, with the most recent round of projects being voted on by more than 1500 members.
They include the Busselton Street Art Project, in which local artists are being commissioned to transform Opal Lane in the heart of the town, developing murals and bringing some life to an unused parking lot.
In Dunsborough, land surrounding an old Telstra building will be converted into parkland for locals and visitors, and parklets will also be popping up in Doubleview and Brentwood.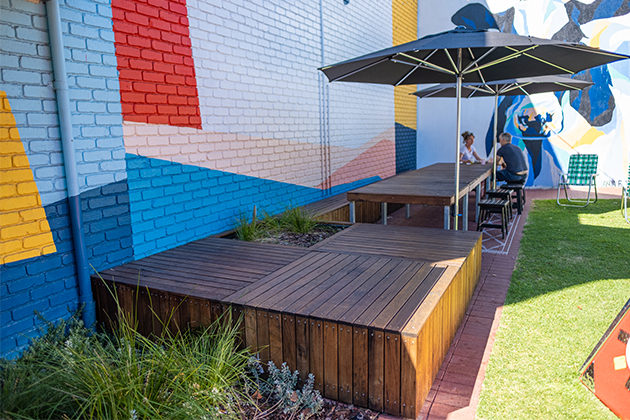 In Victoria Park, a 'library of things' is being developed with household tools, lawnmowers and other appliances that residents can borrow as needed, while in Wellard, fruit trees and park tables will be moved from the train station to Wellard Square to encourage more activity in the area.
At Leighton Beach, a local group will host the Long Table for Sustainability, a ticketed sunset dinner designed to promote sustainability for the beachside community.
RAC's Pat Walker says one project that really stood out among those put forward was Midland's 'Really, Really Free Market' concept, built around sharing rather than purchasing.
"Members of the community come to the market and bring five items to share and they then get tokens to take five items away," he says.
"There's no cash exchanged, residents simply swap item for item which promotes a circular economy, reduces waste and helps locals better connect with their community."
While the projects are all very different, Walker says the value lies in having communities identify their own priorities and develop a plan that works for them.
"With Town Teams it's about creating an identity based on what's important to them — so for Leighton it's sustainability but in another area, it might be about community engagement," he says.
"They've all got their unique vision and focus."
Creating a place that comes alive
While the Connecting Communities Fund is helping community-led groups on the ground fulfil goals, RAC is also working with local governments to deliver larger infrastructure-focused projects that can have a strong community impact.
The $1 million Reconnect WA initiative is improving community connectedness by helping local governments deliver projects that reimagine and revitalise streets and public spaces.
Pat Walker says RAC is working with local governments to deliver changes to the look and feel of streets and spaces, to create places where communities can interact.
"We also want to see more pedestrian-friendly environments, as well as improved cycling connections so it's safer and easier to make local trips on foot or by bicycle."
In the first Reconnect WA funding stream — the $500,000 Reinvigorating Streets and Spaces Fund — RAC is partnering with local governments on quick-delivery, low-cost infrastructure projects.
All 138 of WA's local governments were invited to apply, Walker says, and 56 submitted a total of 75 projects from regional and metropolitan areas.
More than 1700 RAC members helped to select the successful projects, voting on which of the shortlisted projects they would most like to see funded.
Eight local governments, three in Perth and five in regional WA, have received funding.
The first to get underway has been Colours of Mandurah, a colourful walkway that connects Mandjar Square to the Mandurah Ocean Marina in 250 steps.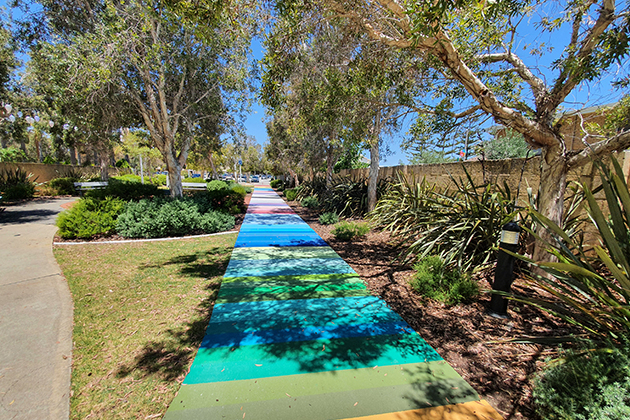 Each of the 125 colours chosen for the walkway reflects an element of Mandurah life, from pale green estuary weeds to golden beach sand to the blue of a baby wren. The project not only makes the walk to and from the marina more interesting, but by visually connecting the two precincts, it supports local businesses through encouraging additional foot traffic.
Launched in December 2020, the project has already become popular with locals and Instagrammers, with the City of Mandurah seeing it as a test site for other urban activations.
In Merredin a pop-up community space was created through the closure of a section of Barrack Street in the heart of the town, with seating, public art, a nature play space and greenery, as well as community activities. The piazza launched in December 2020 and will be in place for several months.
Similar pop-up community spaces are being created at the Nollamara Shopping Centre and on Churchill Avenue near Rokeby Road in Subiaco. In the City of Cockburn, a 12-month pilot project will test a safer, slower-speed cycling connection along Healy Road in Hamilton Hill.
Twelve-month pilot projects will also see improvements to part of Chapman Road in Geraldton and Hannay Lane in Dunsborough to make them safer and more people-focused to support increased walking, cycling and vibrancy in these areas.
And in Northam, the suspension bridge and precinct will be enhanced with innovative lighting, interactive art and interpretive stories developed through co-design with the Ballardong Noongara community.
Pat Walker says many of the projects being delivered involve quick, short-term changes to test them on the ground with the community and see if and how they're used and embraced.
"With the Merredin project for example, it's great to see a regional local government looking at how street space can be transformed with low-cost changes to test ideas. This provides an opportunity for residents and businesses to be a part of shaping what happens in their local areas.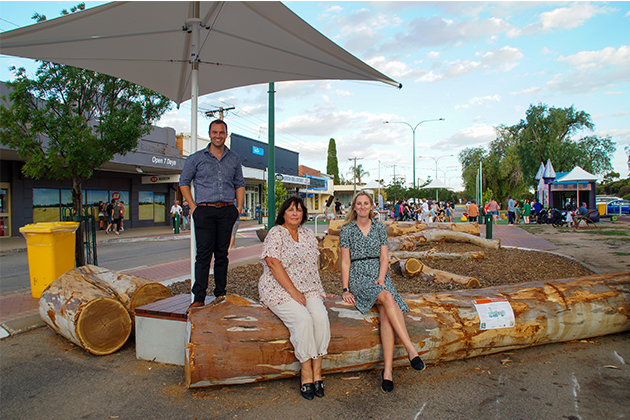 "We hope the experiences and learnings from these projects help inform longer-term changes, whether that's changes in that particular community, or in other areas where local governments are thinking about how they can achieve positive community outcomes," Walker says.
"There was a lot of innovation and variety in the 75 projects put forward and this overwhelming response shows the appetite and willingness of local governments to explore ways to do something different with their communities."
Inspired to get involved in your local community?
Consider starting a Town Team of your own. We're empowering local WA residents and business owners to work together to revitalise community spaces.