20 January, 2019 By: Jane Hammond
Perth is experiencing a citizen-led make-over. From verge gardens to yoga in the car park, pop-up markets and street parties, a growing number of communities are self-organising and, with a dose of creativity, are changing the way they use their own public spaces.
By day, a steady trickle of cars and buses pull into the quiet but functional East Street jetty carpark in East Fremantle, the departure point for Rotto ferries, party boats and river cruises.
But on Monday nights in summer, the carpark fills up with chairs and tables, food trucks and hungry locals, who come to eat, talk, listen to music and take in the riverside serenity. By morning, it's like they were never there.
All over Perth, in areas that may be otherwise vacant or underused, similar events are happening. Car parks, road verges and even intersections are being re-thought and re-engineered to become temporary or even permanent vibrant community hubs.
It's a lot more than just food trucks. There are 'parklets', public artworks and murals, pop-up bike lines (temporary bike lanes drawn on to roads), community veggie patches, temporary car-free zones, outdoor movies and reading areas. Sometimes the spaces created are short-lived, while at other locations the change is permanent.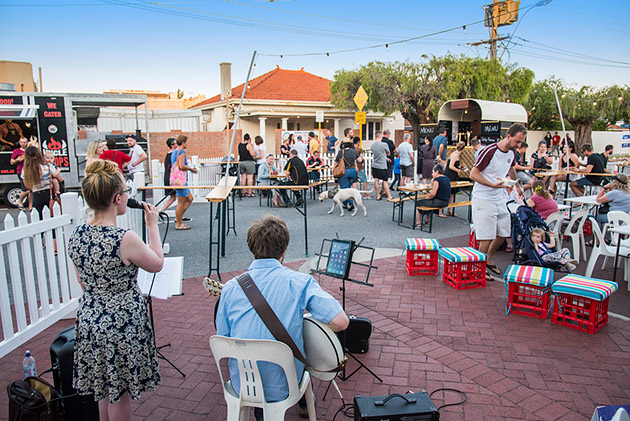 This organic urban renaissance which is rethinking the way we use communal spaces is part of a world-wide trend called tactical urbanism which has been gathering steam for the past decade.
"The way we design space is often anti-people. It's often designed to minimise maintenance and minimise the amount of people who use that space," says Dean Cracknell, CEO of non-profit Town Team Movement based in Mt Hawthorn, that promotes community place-making in Australia and NZ.
"Tactical urbanism is very much about getting people connecting with each other and connecting with the spaces around them. It's not so much a project or a program, it's more a way of doing things," Cracknell says.
The emphasis is on creating a usable public space where people might want to linger and congregate and it could be as simple as rolling out some green carpet and adding some planter boxes and chairs to create a lovely place to sit, says Cracknell. Although projects might get some micro funding, tactical urbanism is more about creative thinking and ingenuity rather than large cash flows.
"It can be cheap and simple. It's about doing simple things to improve a space rather than waiting years for massive projects that may or may not ever get built," Cracknell says.
"Even putting a pot plant outside your shop or a funny sign to brighten someone's day are examples of tactical urbanism."
Love where we live
Cracknell believes Perth is leading the nation in the adoption of tactical urbanism techniques.
In WA it's being driven by residents and community groups, as well through to enthusiasts like guerrilla gardeners who quietly plant vegetables in parks and on verges, or the yarn bombers, who a few years back rose up all around the world to dress up trees and landmarks with colourful crocheted or knitted 'outfits'.
Perth's councils are also embracing the tactical urbanism concept, making it easier for the transformation to happen, either by cutting the red tape or by providing micro funding to cover project costs.
Exactly what is happening and where is very much defined by the locals that love where they live, and how they want to make their spaces more liveable.
---
Enjoying this article?
Sign up to our monthly enews
---
For example, in Bayswater - an area well known already for its beautiful gardens and lawns and with an active community of guerrilla gardeners, the Council tore up its rule book on verge plantings and has been actively encouraging its residents to set up verge gardens and street tree swings.
Across the river in the more densely populated South Perth, the community organised a pop-up cinema last year by hiring a mobile screen and encouraging people to bring their own beanbags.
Enjoying this article? Check out:
The new movement turning waste into wanted items »
A glimpse at the world's smartest neighbourhood »
WA's quirkiest community festivals »
In the sprawling City of Melville, the council is helping fund community-driven projects that create places and spaces, including the nature playground Webber Park in Willagee - devised and developed by a close-knit local community group.
In Mandurah the community organisation Shape Mandurah provides grants for projects that activate city spaces. One recent project saw a nine-year-old girl given funding to set up a pop-up Saturday market for children to sell and swap their old toys.
Kids in the inner city suburb of Leederville are enjoying the benefits too. The community has organised temporary road closure permits one Sunday afternoon each month, when the local kids are encouraged to safely play on the car-free streets.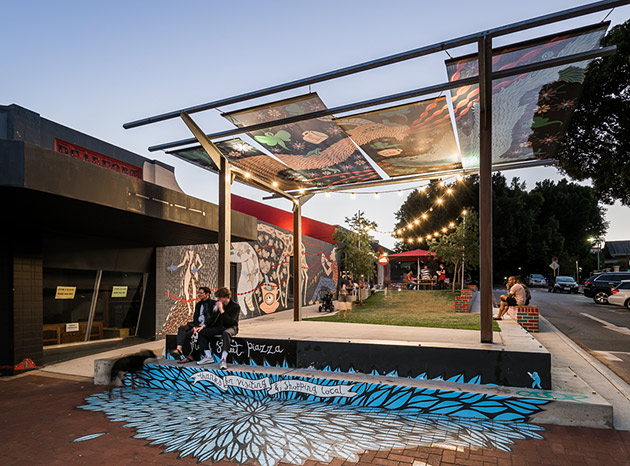 Community creativity
As well as fostering community as people come together to create local projects, tactical urbanism is also about shifting us away from our car-centric view of planning.
Pop-up bike lanes and temporary street closures encourage cycling and walking, making our streets less congested and more people-centred.
New York's Time Square is a great example of this, says Cracknell, where tactical urbanism has been institutionalised with people-centred walking and activity areas, in part to address the health issues associated with a sedentary lifestyle.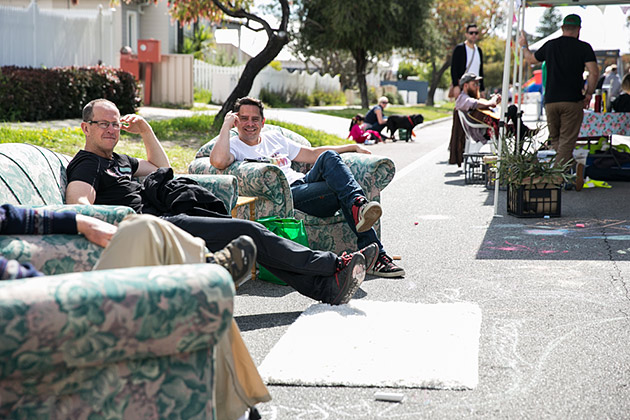 In the east-end of Perth, the Historic Heart of Perth project has added depth and colour to the experience of walking from the city to the new stadium.
Local artists designed new artwork for planter boxes throughout the streets, revitalising the cityscape with a burst of colour.
The community then designed an app to guide locals and tourists on their way to and from the stadium, or just for those strolling the streets, that reveals the history of the area and provides details about the art installations along the way.
The community went even further bringing in a social enterprise that employs long-term unemployed people to look after the planter boxes and the plants.
For Cracknell, it's the perfect example of tactical urbanism, changing the feel and use of public spaces to something that enriches both the community and those using the space.
"It's come from the local people, it's been made by local people and it's been cared for by local people rather than the council doing it," he says.
And as our urban area continue to grow, Cracknell says its a trend that will continue.
"As cities change and get denser we need to think about each space and how it could be used for multiple uses or benefits rather than everything being segregated. Tactical urbanism helps people connect with each other and connect with the spaces around them."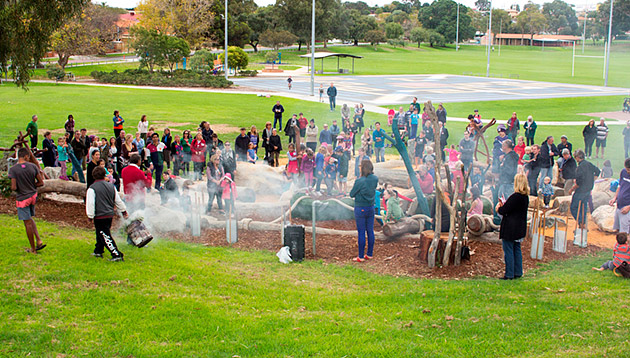 Building a more connected WA
We're working to create more sustainable, livable and connected communities through initiatives like our automated vehicle program and the Less Emissions Mission, giving benefits to those who choose lower emissions vehicles.