24 May, 2021 By: Jane Hammond
Inspired by last year's lockdown, there's now a push for more pedal-power to breathe new life into our cities and towns.
Western Australia is experiencing a cycling revolution and it's not just about enthusiasts in lycra.
What started as a response to the need to exercise under COVID restrictions has triggered a new wave of cycling enthusiasts.
Around one in four Perth residents are now riding weekly, according to figures from the Department of Transport.
The community is embracing travelling on two wheels in growing numbers and James Brooks, RAC acting senior manager Public Policy, says we all stand to benefit through reduced traffic, lower harmful vehicle emissions and improvements in community health if we can keep the momentum going.
"This is an opportune time to capitalise on what we saw last year in terms of more people getting out and about and exploring their local area and wanting to do that by bike. We just need to keep building on that," Brooks says.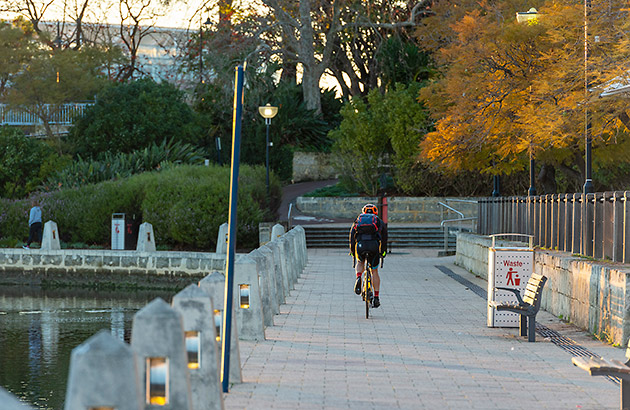 Keeping the momentum going
Over the next four years, the State Government is investing hundreds of millions of dollars in cycling infrastructure, building on the existing network.
The move is expected to boost the uptake of cycling even further and will make riding a bike in WA safer and more convenient.
In the Danish city of Copenhagen, where bicycles outnumber cars five to one, 43 per cent of residents commute to work or school on a bike according to the City of Copenhagen. The city has an extensive network of cycleways, cycle safe intersections and cycle bridges that have helped to increase the popularity of cycling.
Its passion for the bike is helping Copenhagen move towards its goal of becoming the world's first carbon-neutral capital city by 2025.
But could sprawling car-centric Perth ever achieve the rate of cycling uptake enjoyed by Copenhagen and other European cities?
Velo revolution
Across our suburbs and towns the velo revolution is already underway. Local governments have been making moves in working with residents to reclaim streets from the car and build more liveable communities which enable active transport such as cycling. RAC is also contributing to this through its Reconnect WA initiative and Connecting Communities Fund, breathing new life into local communities and supporting active and vibrant neighbourhoods and public spaces.
'Rat runs' and quieter streets providing connections to local destinations like schools, stations and shops are being transformed into low-speed shared transport routes in areas like the cities of Cockburn and Stirling.
Acting Chief of Built and Natural Environment for the City of Cockburn Daniel Arndt, says the city is working to encourage residents aged 8 to 80 to ride bikes as part of their everyday trips.
"We want to take cycling from being primarily a recreational or sporting activity to being an integral part of everyday life. We want the City of Cockburn to be seen as a cycle-friendly city and an example of best practice," Arndt says.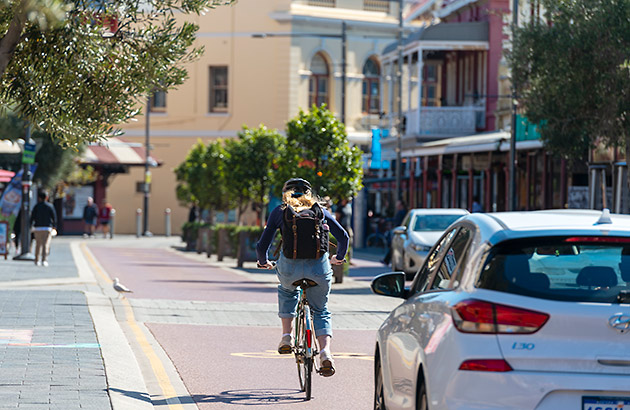 In just one example, the City of Cockburn, in partnership with RAC through its Reconnect WA initiative, is transforming the western end of Healy Road into a community-led pilot project designed to create safer speeds for people cycling (as well as walking) along the Hamilton Hill route. It will involve temporary slow-points, road markings and painted intersections.
COVID inspired
With the world gripped by the COVID-19 pandemic in early in 2020, the World Health Organisation issued a directive to "whenever feasible consider riding bicycles or walking."
It was advice that cities, planners, commuters, shoppers and residents embraced with enthusiasm. Western Australian's joined the craze, though exercise and recreation was the primary motivation.
In WA, bicycle sales skyrocketed and formerly forgotten bikes were pulled out of garages and back sheds, dusted off and refurbished.
Data from the Department of Transport (DoT) shows that one in four residents of Perth and Peel rode their bikes weekly in 2020, an increase of more than 14 per cent on 2019 figures.
The figures equate to 486,000 people riding on the metropolitan network each week.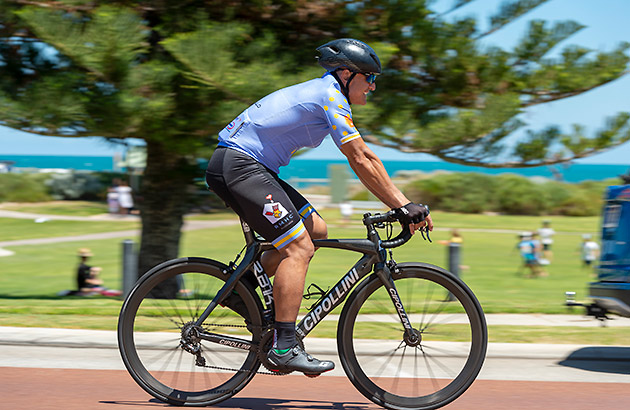 Director of Active Transport and Safety with the Department, Michelle Prior, says the WA Government is committed to investing $220M in active transport infrastructure over the next four years.
Included in the funding is a new $50M purpose-built cycling bridge across the Swan River from the CBD to Victoria Park.
Increased investment in safe and connected cycling infrastructure is something RAC has been consistently calling for – this includes green bridges such as this new Swan River crossing.
Prior says the work DoT has done with local government in developing safe connections to principle shared paths was fundamental to transforming our cities and suburbs into bike-friendly places. Almost every local government authority had agreed so far to participate in developing and extending the cycling network.
"When we encourage people to make the choice to ride bikes and replace motor vehicle trips, it benefits the individual and the community as well," Prior says.
She says replacing short car trips with bike trips is a significant first step many people can make.
The DoT has also been overseeing the State Government's Safe Active Streets Program in WA, an initiative designed to make streets safer for cyclists, walkers and drivers. And it is encouraging children to take up riding and walking to school through the Your Move Program.
Prior says that during the 1970s, eight out of every 10 children rode a bike to school, now it's down to two in every 10.
She says the Your Move program is working to reverse the trend and get kids and adults back on their bikes.
Even non-cyclists benefit
RAC's James Brooks says the benefits of cycling to the community are much bigger than the benefits enjoyed by the individual cyclist.
He says health, economic, environmental and community-building benefits are just some of the payoffs.
"We looked at the case for greater investment in cycling infrastructure a few years ago and found that the return on investment was three to five times the costs incurred. That's higher than for many other transport investments," Brooks says.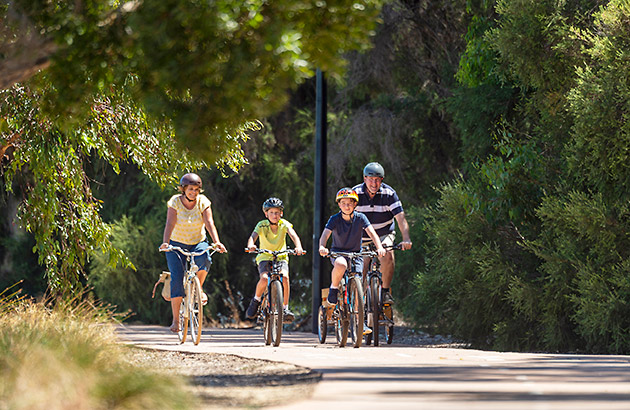 So, what's stopping us from more readily embracing two wheels?
Brooks says surveys by RAC have repeatedly found that the biggest barrier to cycling is fears over safety when sharing the roads with other vehicles.
Since the first pandemic wave and lockdown, traffic has increased in WA.
In early March 2021 traffic volumes on main roads in Perth were up nearly 11 per cent over 2020 figures after falling by a third in April 2020, Main Roads data suggests.
Brooks says if we continue to see more cars on our roads it could make people less inclined to ride, but improved cycling infrastructure and having more focus on people-friendly streets will go a long way to alleviating safety concerns.
Global trend
Having seen the COVID-inspired benefits of getting more people to leave the car behind and cycle instead, cities around the world have moved to ramp up their support for pedal powered transport.
There are plans in Paris to develop more than 650km of cycleways.
Across the channel in the UK a similar story is unfolding.
Late last year British Prime Minister Boris Johnson announced a new plan to transform the streets of London into safer areas for bikes and pedestrians and said that the pandemic had "shown us all that we needed to look after our health."
He described the UK's revamped Gear Change plan for cycling and walking as the start of the most "radical change to our cities since the arrival of mass motoring."
How WA builds on the momentum and whether we make cycling a central part of our lifestyles is not only down to the infrastructure our local and state governments can provide. It will also depend on whether we opt to embrace the many benefits cycling can bring, and take the option to leave the car behind where we can, get on our bikes and enjoy the ride.
A more connected WA
Cycling isn't just a great way to get around and stay fit and healthy, it also helps tackle traffic congestion and harmful vehicle emissions. Find out more about how RAC is working to support cycling as part of a more connected WA.
Image credit: Stewart Allen