By: Wendy Caccetta
Just as distracted driving presents dangers on the road, distracted parenting can leave children vulnerable at home.
Get down on your hands and knees and look at your home from a child's eye view, safety experts urge. Homes are the centre of family life, but they can also be fraught with dangers for children, especially under fives.
Everyday items such as curtain cords, household cleaners and even the television can be deadly to curious and newly-mobile youngsters.
"When you're a toddler everything looks like a ladder," says Scott Phillips, CEO of Kidsafe WA, a health promotion organisation charged with making WA a safer place for children.
The facts are sobering.
About 27 children a year die in Western Australia from preventable incidents in the home, Phillips says. Another 8000 a year are admitted to Perth Children's Hospital with injuries and 18,000 attend the emergency department.
"That's a classroom full of children every year that we are losing, to put it in some type of context. Most of those are under four. That's a lot of families in grief and that's a huge hit on our community to lose that many children."
According to a Kidsafe WA Childhood Injury Report, the home was the most common location for childhood injury in Australia in the decade to 2018.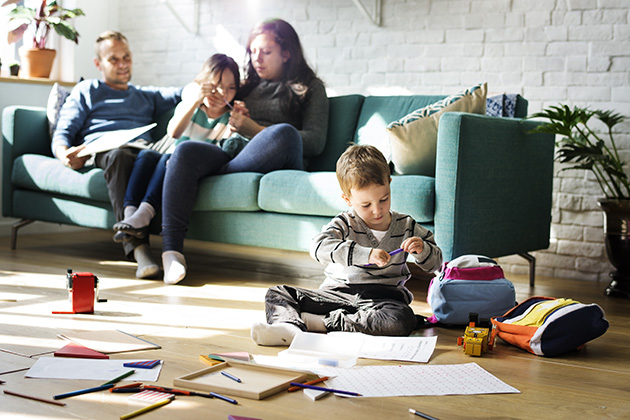 Most home injuries in WA were outdoors (21 per cent) followed by the living or dining areas (14 per cent), bedroom (11 per cent) and kitchen and bathroom (10 per cent), the report found.
Falls accounted for nearly half of injuries, but other common accidents included burns and scalds, blunt force, poisoning, cuts and drowning.
With many families spending more time at home during the coronavirus pandemic, safety about the house became even more paramount.
"What we're hearing from other States, particularly Victoria, is that there were as many child deaths in four months as a usual year," Phillips says. "Injury rates went up in Tasmania, Queensland and Victoria."
Phillips says active supervision is key to keeping children safe — something that can be challenged by busy lives and with distractions such as mobile phones.
"There are simple things we can do to help avoid these injuries. Many strategies sound like common sense, but I still go home and find myself checking my house for these dangers, and my kids are teenagers now."
Here are some dangers to watch for and ways to guard against them.
Pandemic precaution
Hand sanitiser is vital during the pandemic, but make sure children don't drink it or rub it in their eyes.
Kidsafe WA says children are being injured, and risk death, by drinking the high-alcohol formulas.
"Children have small bodies that can't dissipate alcohol very well," Phillips says. "Although not all injuries are fatal, they can cause long term disability or damage to a child."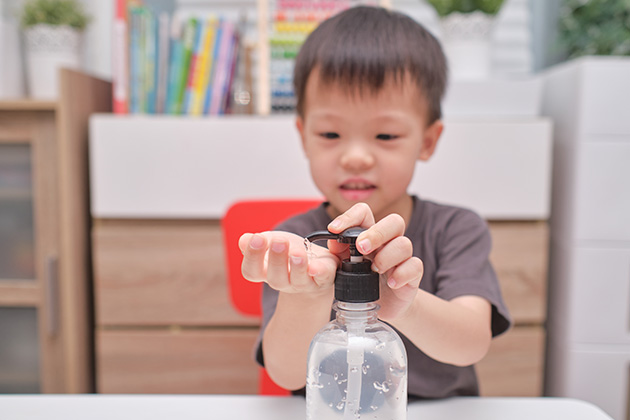 With a boom in home fitness it is also important to remove safety keys from treadmills and exercise bikes and unplug them when they're not in use. Children have been trapped under treadmills or received cuts, bruises or broken fingers and serious friction burns from fitness equipment.
Beware of button batteries
They might power everything from remote controls to key rings in your home, but button batteries can be lethal if children swallow them.
"Even if the battery appears flat and doesn't have enough power to power our technology, if ingested it can burn through a child's oesophagus in two hours," Phillips says.
Every week about 20 Australian children attend emergency departments after swallowing or inserting these batteries, according to the WA Department of Mines, Industry Regulation and Safety. Since 2013, three have died, according to consumer group Choice.
Choose products that need a tool to open the battery compartment and keep new or used batteries out of reach of children.
Also watch for them in unexpected items such as Christmas gadgets which can be made of cheap plastic and break down easily.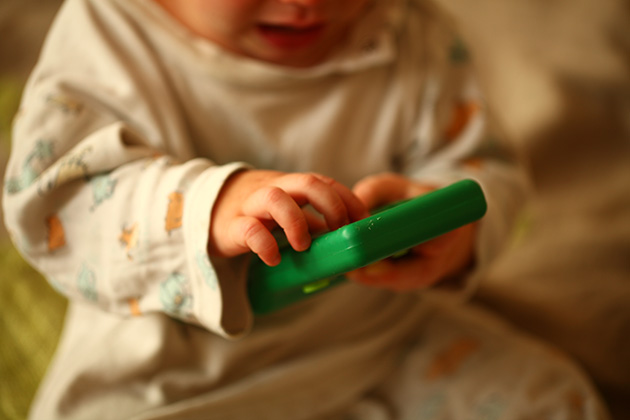 Burns and electric shocks
Under five's have the highest rate of hospitalisation due to burns and scalds, according to Kidsafe WA. Nearly two thirds of hospital admissions are due to scalding from hot food and drink, fats and cooking oil and hot tap water.
Not surprisingly the best strategy is to keep children away from hot food and drinks, electrical appliances and barbecues. Install stove and heater barriers, hot plate guards and hot tap safety covers; use cordless kettles and appliances; and keep matches and lighters out of reach of small hands.
"If you are going to drink a hot drink during the day when your children are around, put it in a travel mug where it can't spill easily," Phillips says.
Also check your home has a hot water tempering control valve to keep water temperature below 50 degrees Celsius.
"A lot of old houses don't have this," Phillips says. "Water at 60 degrees can burn a child's skin in five seconds."
Use power point covers on unused outlets.
RELATED: How to reduce fire risk from your devices »

Driveway dangers
A child is run over in the driveway of their home every week in Australia, according to the Road Safety Commission of WA.
Cameras and sensors on vehicles are good tools, but Kidsafe's Scott Phillips says don't rely on them. Supervision is the key.
"We hear it all the time, one parent thought the other parent was looking after the child," he says.
Always watch children near driveways, childproof any access from the house to the driveway and walk around your vehicle before moving it, even if it has reversing cameras or sensors.
Keep play areas fenced and away from the driveway and cars.
Higher door handles on exits from the house directly into garages may be a simple way to stop children running behind a vehicle.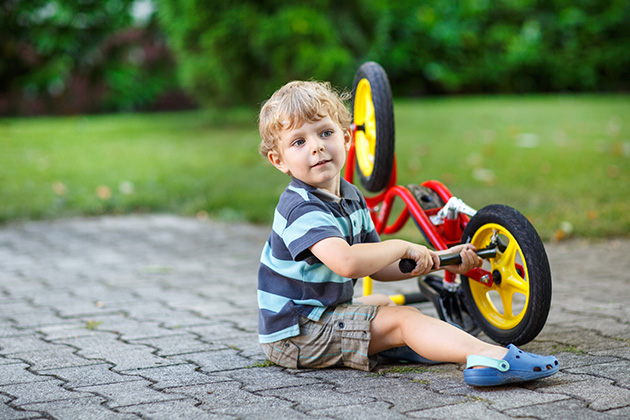 Falling furniture
Secure TVs and furniture with anchoring devices, buy low-set furniture or pieces with stable bases and install child-resistant drawer locks to stop them being opened and climbed on.
Toppling furniture can cause injuries such as broken bones, and death.
"Don't put attractive items on top of your bookcases," Phillips says. "Children will climb to get to these items and risk tipping the furniture.
"TVs need to be secured to the furniture and the wall. There are straps designed for that.
"Young children will try to get up to the TV or whatever is up there. They climb the drawers and they stand in the drawers and it tips the furniture. The TV rocks and it comes off and falls on them."
Changes to the Commercial Tenancy laws in 2019 mean tenants are now allowed to fix furniture to the walls of rental homes, the DMIRS says. The laws were introduced after a toddler was killed in 2015 by a falling unsecured chest of drawers.
Pools and water
The backyard pool presents the biggest drowning risk to young children, but babies and toddlers can die in even small amounts of water.
"Drowning can happen in as little as three centimetres of water and it is usually silent," Phillips says.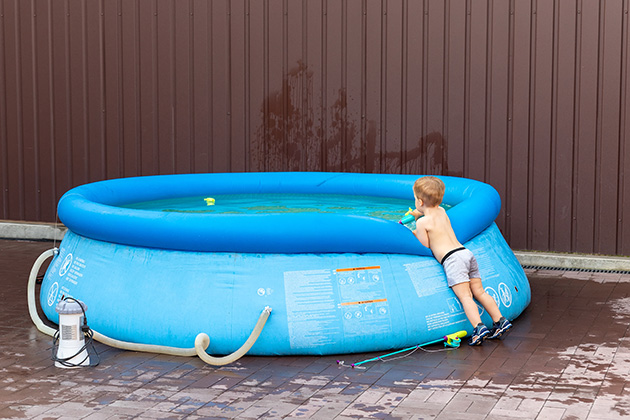 "A new risk is the portable pool. There are regulations stating that if these pools are deeper than 30cm then they must be fenced or emptied after use.
"We have the strictest pool fence regulations in the country here. The pool fence is really important." DMIRS publishes a Rules for Pools and Spa guide on its website.
Children under one are most likely to drown in the bath so never leave a baby or child alone at bath time. Cover fishponds with a fixed grill.
Medicines and household hazards
Children are mostly poisoned by medicines, especially paracetamol, according to Kidsafe WA. And it can happen in unexpected circumstances.
Keep medication out of reach of children, including any in handbags that they may be able to access, and carefully dispose of unwanted or old products.
Everyday cleaners such as bleaches, detergents and other products should also be kept in a child-proof cupboard. Never store chemicals or cleaning products in old drinking containers. This confuses children.
Winter warning
Although carbon monoxide poisoning can be fatal to anyone, children are particularly vulnerable to carbon monoxide poisoning.
Carbon monoxide can build up quickly in poorly ventilated rooms and is seen as an emerging danger. "A lot of the houses have little vents built in to them but we block them up with furniture," Phillips says.
"So we get into the colder nights and people may start up a heater that hasn't been serviced or light a fire with little ventilation. This can lead to a build up of carbon monoxide which is odourless and deadly."
Make sure rooms are properly ventilated and heaters have been serviced.
RELATED: Housefire risks you may not have considered »

Need more information?
Kidsafe WA has a comprehensive home checklist you can work through and is available for advice. It also runs courses and workshops. Home safety items are available for purchase from its West Leederville headquarters.
Are your kids members of the RAC Little Legends Club®?
Open to primary school-age kids, the RAC Little Legends Club® provides free access to online road safety games and a range of awesome benefits and discounts.
Last updated: April 2021