Trial start date: 20 December 2022 Member: Sarah
Sarah, a teacher from Baldivis, had never driven an electric car before the EV for a Week trial.
She'd recently bought a hybrid car (over an electric car) because she was worried about the range of electric cars and a lack of charging infrastructure.
Through the trial, Sarah hoped to get a feel for what it was like to drive and own an electric car, and charge it at home and on the road. With solar panels on her home, she also wanted to find out whether it was practical to charge an EV using solar power.
| | |
| --- | --- |
| Age group | 30-44 |
| Location | Baldivis |
| Occupation | Teacher |
| Current car | Toyota RAV4 Hybrid 2022 |
| Trial car | Polestar 2 |
| Total kilometres travelled | 1,091km |
Before the trial: EV believer After the trial: EV believer
Day 3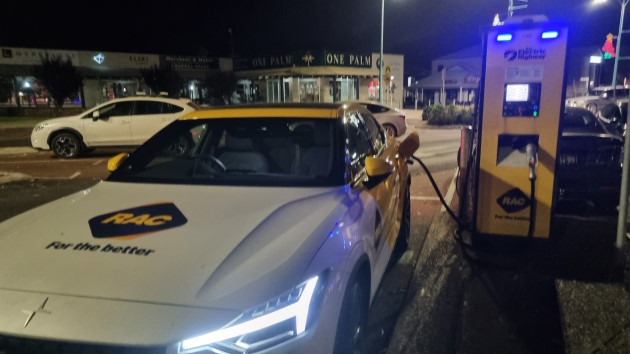 Today is day 3 of having the EV.
Yesterday I drove my parents down to Dunsborough for an overnight stay at my brother's house to celebrate my niece's birthday. We just got home. The EV handled the trip very nicely, with a charge up at the RAC Rapid charge station in Dunsborough last night before heading home today.
The car is really comfortable to drive and handles great. It's so nice not to hear the sound of an engine all the time. The one-pedal driving in the Polestar took some getting used to but I've got my head around it now.
So far I've covered 506km in the EV, and I've done one little charge up with the wall plug at home and a big charge at the charging station in Dunsborough. I've now got in plugged in to the wall socket in the garage to charge it overnight.
Benefits or surprises
The car is really nice to drive. It handles great and has plenty of power to take off when you need it. When you need to accelerate it responds fast and quietly. It's strange at first because you expect to hear a roaring engine, but the Polestar doesn't make any more noise when it's accelerating than it does when it's at cruising speed.
Challenges or frustrations
We had some minor issues with charging the car last night. My plan was to park it at the rapid charger in Dunsborough and charge it while we went out to dinner for my niece's birthday in town. When we got into town both charging spots were occupied, so I parked nearby and came out and checked a few times during dinner to see if the charging spots were free. They weren't.
After dinner we wandered over to the charging station to see how long the cars might be there for. We got chatting to the Tesla owners that were charging their cars. They were lovely and actually moved one of their cars off the charging station to let us jump in. They said they felt bad for hogging the spots. We got talking to them for a while and they asked us all about the EV trial and were interested in how I was finding the car.
They were also very helpful and showed me how to plug the car in and get it charging. I'm glad they were there because I probably could have muddled my way through it but it was great to be shown what to do.
Our discussion with the Telsa owners and the hour wait after dinner to get some charge back into the car made us realise that there needs to be way more charging infrastructure to cater for EV drivers, especially if we want to get more people driving them. It's all well and good to look at the apps that show you where to find charging stations, but if you get there and there are 3 people waiting to use them, you might be in for a big wait!
Kilometres travelled: 506km (over three days)
Charged: Yes. When I got the car home from the RAC building in Perth on Tuesday I'd gotten down to around 86% so plugged it into the wall socket in the garage overnight and it was back to 100% by the following morning.
Charged from 47% to 97% at the rapid charge station in Dunsborough last night. It took a bit over an hour.
Put it on charge when I got home today using the wall plug charger. It had gotten down to 38% by the time we got home.
Day 4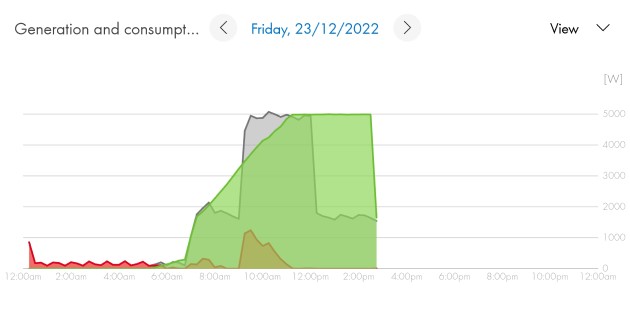 I didn't get the EV out much today. I drove it to the gym this morning but then couldn't use it later to take the dog to the beach, so I thought I'd plug it in and charge it in the garage and see how much power it uses while charging.
I have rooftop solar and was interested to see if I was generating enough power to charge the car with energy purely from the solar panels during the day. It's been on charge all day and the solar panels are supplying more than enough power. It's a very slow charge though. When I plugged it in this morning it was at 33%, and now it's 3pm and it's up to 49%.
Benefits or surprises
It was pleasing to see that I could charge the car during the day using the energy from my rooftop solar panels. The car seems to draw around 1500-1600 watts while charging.
I took a couple of screenshots of my solar panel inverter app, that shows how much energy my panels were generating today and how much my house was consuming. You can clearly see the jump in energy consumption when the car was plugged in at around 6:50am.
Challenges or frustrations
Charging the car at home uses a fair bit of electricity. Charging it during the day is great if you have solar panels, particularly during summer when they're generating heaps of power.
Charging the car overnight would use a good chunk of electricity. I wonder how much it would affect your electricity bills. I reckon if you were going to get serious about buying an EV it might be worth investing in batteries for your rooftop solar so that you can charge the car overnight using the energy in the storage batteries. Only charging the car during the day isn't always going to be a practical option.
At the moment, home charging is my easiest option unless I decide to take the car for a bit of a longer trip. I've discovered that there are no charging stations in my suburb (Baldivis) that I can use, or anywhere in the entire Rockingham council area.
There are only a few Tesla charging stations, and at the moment you can only use those if you own a Tesla. The Tesla owners I spoke with the other night said that in the USA Tesla has just started to release their charging infrastructure to allow any EV cars to charge at the Tesla charging stations, but that hasn't happened here in Australia yet.
Maybe one day, hopefully.
Kilometres travelled: 5km
Charged: Yes. Charged at home using wall socket. Fine, but very slow.
Day 8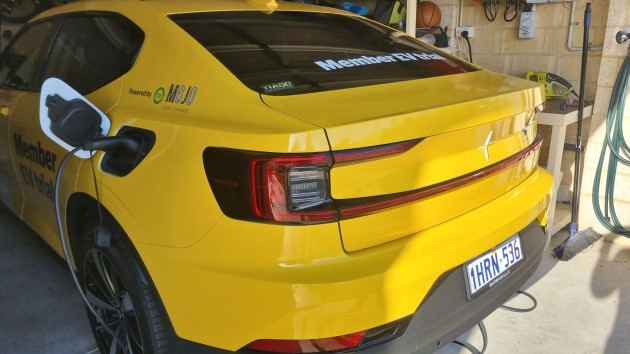 Haven't checked in for a few days, so thought I'd better provide an update.
I didn't drive the EV much for the few days leading up to and including Christmas. Just little trips to the shops and the gym.
All the longer trips I did to the beach and to mum and dad's house for Christmas Day I had my dog with me so couldn't use the EV. I left the EV at home on charge during these days, charging it all day using the energy from my solar panels and then unplugging it at night.
It took a few days to get it back to fully charged from its trip down to Dunsborough. Charging from a wall socket is a slow old process.
Yesterday I drove the EV around a little bit. Drove around to mum and dad's house for breakfast. Took my brother for a spin around the block in the car. He was very impressed.
In the afternoon, I drove my mum, dad, niece and nephew up to Crawley for a family picnic. The EV is comfortable to drive on the freeway on longer trips.
I noticed that there was a charging station at one of the UWA carparks, but it was owned by Synergy and I think it requires an app to use it, so I didn't worry about charging while I was there.
I drove it to the gym this morning and have now plugged it in at home again to give it a bit more of a charge up.
Benefits or surprises
I'm noticing that pretty much every Tesla driver I go past has a good long look at the Polestar 2. They're definitely checking it out.
The Tesla drivers I got talking to in Dunsborough were very interested to know how I was finding the Polestar. One of them said they had been weighing up between a Tesla or a Polestar but ended up going with the Tesla.
The Polestar is definitely a good looking car, very stylish inside and out.
Challenges or frustrations
Not really any challenges in the last few days, apart from the slowwww home charging.
Kilometres travelled:150km
Charged: Yes. All home charging in the last few days.
Day 9
Today I drove the EV to the gym in the morning. Later in the morning I drove around to a friend's house. She was quite curious about the car, so I took her for a spin around the block.
She was impressed with how speedy and quiet it was. She called her husband while we were driving so that she could show off what she was doing.
Benefits or surprises
I'm finding myself happy to jump in the car and just take it for a drive, knowing that the trip isn't going to cost anything in fuel.
Yesterday afternoon I offered to drive a friend around town to different shops to buy a new fridge in the Boxing Day sales. Why not? I don't have to worry about the rising petrol prices right now! Take advantage while you can, hey! :)
Tomorrow I'm planning to take a drive down to Mandurah and try out the charging station down there. I'll hopefully plug in and go for lunch somewhere while the EV charges.
Challenges or frustrations
I spent a bit of time looking at the Plugshare and Chargefox apps, trying to plan out a little day trip that can include a charge-up somewhere to test out the charging network.
I thought it might be good to go into Freo for the day. Unfortunately, I discovered that there are very limited charging options in Fremantle. There's only one charging location close to the restaurant strip, and according to the Plugshare app, users have reported that ALL the chargers there are broken or removed! There goes that idea...
Plan B, day trip to Mandurah instead. RAC charging station down there. Hopefully that will be functioning normally and there will be a space available.
Kilometres travelled: 50km
Charged: No. I didn't charge the EV at all today or yesterday. I plan to give it a big charge tomorrow at the charging station in Mandurah.
Day 10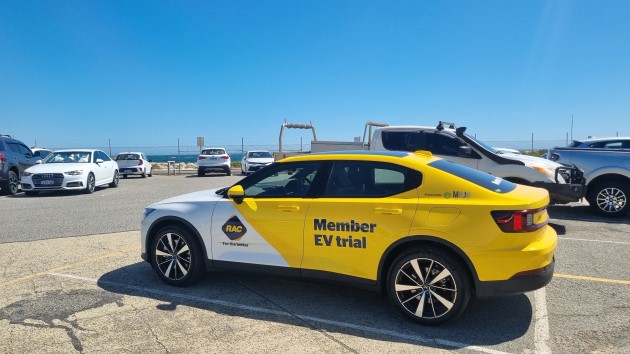 Today I drove the EV to the gym, then charged it for a bit in the morning.
Mid-morning I headed around to pick up my mum and dad and take them to lunch at Gage Road in Fremantle.
I didn't bother to try out the charging station near the Esplanade in Fremantle because people on the Plugshare app have said they're not working, so I plugged it in for a charge when I got home instead.
Benefits or surprises
At one point a family in a Holden pulled up alongside us at a set of lights, they asked me to wind my window down and wanted to know all about the car.
They asked what type of car it was and whether it was fully electric. The driver of the Holden was rather impressed.
Challenges or frustrations
No real challenges or frustrations today, apart from the lack of charging infrastructure in Fremantle. I have to say that this really surprises me.
Fremantle, of all places, I thought would be a big advocate for electric vehicles. I figured they'd have heaps of charging options in place.
Kilometres travelled: 80km
Charged: Yes. I charged for a few hours this morning before going out for lunch, and I put it back on charge when I got home. It's currently at 43%.
Day 11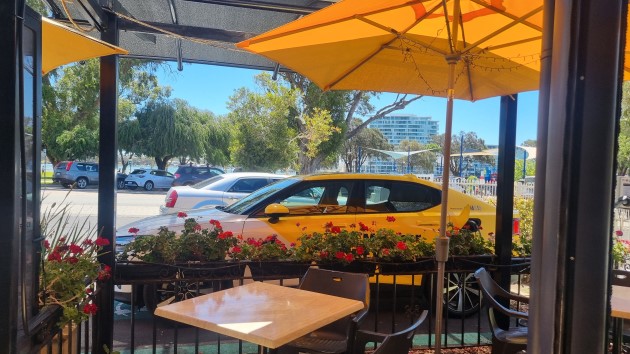 This afternoon I drove a friend down to Mandurah to suss out the charging infrastructure down there. The plan was to find somewhere to charge the car while we went and had lunch.
Before we left I checked the Chargefox app to see if the charging bays were available, and the app was saying that all of them were being used, but I decided to take a punt and head down there anyway.
When we got there, the two RAC Electric Highway charging bays were occupied (they stayed that way for most of the time we were down there), but the charging station at Silk Thai had been vacated, so we slotted in there.
Silk Thai has a single charging bay with a Chargefox charger that runs on Three-Phase power.
We had a chat to the restaurant owner and he asked us a bit about the car. He had a Polestar before but had never had one charge at his station. He swiped his own Chargefox card to give us free charging while we ate a yummy Thai lunch (customers get free charging).
While we sat there it got from 43% to around 51%, not the fastest charger but faster than charging at home.
By the time we finished our meal the restaurant was closing, so we asked the owner if we could stay plugged in while we went for a walk. He said that was fine but we'd have to pay, which was fine.
We used the Chargefox card I was given with the trial to restart the charging and we had a wander around the Mandurah foreshore for a while. We managed to get the charge up to 58% before heading home.
The RAC charger would have been a better option if it had been available.
Benefits or surprises
We got a lovely warm welcome at Silk Thai and the owner was happy to show us how to get the car charging and was happy to let us continue using it after we had finished dining, which was great.
Challenges or frustrations
Yet again, there were some issues accessing public charging stations. We were lucky to get in at Silk Thai. It was in use when we left Rockingham but had become available just before we arrived.
The RAC chargers just down the road would have provided a much faster charge but weren't available when we drove past them. One of them was free as we were leaving Mandurah, but it was the slower charger. The rapid charger was still being used.
Kilometres travelled: 50km
Charged: Yes. I charged at home for a few hours in the morning, then charged at the public charging station outside Silk Thai in Mandurah for a couple of hours in the afternoon (from 43% to 58% charge). I've now got it plugged in at home again.
Day 12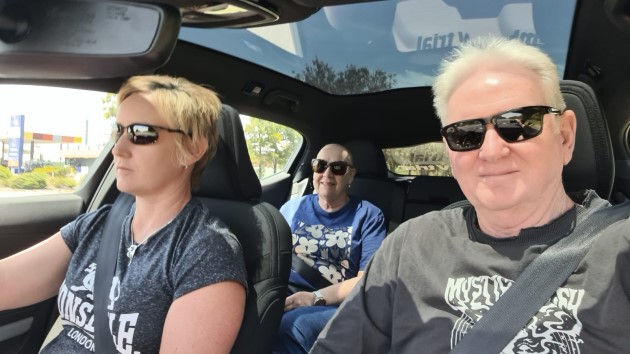 Today I went and picked up my mum and dad in the EV and we headed over to my brother's place for a BBQ lunch. I also did a bit of running around to the shops in the car.
Benefits or surprises
Getting pretty used to driving the EV now. I'm going to miss it when I have to give it back.
My dad told me today that he filled out the expression of interest to trial an EV with RAC yesterday. I think he's been quite jealous of me getting to drive it around and he didn't get to have a turn! :)
Challenges or frustrations
I had some issues with the Bluetooth connection in the car again today. This is the second time this has happened (first time was the very first trip in the car when I drove it home from RAC headquarters).
The Bluetooth refuses to turn on, so you can't connect your phone. Not a huge deal, but it means I can't take calls or play music.
I managed to get it working again eventually after locking and unlocking the car a bunch of times once I'd stopped. Somehow it resets it.
Kilometres travelled:100km
Charged: Yes. I put the car on charge once I got home from the BBQ using the wall socket at home. It had gotten down to around 32% charge.
Day 15
Today is my last day with the EV. I've got to take it back to RAC Headquarters this afternoon.
I drove it to the gym this morning and then put it on charge in the garage to give it a bit of a boost.
I've got an appointment in Rockingham at lunch time so I'll use the EV to get to my appointment, and then it'll be a trip up the freeway to Perth to return it. I'll be sad to see it go. It's been really fun to drive.
Yesterday the EV had a pretty big day.
I took it to the gym in the morning, and then headed down to Mandurah to go hunting for the Giants of Mandurah sculptures. We found 3 of the sculptures: At Lakelands, Halls Head and the Dawesville Cut.
Then went to a friend's house for lunch further south in Dawesville before heading home. I took my friends for a quick drive in the EV after lunch and they were very impressed with the car and how it drove, which is high praise from my friend who loves his cars.
Last night I also drove to my volleyball game in the EV and took some of my volleyball team for a spin around the block after the game. They were also very impressed with the car and had lots of questions about it.
Benefits or surprises
Pretty much everyone I talk with about the EV is interested in what they're like and how I've found it to drive around and charge.
There is definitely a lot of interest in the community. But there clearly still aren't many EVs around because for most people I took for drives it was their first time in an EV.
Challenges or frustrations
No challenges or frustrations in the last couple of days.
Kilometres travelled:150km
Charged: Yes. I've just been charging at home the last few days.
EV experience in a nutshell
I had never driven an EV before or experienced what it is like to have one, so I found this to be a really valuable experience. I recently bought a new car and went with a hybrid rather than an EV because I was concerned about charging infrastructure.
This trial showed me that the charging infrastructure is still in need of some work.
Hopefully by the time I'm ready to buy my next car I won't hesitate to buy an EV because range anxiety won't be an issue anymore.
The Polestar 2 was really nice to drive. It felt roomy and safe, had heaps of power and was smooth on the road. It impressed everyone I took for a drive in it.
It was also nice to think that it was costing me practically nothing to drive around during the trial. It made me more inclined to go out and do stuff in the car, because I knew it wasn't going to cost me anything in petrol.
Want to trial an EV?
If you would like to be involved, please register your interest and we'll keep you up to date on possible future trials.