Trial start date: 12 December 2022
Lizzie is a retired teacher from the seaside suburb of Cottesloe. Before the EV for a Week Trial, she'd never driven an electric car and hadn't previously considered buying one because they're pricey.
Lizzie signed up for the trial because she's keen to do her bit for the environment and go electric for her next car. Going into the trial, her main concern was around using public charging stations.
As someone who drives more than 5 days a week (including a regular Meals on Wheels run through the suburbs), Lizzie wanted to gain some confidence behind the wheel of an electric car and find out whether it suited her lifestyle.
| | |
| --- | --- |
| Age group | 65+ |
| Location | Cottesloe |
| Occupation | Retired teacher |
| Current car | Nissan Dualis 2011 |
| Trial car | Polestar 2 |
| Total kilometres travelled | 548km |
Before the trial: EV believer After the trial: EV believer
Day 1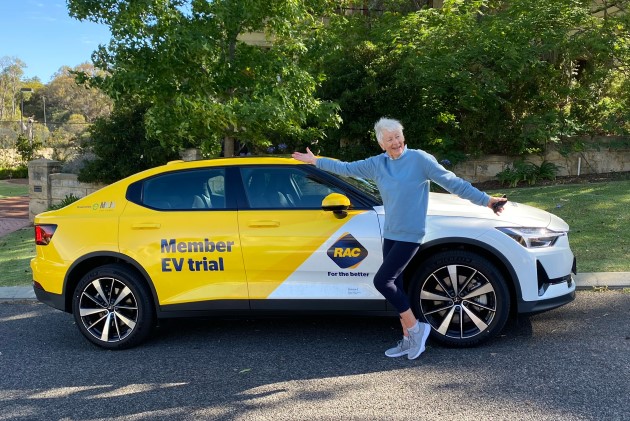 Visited RAC headquarters today to pick up Polestar 2.
Felt excited and apprehensive. Quick intro and off around the block. Was shown how to connect to power station and how to set up for comfortable, safe driving.
Attended evening launch with other participants and then home safely in the dark. Surprisingly easy to drive. On for the week ahead.
Benefits or surprises
The car is so responsive. Near instant stopping when you lift your foot from accelerator. Fast power take up and so easy to get up to the speed limit! Lovely quiet ride.
Challenges or frustrations
No major challenges, just things you have to learn in any car driven. There are European controls on steering wheel, mirrors, narrow rear window. And there are very few controls for operation.
The screen and content just need practice.
Kilometres travelled: 12km
Charged: No.
Day 2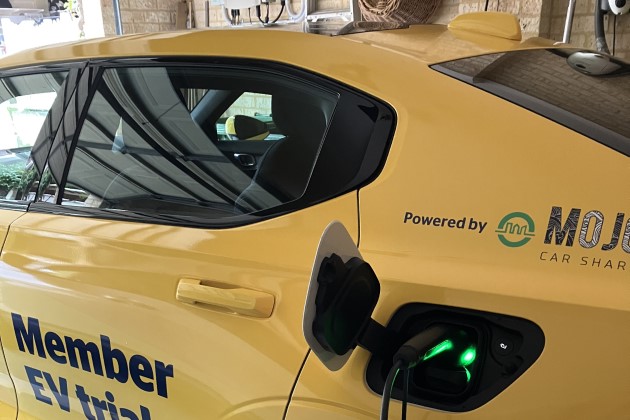 Everywhere I went, heads turned and questions were asked.
What's it like to drive? How much does it cost? Is it a realistic goal when electricity grid is already under pressure? How will you change habits and work opportunities if/when electric becomes more mainstream? How do we get more local industry supported? More R&D for battery technology and renewables?
Benefits or surprises
Practice and familiarity make for more confidence and comfort in driving. Surprised about my curiosity in what/how things work. Lots of YouTube and Google investigations.
Challenges or frustrations
Wet weather today and NO rear windscreen wipers in the Polestar 2. A long view side mirror helps but an already narrow rear window and rain spots make for unnecessary distraction. Disappointing!
Kilometres travelled: 50km
Charged: Yes. Home charged twice—first time 82 to 86%, then later 84 to 90%.
Day 3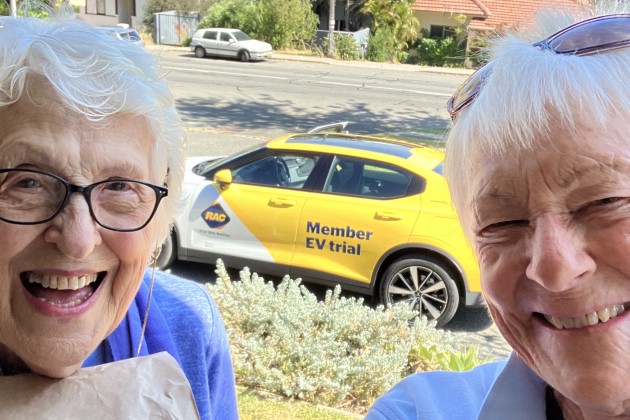 A busy morning with my Meals on Wheels run. Travelled over 50kms around western suburbs. Went from 90 to 80% charge with lots of stop start driving. Took twice as long to do my usual run as everyone wanted to ask questions and chat about the technology and guiding principles.
Probably found locking and unlocking took more time than normal car and car locks even with windows down!!!
Benefits or surprises
Nothing today.
Challenges or frustrations
In some locations the signal takes a little longer to respond on mostly unlocking the vehicle.
Kilometres travelled: 56km
Charged: Yes. Home charged.
Day 4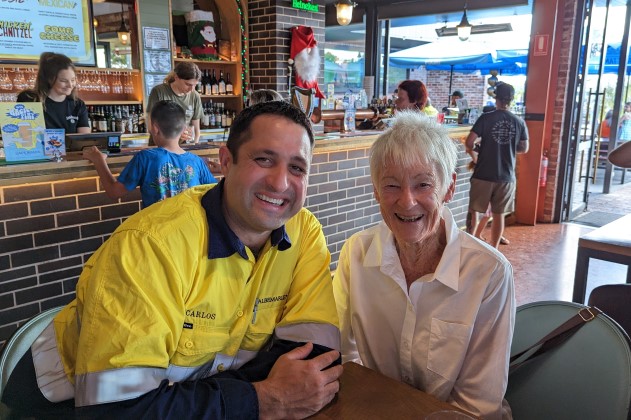 Another beautiful Perth early summer day. A morning jog and swim parking in full view of a busy Cottesloe beach scene.
Then my first long drive down Forest Highway to Bunbury. Gosh this car can deliver power so instantly.
Cruise control a boon when you've cleared heavy traffic. Map reading so clear on screen and console.
Met up with this week's other EV for a Week Trial member, Carlos and his family, at Treendale Farm Hotel (no alcohol of course!), whilst I fast charged at the Chargefox station very nearby. Soooo fast and easy.
My brother joined me on the journey and is a long time RAC member and frequent user of RAC holiday parks. He was most impressed with all the technology and comfort and performance.
Benefits or surprises
The tinted racy roof of the Polestar 2 is an obvious advantage in European climates, however driving between 11am and 1pm on typical Australian bright summer day has some disadvantages. I could feel slight heat even with aircon on. And the brightness and angle of the sun beaming in had me happy to grab my hat and wear it while driving!!
A few looks but hey, it worked.
Challenges or frustrations
I guess it's accepting that all parts of the Polestar 2 are computer programmed, including just pinging the boot. After interrupting the boot's full extension, I could not unlock the car!!! Had to reset after lifting the boot, let it down with button press, lock, THEN the car unlocked. Learnt that lesson!
Kilometres travelled: 160km
Charged: Yes. Used RAC Electric Highway Chargefox at Treendale near Bunbury for half then at my brother's home at the wall socket for the other half.
Day 5 and 6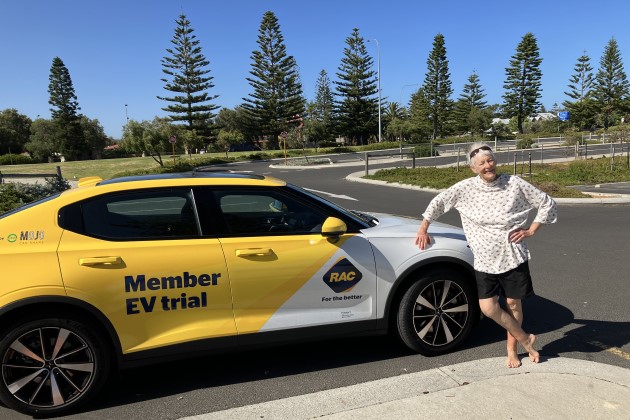 Oops. Late report for day five… Overnight in Bunbury with family and up early to jog and swim at Koombana Bay. Locals stopping to ask questions and take photos.
An easy run up the Forrest Highway until just after Mandurah and traffic slowed to a crawl around 12—school hols starting! Tried three charge stations, Cockburn and Murdoch and a line up!
Eventually got to RAC headquarters to fast charge 32 to 90%, took near 40 minutes.
Day 6, drove over to Murdoch and collected my sister from nursing home, back home via a scenic drive around the river with her, then returned her to Murdoch before returning home and recharging at home from 70%. Slow charge; took from 5-10pm.
A hot day so aircon welcomed especially with sunroof heat and glare!
Benefits or surprises
Traffic very heavy on Saturday morning and it was more pleasant to ride smoothly in the stop/start traffic in the EV, without engine noise.
Challenges or frustrations
Frustrations in trying to locate freed up charge stations at beginning of holiday period. Limited fast stations available. Hanging about is something you have to build into your journey plan.
Kilometres travelled: 250km
Charged: Yes. Fast charge day 5 at RAC Electric Highway West Perth and day 6 at home.
Day 7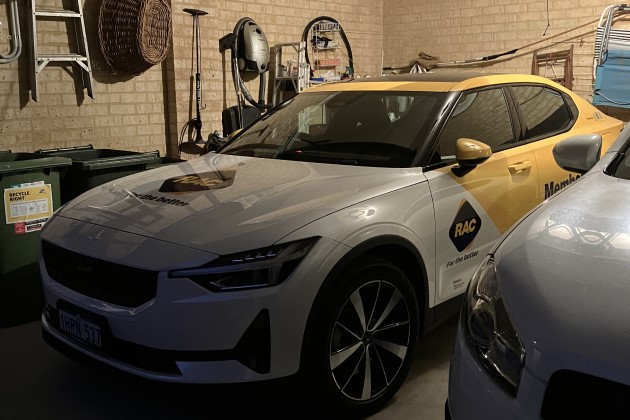 I worked at home and the car didn't get out of the garage. I biked to the beach.
Sometimes it's nice to create, or have change in the usual routine and as someone who has in their lifetime experienced 'wooh Dobbin' to 'hello Siri', I'm happy to use 'Shanks Pony' occasionally!
Benefits or surprises
No surprises as had the day without the car.
Challenges or frustrations
Yes. Trying to release the plug on 90% input. You have to wait about 5 mins, then unlock the Polestar 2 before it will let you release the plug.
Kilometres travelled: 0km
Charged: Yes. Finished charging at home from 83 to 90%.
Day 8
Today is my final day of this very interesting project. What a privilege.
A 35-degree day so it was an early morning jog and swim at South Cottesloe. How good is Perth in the summer? And I parked so early walkers had good visuals of the car.
I'm still busy working from home, so I'll not be buzzing about until I return to RAC headquarters this afternoon.
Home and a quick clean of the car. I'll be sad not to have it in my garage.
I'm interested in investigating options for purchase of good second hand vehicles. Still reticent about battery technology, and more information on maintenance costs. I hope RAC continues to keep us up to date with the unfolding story on EVs.
Benefits or surprises
Surprised to see that there isn't a facility (or I haven't found it!) that has the car self-locking after a timed interval after you walk away......hmmmm remember to take your phone with you!!
Fan is noisy at near max setting...better once vehicle cools down......and takes much longer with the sun glass top!
Challenges or frustrations
The principles about how the power is delivered to the vehicle and how it's important to be patient for a few minutes before any charger will let you release it.
Would like to be able to remove the back headrests in the Polestar 2 for better visuals.....but the long view side mirrors are good, and great when they fold down when reversing.
Kilometres travelled: 20km
Charged: No. Charge was at 90% from night before.
EV experience in a nutshell
Overall, I certainly enjoyed the experience and it was a privilege to be chosen for the trial.
It was an exciting and educational experience and certainly proved a significant confirmation of the technology and comfort, economy, and ease of operation.
The Polestar was a quiet, very responsive vehicle with a 'European sporty feel', swapping keys for a phone (which everyone has with them nowadays) and you're away...so long as you're charged!
Ethically and morally you get the 'eco/climate friendly' buzz, perhaps knowing it's the way of the future. But there are plenty of questions to ask!
Dependent on your digitally engaged competency, you might need a little more time than the standard 20-minute introduction.
A few tips: Be aware that there tends to be increased patronage and line ups and wait times for 'Fast Chargers' in holiday times. It's worth getting to know the wait and unlock signals for disconnect on chargers.
I'd also say to practice in comfortable and known areas before you head for speed on freeways and highways to the country.
At the introductory session, it was great to learn more from Mojo (the car share company who partnered with RAC to deliver the trial) about the very relevant eco-positive opportunities that would be part of our choices for now and vehicle movements into the future.
I liked questions raised in areas like lack of power grid infrastructures, political drag on uptake of fleet vehicles, the use of our phones and its inevitable distractions, and a need to think about how we engage/disengage with digital technology.
And the bigger picture: A need to develop secondary industries, training, and maintenance for this technology, as well as the use of power to make power to fuel EVs…
And finally, there's the cost and benefit for individuals and how we might think differently about vehicle ownership in relation to car share use and uptake.
Lots to think about…
Want to trial an EV?
If you would like to be involved, please register your interest and we'll keep you up to date on possible future trials.