The mid-west of WA is famous for its wildflowers, with the centres of Geraldton and Kalbarri considered the go-to places for wildflower enthusiasts.
The region bursts with colour and variety every year.
It's predicted that this year's season will be the biggest that the region's seen in more than a decade. The Geraldton Visitor Centre and Australia's Coral Coast have spotted the following blooms so far this year.
Green Head and Leeman:
Templetonia Rretusa (Cockies Tongue)
Scarlet feather flowers
Visit Stockyard Gully Reserve, Beekeepers Nature Reserve and Lake Logue Nature Reserve for blooming wildflowers between July and October.
Canna
Spider orchid
Donkey orchid
Ant orchid
Pink Candy orchid
Snail orchid
Vanilla Sun orchid
Cue
Eremophilas
Bush tomato
Eremophila rostrata Chinnock subs rostrata
Wildflowers are appearing along roadside verges between Paynes Find and Cue.
Geraldton
Walk along Chapman River to view flowers and wildlife, or join a volunteer on the weekend for a guided walking tour.
Kalbarri
Kalbarri town
Flannel Bush
Wattle
Round Leaf Grevillea
Kalbarri Coastal Cliffs
Flowers blooming on Mushroom Valley walk trail between Rainbow Valley and Mushroom Rock
Spider Orchids (Caladenia)
Eight Nancy (Wurmbea tenella)
Murchison Rose (Diplolaena grandiflora)
Grevillea (Grevillea commuata)
Coastal Ray flower
Guinea flower (hibbertia scandens)
Claw Flower
Kalbarri National Park Inland Gorges
Flowers are blooming at Ross Graham and Hawks Head along the road and carpark.
Keep an eye out for these flowers at Nature's Window, Z-Bend, and the Loop walking trail:
Golden Wattle
Native Yam
Purple Starflower (Patersonia accidentalis)
Leschenaultia Grevillea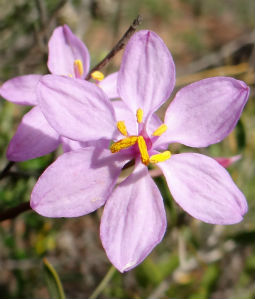 Lesueur National Park
Banksia prionotes
Hibbertia hypericoides
Drosera micrantha
Astroloma macrocalyx (Native Cranberry)
Leucopogon parviflorus (Coast Beard-Heath)
Acacia lasiocarpa
Acacia rostellifera
Bossiaea eriocarpa
Anigozanthos humilis (Catspaw)
Conostylis candicans (Grey Cottonheads)
Melaleuca radula (Graceful Honey Myrtle)
Yellow Hakea Eneabba
Thryptomene
Fan Flowers
Winter Bells
Orchids now blooming:
Pterostylis sanguinea
Caladenia flava subsp. flava Cowslip
Diuris recurva
Caladenia longicauda subsp. borealis
Pheladenia deformis
Prasophyllum gracile
Thelymitra antennifera (Vanilla Orchid)
Thelymitra apiculata
Thelymitra variegata (Queen of Sheba)
Mingenew
Coalseam Conservation Park
Depot Hill
Pink everlastings
Orchids (Snail, Donkey, Spider, Cowslips, Purple Tassels)
Mullewa
Purple Fairy orchid
Snail orchids
Sundew
Acacia
Eremophilas
Everlastings
Wreath flowers 30km east of Mullewa
Take Old Mingenew Road for Wilson's Grevillea, Pom Poms and Acacias.
Pindar
Turn left on the Pindar-Berringarra road and drive for 10km to see Wreath Flowers.
Tenendiwa
Three Springs
Visit Wilson Nature Reserve and the Arrowsmith area for orchids
Last updated September 2018