15 June, 2017 By:Courtney Pearson
Want to feel safer cycling on the roads? There is a bunch of new gadgets to protect you.
W
ith an ever-expanding network of shared paths and cycle lanes in WA over the past few years, the State's cycling numbers have steadily increased.
More than 18 per cent of WA locals cycle every week, for fun, exercise or commute – the highest cycling participation rate in the country, according to the Australian Bicycle Council. But many do so with trepidation.
In 2015, nearly half of Perth cyclists were dissatisfied with the on-road cycling infrastructure and 43 per cent said fear of sharing the road with motorists meant they didn't cycle as often as they'd like, according to
RAC's 2015 Cycling Survey
.
The depth of these safety concerns, along with the growing number of eager cyclists has given rise to a range of ingenuous and somewhat quirky cycling safety gadgets, designed to increase visibility and give cyclists extra protection.
These are some of the stand-out new cycling safety devices:
Unconventional head-wear
If safety concerns are a put off for some cyclists, so is wearing a helmet.
Last year an RAC poll found nearly half of those who never cycle said having to wear a helmet was the main deterrent.
Enter the Swedish-designed
Hovding inflatable bike helmet
. It's part airbag, part helmet, part scarf. And the good news for those who object to wearing a helmet is that it doesn't actually turn into one until there's an impact.
Fastened around the neck similar to a collar, the Hovding records the cyclist's movements 200 times per second to check for changes in behaviour and any irregular movements.
If there's a crash, the cyclist's abnormal activity triggers the inflation of the airbag-like helmet.
Made of ultra-strong nylon material that won't rip when it hits the ground, once inflated, the Hovding covers a larger area around your head than a traditional cycling helmet.
Given concussion is one of the main causes of brain injury, a helmet that protects your whole head is a priceless piece of equipment.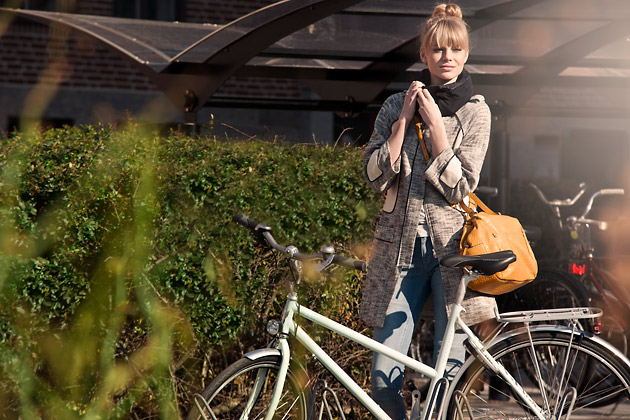 Light the way
There's no reason that cyclists can't embody the technology of the car.
The
Lumos helmet
is an ingenious, easy solution to let road users know where you're going, especially in the dark.
Like many helmets, Lumos has a super bright white LED at the front to provide illumination.
What is particularly clever is that it also has turning signals and brake lights in the back of the helmet.
To turn left you simply indicate, like a car would, by using the wireless remote on the handlebars – no more holding your arm out to signal a turn.
The red LEDs in the back can sense when you're slowing down and turn a bright solid red as a warning.
The Lumos is weatherproof and can be recharged by USB cable, with each charge lasting about a week if it's used every day.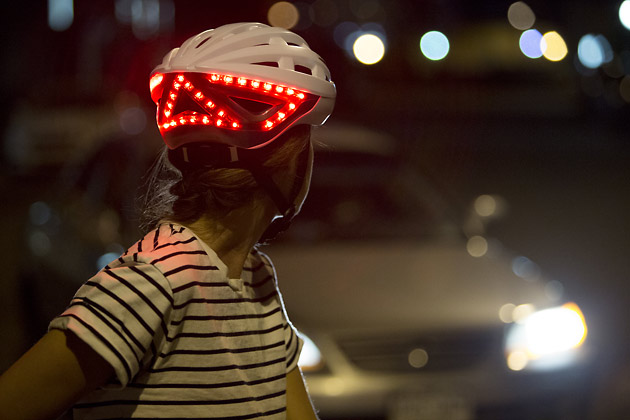 Can't miss it
The
Revolight bike lighting system
is a simple yet clever solution for night owls, early risers and commuters.
Four LED lights are easily attached to each bicycle wheel, making the wheels highly visible and mimicking a car's front white headlights and red brake lights.
The front lights help illuminate the road ahead, while the brake lights, in particular, flash to show when you are slowing down.
Revolights have 360 degree visibility, making you virtually impossible to miss, and automatically turn on when you need them so there's no excuse to forget. The system also allows the rider to fully control the lights, get weather updates, track each ride and activate turning signals to alert drivers.
Reflective riding
By day, this bike frame is a metallic charcoal grey. By night, it takes on a life of its own.
Without batteries or switches, the
Lumen reflective bicycle frame
by Mission Bicycle Company uses the same technology as reflective street signs.
The bike frame itself looks perfectly normal until a light, particularly a headlight or city lights, hits the paint, turning it into a beacon that's incredibly clear to see in the early morning or dead of night.
In direct light, the frame appears lit from within, shining dramatically and impossible to ignore.
It's coated in retro-reflection paint that contains microscopic spheres, giving the Lumen frame more reflective surface area than any other bike, and it won't fade or need to be repainted.
The company is soon releasing its new Lyra bike, which has an inbuilt lighting system, protection against theft, and a removable battery that can be recharged by USB port.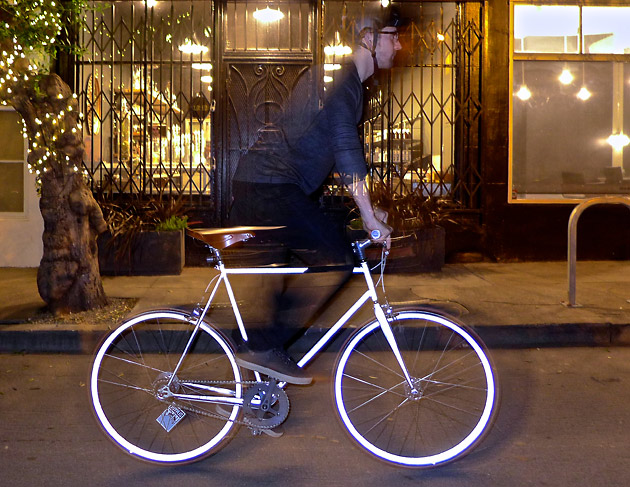 Enjoy this story? Get more of the same delivered to your inbox. Sign up to For the Better eNews.
Did you know...
In just three years leading up to 2016 there was a huge 70% increase in bike theft claims, according to RAC Insurance claims. If you've got a bike you want to protect RAC Bicycle Insurance can cover it from just $2 a week.