7 September, 2018 By: Cristy Burne
More and more of us are taking our bikes for a spin, but in busy built-up areas, how do you make space for dedicated cycling facilities?
Sarah Court's job is to get you on your bike. She's not a personal trainer. She's not a mental health advocate. Nor is she an environmental activist.
Instead, Court is a member of the WA Department of Transport's dedicated cycling team.
Her goal? To have more of us - not just the fearless - take to the paths and streets on two wheels by developing well-thought out cycling routes.
"We're trying to provide infrastructure that everyone would feel comfortable riding on," says Court.
"That could be a shared path, a protected bicycle lane, a safe active street, or a fully separated cycleway."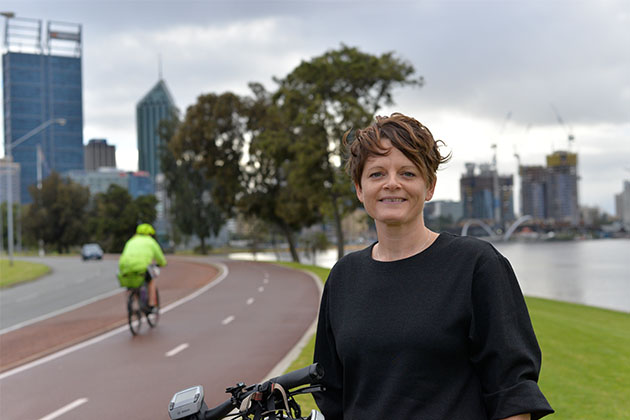 Court is herself part of the two-wheel brigade, describing herself as a "ride-to-work, ride-to-the-shops" sort of cyclist. However she understands that while many of us are interested in cycling, we don't always feel confident doing it.
And perhaps that's no surprise. For much of Perth's history, we've been focused on planning for cars.
So, it isn't always easy to squeeze in a safe space for cyclists and to do so, something has to be given up in return.
Court's view is that the road is a shared asset and we should treat it that way, balancing the needs of all road users.
"Everyone has a right to be there. Our job is to try and make it safer."
How to build a better bike path
Creating a network of bike paths for Perth isn't as simple as painting lines along roads. If we want more people to ride more often, we need to make them feel safe.
And paint just doesn't cut it.
Small details can make a huge difference when you're on your bike. Whether it's the incline or angle of a ramp, the width of a lane or path, or the type of riding surface, there's always consensus to be reached and decisions to be made.
But these nitty-gritty details are usually the easy bit.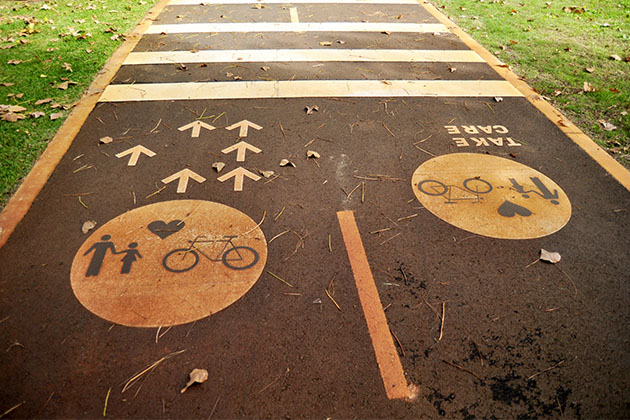 Often a proposed cycle route will pass through multiple local government areas, involve several land-owners and utilities, and have importance for local businesses, residents, cyclists, walkers, motorists, and others in between.
Court needs to engage with all these groups, get sign-off from the local government and other authorities such as Main Roads if a cycle path involves a state road and the Public Transport Authority if it runs in the proximity of a train line or bus route.
Plus, there's potential for overlap with other projects.
"You don't want to put something in, and then two months later have a utilities company rip it up for other works," she says.
Riding or walking a proposed route is a critical early step in the process, Court says.
"It's pretty difficult to get a proper understanding of a situation until you actually see the site."
Some of the issues that crop up are site-specific, like the legacy drainage system in Kalgoorlie. Other challenges, however, are more predictable.
"The biggest issues are always parking and trees," Court says.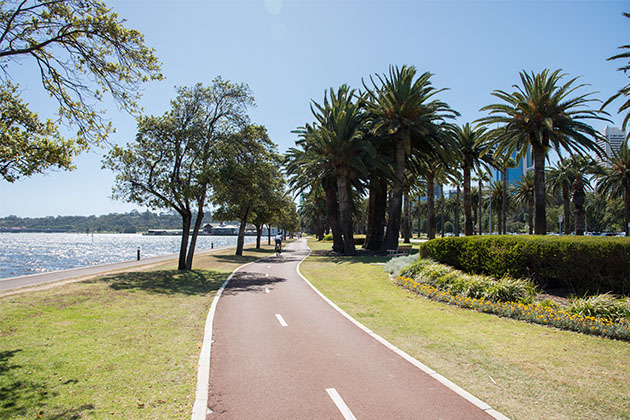 Even among cyclists, there can be conflicting views around trees.
"Some think tree roots will become a problem on a path, others like the shade."
All this means a typical project can take two years from consultation and design to delivery. With many factors at play, from local governments, to road works, to advocacy groups and residents, Court says designing cycling infrastructure can be tricky.
However it's a job she believes in and is happy to take on.
"Cycling can be a really strong activator for cities, to make them more personal and more intimate places to be," Court says.
"Many cities in Europe, and increasingly in the United States, are very cycle-friendly cities, and they have this buzz about them.
"There's a lot of research showing that a enhancing the cycling and walking environment is better for business than providing carparks out the front.
"Everyone in our team is passionate about making our city better through cycling.
"For me, I get to spend time outside, on a bike, and that's always a good thing. And I also do work in regional WA, so I get to travel, which I love."
And the highlight? Seeing people out and about riding on the bike paths she's helped to create.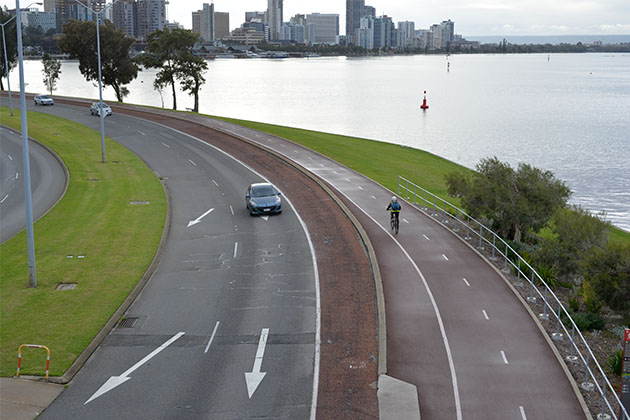 What is Perth's Principal Shared Path network?
The Principal Shared Path (PSP) network makes up the arteries of Perth's bike network, and is a key component of the Western Australian Bicycle Network Plan (2014–2031).
A series of high-quality shared paths – for bicycles and pedestrians and separated from traffic – the PSP's shadow many of Perth's major roads and rail lines.
Court says the PSP network is more than 65 per cent complete within a 15km radius of the CBD. It gets a lot of use - in 2017 an average of 7700 people used it to cycle into Perth's CBD every day.
"The two most sought after missing links on the network which we often receive queries about, Glendalough to Hutton Street, along the Mitchell Freeway, and Cottesloe to Fremantle, are in development, ready to begin construction this financial year," she says.
"The Glendalough to Hutton PSP will include a four metre dedicated cycleway and two metre-wide pedestrian path, which is a first for Perth."
RAC strongly supports improving WA's cycling infrastructure to make it safer and more convenient for West Australians to get around by bike.
We're calling on the Australian government to commit funding to completing Perth's PSP network and to building green bridges (which are just for cyclists, pedestrians and sometimes public transport) to reduce travel times to the Perth CBD and other key destinations.
Images by Clayton Jauncey and Shutterstock
Enjoy this story? Get more of the same delivered to your inbox. Sign up to For the Better eNews.
Love your bike? Then protect it with RAC's Bike Insurance. For just $2 a week* you're protected against accidental damage, theft, fire or vandalism.
*Check to see if the PDS is right for you.