6 July, 2018 By: Cristy Burne
Whether it's community-managed microgrids, standalone solar farms or renewable energy precincts, our regional towns are leading the way in enjoying reliable, zero-emission energy.
Power cuts aren't welcome anywhere, least of all in remote towns. Running fridges and aircon to pumping water and fuel all depend on electricity.
Yet many towns in regional WA receive their power via feeder lines over 100 kilometres long. Fire, flood or simple interference can cause outages that last for days.
So why not make your own electricity?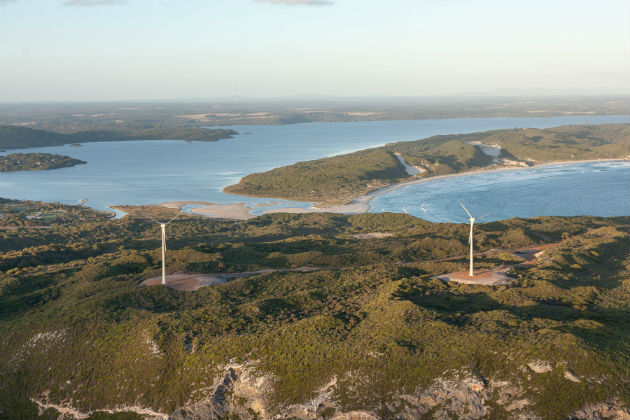 Regional, renewable, doable
The traditional state-wide power network requires the government to spring for huge capital outlays and ongoing costs to manage sprawling electricity networks that take time to reach – let alone repair.
It's why our sunshine-filled, windswept and spacious regional areas are so well primed for renewable energy alternatives that let them manage their own power for a much lower price.
Transmission losses are reduced, scaling isn't an issue, and power outages are slashed, which makes a whole lot of sense in remote areas.
"The price of energy is high for customers in remote and regional areas, and often it's a high-risk supply due to the potential for damage to overhead lines which leads to blackouts," says Clean Energy Council WA manager Dermot Costello.
"Both wind and solar energy generation are very welcome in regional areas. The myths around the potential side effects of wind are well and truly gone."
Already, two-thirds of Australia's 70 community energy projects are in regional centres and across regional WA, a mix of community projects, microgrids, and even renewable 'farms' are looking to service not just the small towns and communities in the immediate vicinity, but the city folk too.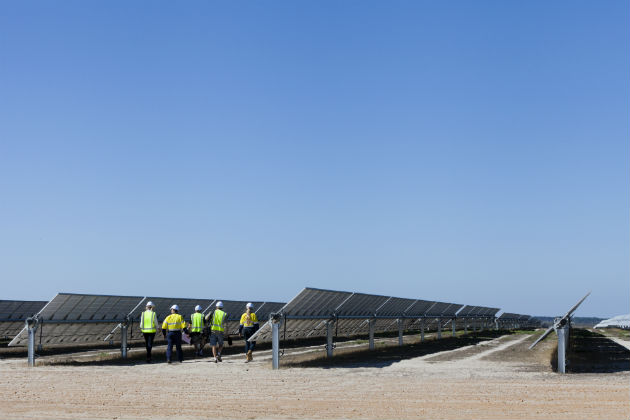 Community wind farms: Mount Barker and Denmark
WA is not short of wind, especially near the coast, and although there are not many completely community-led renewable projects, there's a few taking the power into their own hands.
The Mount Barker Community Wind Farm, launched in 2011, produces around 6 gigawatt hours (GWh) a year. Its turbines are situated on a hill on private land to better catch the wind as it blows, and the power generated now services the entire town.
Not far away, the town of Denmark opened its wind farm in 2013. Right from its first year, the massive turbines generated 5.4GWh of electricity — around 55 per cent of Denmark's average annual domestic consumption.
"Renewable energy is where the world is going and Denmark has always been a green and progressive community," says Denmark Community Windfarm director and co-founder Craig Chappelle.
"Solar isn't our strongest point, certainly not across the year, but wind is.
"Every house in Denmark is connected."
These two wind farms have consistently achieved more than 99 per cent availability. Between them, they've already contributed 67GWh of power.
"Every time I look at them I'm reminded that I need to reduce my carbon footprint and need to live more sustainably," says Chappelle.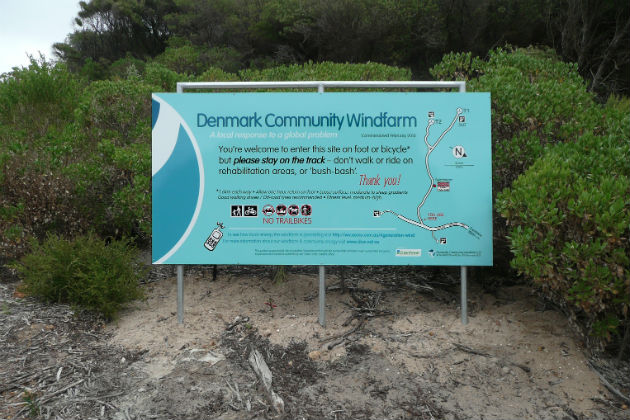 ---
Enjoying this article?
Sign up to our monthly enews
---
Standalone power systems: Esperance, Exmouth, the Fitzgerald River National Park, Ravensthorpe and more
When deadly fires destroyed more than 300 power poles and hundreds of kilometres of power lines near Esperance in 2015, Horizon Power offered farmers the chance to trial standalone solar power.
"I saw it as an opportunity to have something more than we had ever hoped for – a reliable, clean energy source which will deliver even better service than we had in the past," says Rodney Locke from Cape Le Grande.
"It won't be affected by outages caused by maintenance on the network or weather-related events."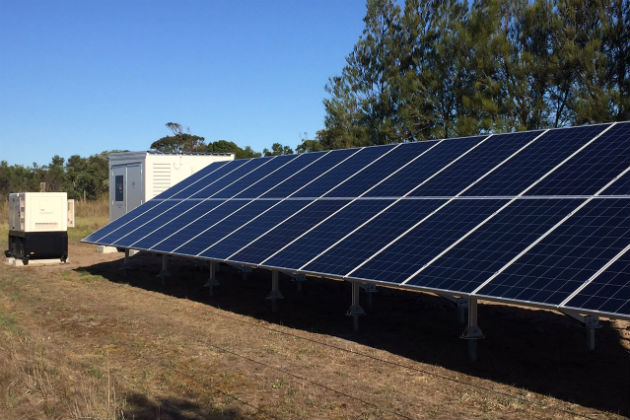 Five standalone power systems (SPS) were deployed, replacing 119 power poles and 23km of power line. Each system is entirely off-grid, using solar panels, batteries and back-up diesel generators to provide users with more reliable power.
The trial has been so successful that last year Horizon Power installed additional systems at the Exmouth Golf Club and in the Fitzgerald River National Park.
Western Power is also increasing their SPS offerings. In 2016, six households trialled SPS across Ravensthorpe, Lake King, West Lake and Ongerup. Over the 12 month trial, these users avoided an average of 65 hours of power outage.
Stage 2 of the trial is now underway, with 60 SPS being rolled out across regional WA to test how the systems stand up in different geographical and environmental areas.
Microgrids: Kalbarri, Onslow and Broome
For towns in WA's north where blackouts are common, microgrids mean a more stable power supply.
While microgrids generate power, they often remain tapped into the larger grid and work more as a backup system.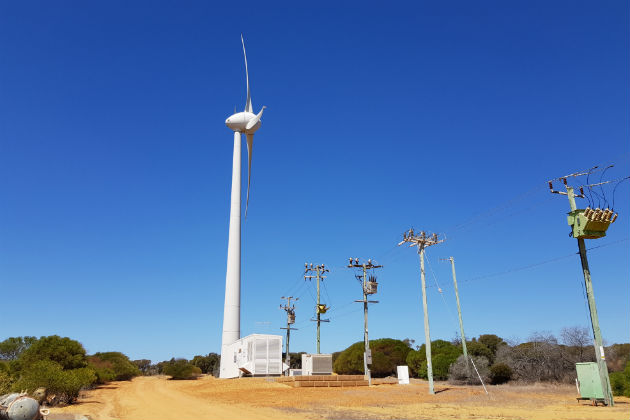 Kalbarri is on track to power up a $6.8 million microgrid by mid-2019. Designed in consultation with residents, the microgrid is intended to improve the reliability - and green credentials - of Kalbarri's power supply, which comes via powerline from Geraldton.
The new 5MW grid, powered by residential rooftop solar, the local windfarm and with battery storage, will kick into gear during any outages from the main network.
Horizon Power is also preparing a $100 million microgrid for Onslow, combining renewable solutions with gas-fired power, while further north in Broome's Warranyjarri Estate a solar microgrid program pilot is underway.
Solar carparks
In the wheatbelt town of Northam, Perdaman Advanced Energy installed a 665-kilowatt solar-topped car park at the Northam Boulevard Shopping Centre designed to shade shoppers and generate around 1 million kilowatt hours every year - around 40 per cent of the shopping centre's energy requirements.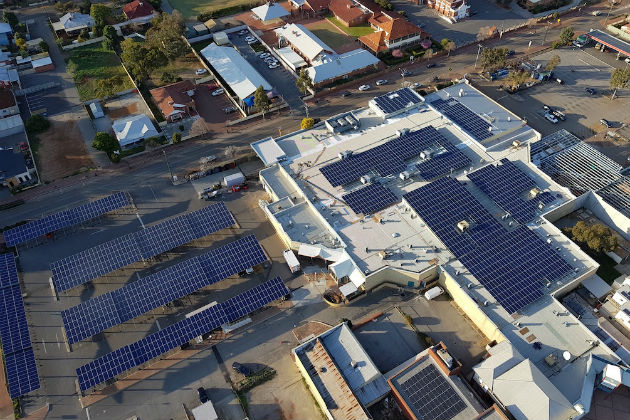 The project follows the installation of a solar carpark at the Broadway Fair Shopping Centre in Nedlands, Perth, where solar saves around $20,000 a month in power bills.
Renewable energy precinct: Emu Downs
While the small scale stuff is great, WA's wide open spaces also lend themselves to 'renewable energy farms'. The largest is Emu Downs, near Cervantes, which is WA's first co-located wind and solar farm precinct, combining two types of renewables for more consistent power generation.
With a strong easterly in the morning and the Fremantle Doctor arriving in the afternoon, winds dip in the middle of the day, right when solar energy production peaks.
It means that power is usually always being generated - enough to power more than 6700 homes in WA, which is sold back to Synergy. With another 130MW of wind energy soon coming into play when the new Badgingarra Wind Farm is completed in 2019, that amount will increase.
While Emu Downs is currently the largest solar farm in WA, it will soon be surpassed by a new solar farm near Byford which will deliver 30MW of renewable energy to the state's south-west grid.
Enjoy this story? Get more of the same delivered to your inbox. Sign up to For the Better eNews.
Why not make your own power from your very own roof?
RAC, in partnership with Infinite Energy, can install solar panels on your home. That means you're not only helping to save the planet, but you're saving yourself from rising electricity costs as well.