29 October, 2019 By: Wendy Caccetta
A team of brave people whose lives have been permanently changed in road crashes is helping the next generation of drivers make safer choices.
As school teacher Symon Still cycled to work to prepare for the coming term he couldn't have known that it would be a year before he got there.
It was the summer of 1994. Mr Still was a 24 year old physical education teacher at Mandurah Catholic College who lived for sport and in his spare time completed in triathlons. He had ridden bikes to school since he was 10 years old.
For a reason he can't recall, he chose a different route to work that day. Then the unthinkable happened. An inattentive motorist turned directly in front of him and in an instant Mr Still's life changed.
The impact of hitting either the car or the road burst an artery in his back which bled into his spinal cord and left him a partial quadriplegic.
Remarkably Mr Still made it back to the college for the following school year after 12 months recovery and rehabilitation, this time as a maths teacher who found new ways to engage his students from a wheelchair.
Today Mr Still, 50, is an important voice in helping make WA roads a safer place.
The brave voices of road safety
As Injury and Prevention Manager at the not-for-profit Paraplegic Benefit Fund of Australia, Mr Still heads a team of people aged 24 to 60 who have permanent spinal cord injuries from road crashes.
They help educate tens of thousands of people each year by bravely sharing their stories.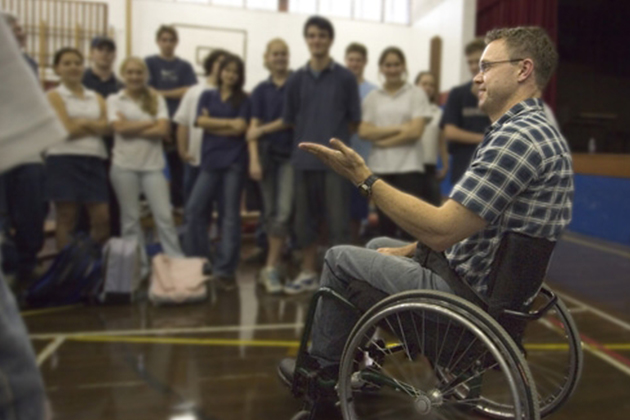 Ten team members were injured in road accidents and have first-hand experience of what can go wrong when passengers don't wear seatbelts or drivers are speeding, fatigued, distracted or driving under the influence of alcohol or drugs.
Mr Still says about 141 West Australians suffer a spinal cord injury each year, 46 per cent in crashes involving cars, motorbikes, bikes and pedestrians.
According to a Spinal Cord Injury Australia report released this year by the Federal Government's Australian Institute of Health and Welfare and Flinders University, WA had the highest rate of spinal cord injuries of all states and territories - 17.5 cases for every million people.
The PBF team reaches about 20,000 high school students a year and is making inroads at universities.
"Two of our presenters cannot speak," Mr Still says. "Their injuries are so high in their spinal cords that they can't speak. They use voice activator software."
"One guy I'm working with at the moment, he's presented for years and the way he types is he's got a dot between his glasses, it shines onto the computer in front of him and it acts like a mouse...I've got two guys like that."
"It's powerful hearing from them...and it's great we can get them out there, feeling that their stories have a purpose."
Mr Still says the stories often stay with teenagers a long time after they have been told.
"Many presenters have told me that years down the track they will be in a supermarket and someone will approach them and say 'You spoke at our school five years ago and your message has stayed with me ever since'," he says.
"That is the best feedback any of our presenters could ever get."
A special anniversary
PBF Australia was founded in 1984 by late spinal surgeon, Sir George Bedbrook, whose grandson Simon is still on its board. It celebrated its 35th anniversary this year and now has 70,000 members nationally.
It provides education and employment support if a member suffers a spinal cord injury, and people can join from one dollar a week.
Working with RAC
PBF's injury prevention arm has a long-standing relationship with RAC, which funds it to deliver school talks that complement WA's education curriculum.
Speakers attend when invited by schools and the stories are also part of programs such as Keys4Life which is run by School Drug Education and Road Aware. "The significant aspect of it is that it brings realism to the message," says RAC Community Education Manager Wayne Houden, also a former school teacher.
"It's really important you have the right person delivering the right message. The teachers themselves can talk to the students about road safety and why it is important to do activities around making smart decisions around the roads.
Enjoying this article? Check out:
The carers raising the next generation of guide dogs »
The artistic blokes from Cervantes giving back to the community »
"People from my team are presenters, that's their job, but someone from PBF has had absolute first-hand experience about what can go wrong."
Mr Houden says reaching high school students and young people is a priority.
"Young drivers are some of the most vulnerable people on our roads, with their risk of being involved in a traumatic road crash increasing dramatically as they transition from supervised driving to provisional and full licenses," he says.
"Ensuring future generations of drivers have a good understanding of road safety and the consequences of bad decisions is key to reducing deaths and serious injuries on our roads."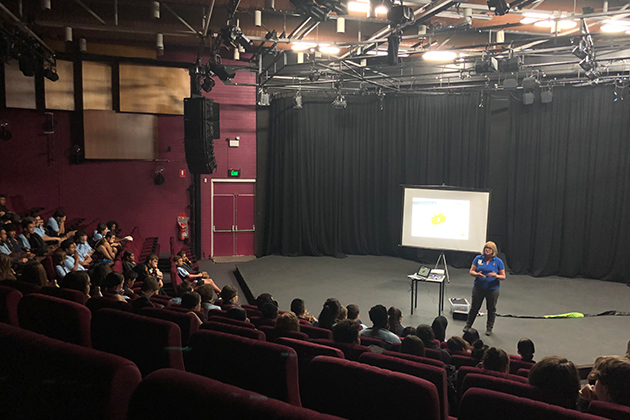 Facing his past
Symon is often asked if he's ever met the man who caused his crash. He has.
"I rang him when I got my life back and I asked if I could go around to his house," Mr Still says. "I don't know what I was looking for, probably what happened, to hear from his lips what happened, because I can't remember it.
"When I arrived at his house he came out the front and he saw me get in my wheelchair from the car and struggle pushing it up his driveway.
"The whole time I was there his wife was crying. It really affected his family. Years later I was giving a talk and his son was in the audience and he was saying how much it affected his dad.
"He had been going from one meeting to another. He was a very busy man who had a lot on his mind, hence his distraction.
"He said he didn't even know that I had hit the car. He heard something, but he didn't know because he didn't see me.
"I don't remember him saying 'I'm sorry'. But when I left there I felt a lot better with myself, that this was a pure accident.
"He wasn't drink driving, he wasn't on his mobile phone, but his mind was elsewhere.
"It enabled me to get on with my life and I've never had the urge to see him since."
More information: RAC Community Education, PBF Australia.
Image credit: PBF Australia
Helping WA become a safer place
RAC runs free information and interactive sessions for everyone from school students to seniors clubs to help us all be safer on and around our roads.