February 2018 By: Karen Faulkner
Stunning beaches, spectacular scenery and charming coastal towns make the turquoise waters north of Perth a favourite holiday destination.
A road trip can be the most rewarding type of family holiday and the stunning stretch of coast from Perth to Kalbarri is easily one of Western Australia's best.
Most of this route follows the Indian Ocean Drive; a 355km ribbon of road hugging the Indian Ocean. Before the Drive was completed in September 2010, the Brand Highway, a loping inland road, was the only direct route between Perth and Dongara.
The coast road is a spectacular scenic route threading through a series of salt-of the-earth fishing towns, which are receiving increasing numbers of visits, thanks to the new road.
Before setting off, make sure you stay safe on your road trip with our tips for long distance driving.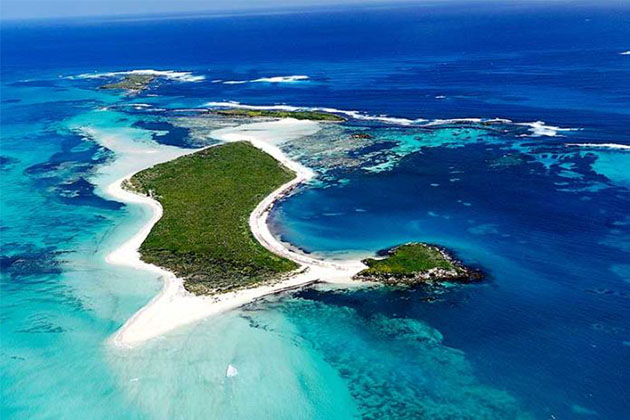 On the stretch up to Jurien Bay the water is tinged turquoise and often fringed by crisp white beaches – hence the name Turquoise Coast – and it's easy to see why water sports are popular here.
The coast is a paradise for fishing, swimming, snorkelling and, of course, windsurfing. The beaches are easily accessible and the towns offer a wide range of accommodation including high‑quality caravan parks, many of which are accredited under the AAA Tourism Star rating system.
Guilderton has a history steeped in shipwreck drama; the Dutch East India Company's Vergulde Dreck (Gilt Dragon) was cashed-up with chests full of coins to buy spice in Batavia when it hit a nearby reef in 1656 and sank.
In 1931 a boy unearthed some of its treasure in the sand dunes, hence the town's name. Its Aboriginal name, Gabbadah or 'mouthful of water', was inspired by its location at the Moore River mouth.
It's a kids' water wonderland, the wide estuary providing a safe, calm spot for swimming and kayaking. It's so popular here some families book at the caravan park a year in advance to secure their long weekend sites.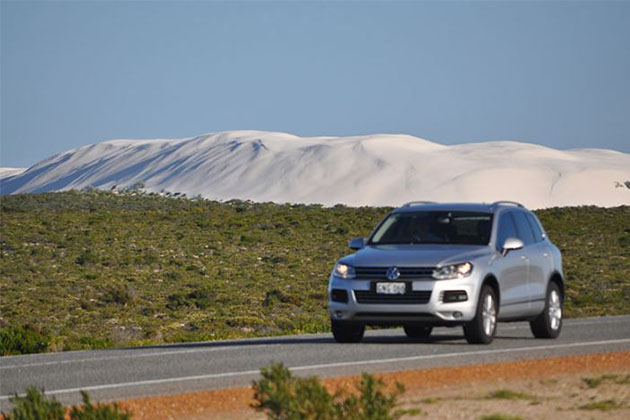 Further north, Lancelin remains one of the most blogged-about kite surfing spots in the nation and four-wheel drives, their trailers packed with quads and dirt bikes, are evidence that the thrill of motoring across the massive sand dunes around here is another big attraction.
Jurien Bay and Cervantes have positively thrived post-Indian Ocean Drive. At Cervantes a pretty blue and white kiosk with a vast grassy playground that bumps right into the beach provides a perfect family picnic spot.
Part of this town's big attraction is its location – an easy 15-minute drive from the Pinnacles – which attracts nearly 200,000 visitors a year to its lunar-like landscape of tall limestone pillars moulded from seashells over millions of years of weathering.
Sandy Cape Recreation Park between Jurien and Greenhead encapsulates the natural attractions of this part of the coast more than any other place.
It is part of a marine sanctuary where sea lions feed on the reef and come to rest on the gentle curve of the white sandy beach.
But the sanctuary doesn't stop fishing altogether – in fact the campground is a magnet for fishermen aiming for mulloway, tailor or whiting in the gutters not far offshore.

Closer to heaven
Arguably one of the best ways to appreciate the beauty of this coastline is from the air.
Skydive Jurien Bay offers a breathtaking, adrenaline-pumping scenic flight ending with a jump out of an aircraft thousands of feet above the earth and a soft-sand beach landing.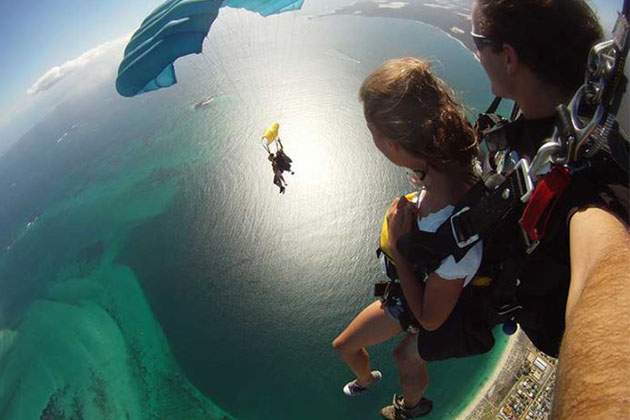 The Mid West's cray-fishing capital, Dongara, is one of the friendliest towns in WA and its pretty main street is beautifully shaded by enormous Moreton Bay fig trees.
A drive into Dongara takes in two towns at once; the bridge over the Irwin River is the only thing separating Dongara from Port Denison, with its beautiful fishing-fleet-bobbing harbour. It's on the Denison side of the bridge where travellers will find the caravan parks.
The highway between Dongara and Geraldton marks a change in scenery, especially in spring when it is fringed with paddocks of bright yellow canola.
Olive groves, historical Greenough Hamlet and natural curiosities such as the trees wind-whipped to grow horizontally, make ideal rest stops before hitting Geraldton.
With a population of 38,000 plus, Geraldton is the hub of the Mid West, a city that has flourished in the last ten years thanks to a revamped waterfront. It is now home to a clique of cool cafés and a wildly popular water playground.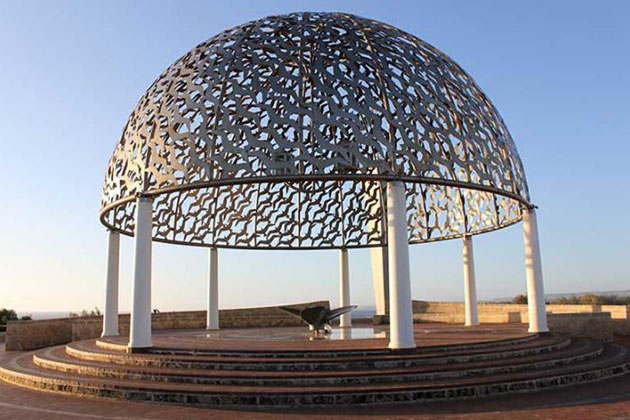 The moving HMAS II Sydney Memorial, overlooking the city from Mount Scott, is a must–see even for those who usually shy away from museums or memorabilia.
A lone bronze woman, her hand shielding her eyes against the sun's glare, searches the horizon desperately. Behind her is the eye-catching steel dome, made of 645 seagull silhouettes, one for each man tragically lost when the HMAS Sydney II was torpedoed by the disguised German raider Kormoran in 1941 near Carnarvon.
If time permits, the Railway Tav­ern at Northampton – unmistak­able thanks to the giant "TAVERN" painted on the roof – is a worthy stop for dinner en-route from Geraldton to Kalbarri.
It's an his­toric pub with a restaurant quality menu, loads of country hospitality and if you're stopping for the night, one of WA's cutest caravan parks is straight across the road.
The most scenic route to Kalbarri turns off at Northampton and heads to the coast. This route passes the Pink Lake, named for the hue made by carotenoid-producing algae - the same pigments found in many fruits and vegetables.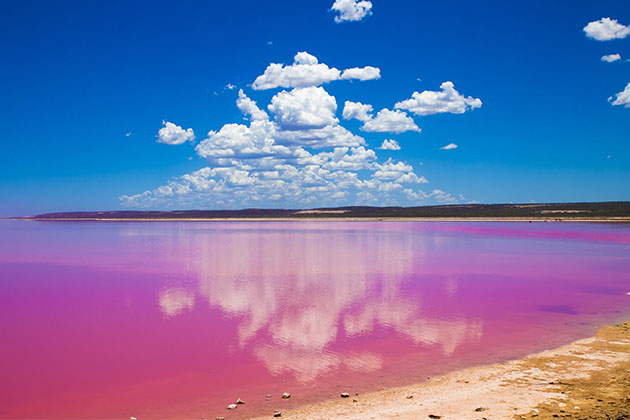 One of the most alluring aspects of this approach to Kalbarri is the ancient coastal cliffs, carved by centuries of pounding waves. Whales can also be seen breaching in the distance during their migration from June to November.
The town bustles with activity in spring and summer and the crowds are drawn to its extraordinary landscape.
Surrounding Kalbarri, authentic Australian cattle stations blanketed by spring wildflowers meet ancient gorges carved by the Murchison River. At Kalbarri, this stunning river (the second longest in WA) finally disgorges itself into the ocean.
There are oodles of things to see and do here, including fishing charters, abseiling, horse riding and guided gorge tours, which take groups deep into river country for kayaking and swimming.